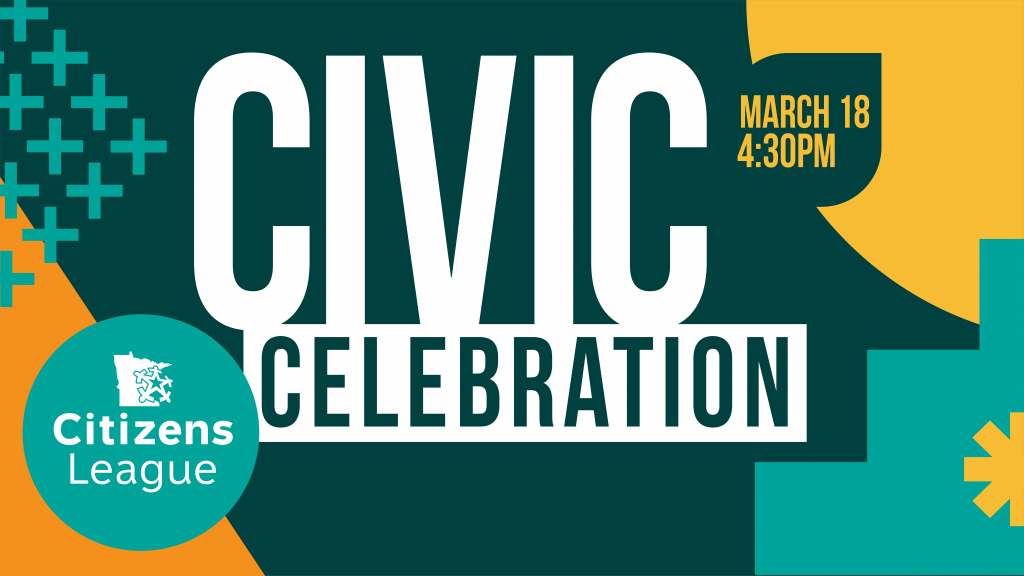 We were overjoyed to come together with over 200 people from all over Minnesota to celebrate the outstanding civic leadership of Phyllis Rawls Goff and Charles R. Vig.
Phyllis and Charlie have shown us all how to transform hope into action: When you volunteer, when you learn about an issue, when you attend community meetings, you are making a difference and participating in public policy.
Watch our videos on our honorees, below, featuring the Mayor of Prior Lake Kirt Briggs; Bill Rudnicki, Shakopee Mdewakanton Sioux Community Tribal Administrator; Lou and Sarah Bellamy of Penumbra Theatre; Mitch Davis of Davis Family Dairies; Pam Wheelock, former interim president, McKnight Foundation; Rebecca Crooks-Stratton, secretary/treasurer of the Shakopee Mdewakanton Sioux Community, and Andy Vig, member of the Shakopee Mdewakanton Sioux Community Gaming Enterprise Board of Directors.
Thank you for your generosity at the Civic Celebration. Thank you for taking action, and working with the Citizens League to create spaces in public policy that produce innovative solutions and better outcomes by prioritizing multiple perspectives.

In the year to come, we're launching our 7th Capitol Pathways cohort and a rural/urban policy series, and our public safety work continues. As we move through the challenges of the pandemic and racial reckoning, the Citizens League is eagerly engaging in conversation with different communities to identify the most critical areas where we can make the most impact, with your help.

If you haven't already, please join us and make a donation today.
Thanks again for making this another memorable Civic Celebration!