It is with great excitement that the Citizens League has announced Kate Cimino as its next executive director! In this role, Kate will lead the organization in its efforts to engage communities, convene different points of view, and support emerging civic leaders to innovate and implement sustainable policy solutions for Minnesota.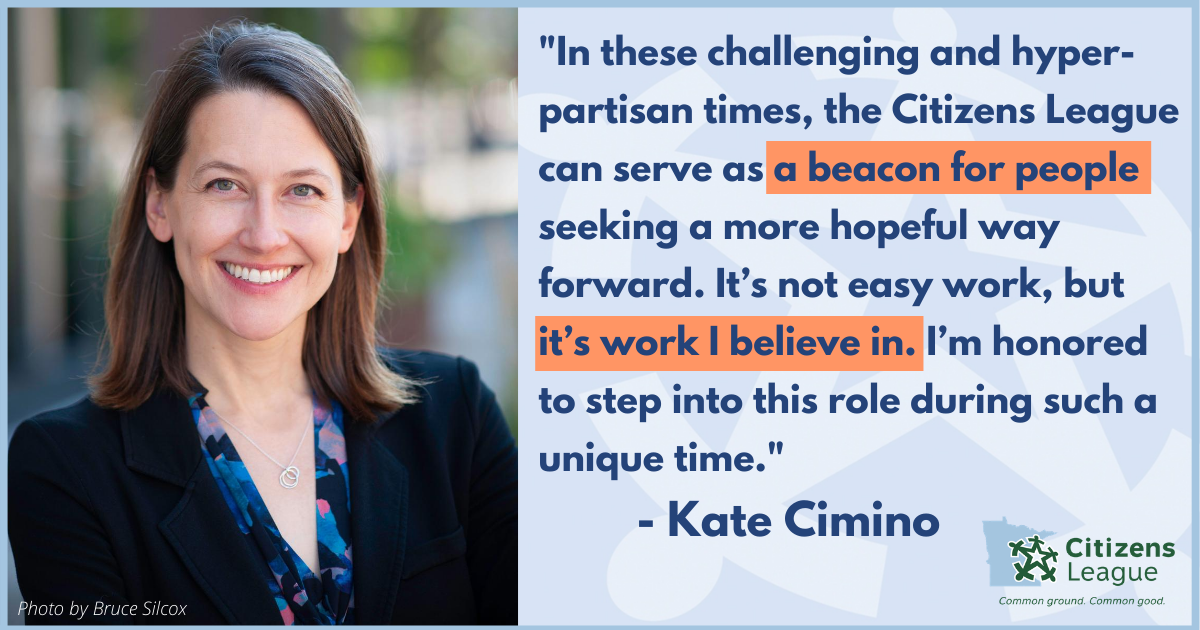 Kate will begin her new role with the Citizens League on September 28. Most recently, she worked at the University of Minnesota's Humphrey School of Public Affairs for thirteen years, serving since 2011 as the executive director of the Humphrey Policy Fellows program and assistant director of the school's Center for the Study of Politics and Governance. In this role, she oversaw the Center's portfolio of outreach programs, engaged in fundraising and donor relations, convened groups for learning experiences, and built collaborative partnerships with legislators and leaders from business, government, and nonprofit sectors.
"In a highly-competitive search for the League's next leader, Kate stood out," said Citizens League board chair Patrick Born. "Not only with her experience in Minnesota's policy space, but also with her passion for creating strong relationships, emphasis on learning from others, and dedication to our mission of creating policy that works for everyone."
"In these unique and challenging times for our state and country, we need – now, more than ever – to center the voices of those most impacted, truly listen to one another, and help Minnesotans understand their role in solving the problems we all face today," said Laura Monn Ginsburg, Citizens League interim executive director. "This is the work the Citizens League is known for, and these are the values that Kate will carry on."
Kate will become the eighth executive director of the Citizens League, replacing Pahoua Yang Hoffman, who departed the organization for the role of senior vice president of community impact with the Saint Paul & Minnesota Foundation.
For more than sixty-five years, the Citizens League has built a strong reputation as an essential organization that guides individual stakeholders, communities, and organizations through complicated local and statewide issues that are easily mired in partisanship and dead-end discussion. Through our work, Minnesotans of all backgrounds are engaged to see their role in policymaking and are part of the solution-seeking process. In recent years, the Citizens League's policy work has been focused in the areas of good government, workforce, aging, and civic leadership development. As Kate joins the organization as executive director, she will lead a strategic planning process to set the vision and direction of the League and its future work.
"The Citizens League has an incredible legacy, bipartisan trust, and a strong reputation throughout Minnesota and beyond," said Kate. "In these challenging and hyper-partisan times, the League can serve as a beacon for people across the political spectrum who are seeking a more hopeful way forward. We can explore ways for more people to bring their voices into public life. It's not easy work, but it's work I believe in. I'm honored to step into this role during such a unique time."
Kate is currently chair-elect of the board of directors at the MacPhail Center for Music, the largest community music center in the nation, where she has served on the board since 2013. She also served on the finance committee of the Citizens League from 2019-2020, and was a 2012 "40 Under Forty" honoree in the Minneapolis-St. Paul Business Journal. Originally from Buffalo, NY, Kate now lives in Minneapolis with her husband and son.
Welcome, Kate!