A message from Citizens League Interim Board Chair Patrick Born:
Dear Citizens League supporters, members, and friends,
It is with a grateful heart that I write today to let you know that after almost six years with the Citizens League – first as Policy Director, and then Executive Director – Pahoua Yang Hoffman is departing the League. She has accepted the role of Senior Vice President of Community Impact with the Saint Paul & Minnesota Foundation, succeeding Ann Mulholland, and will start there on May 18.
We are sad to see Pahoua go. She has accomplished so much for the Citizens League. Her intellect, poise, and leadership will be greatly missed.
From the very beginning of her tenure at the Citizens League, Pahoua has led the charge on bold policy solutions for our state, like Met Council reform, a minimum wage ordinance in the City of Saint Paul, and introducing young people of color to state policy makers with our Capitol Pathways internship program. She has embodied the Citizens League's mission to empower people to engage in civic life and public policy to make Minnesota a better place to live and work for everyone.
She didn't do it alone. Pahoua has a unique ability to bring people from different backgrounds and perspectives to find common ground and a path forward in the best of the League's tradition in today's world. She assembled a dedicated and skilled team, supported an active and diverse board, and built strong relationships with our communities. These are her legacies that will live in the future.
So, what now?
To assure continuity, the Citizens League Board has asked Laura Monn Ginsburg, our board chair, to step off the board and into an Interim Executive Director position. Since joining the board in 2016, Laura has been an exceptional partner in our work. Time and time again, she has brought her skills to the League in communications, fundraising, and strategic planning. Laura also serves as the board chair of the National Council of Jewish Women MN, a past board chair of the Junior League of Minneapolis, and currently serves on the boards of Move Minneapolis and the Minneapolis Regional Chamber of Commerce. She is also is a co-owner and principal at Apparatus GBC, a public affairs firm specializing in strategic communications, government relations, and new ways to approach complicated problems.
In Laura's stead, I will temporarily assume the role as board chair, and will work closely with her in this interim period.
Our search for a permanent Executive Director has begun. We have retained Ballinger | Leafblad to assist the board to find the League's next great leader. We will update the community as we make progress.
Finally, I want to assure you that the Citizens League is well-prepared to move forward. Our work has always been interwoven with change, and we have thrived when approaching some of the biggest policy challenges that face our state. Our history is strong, our team is exemplary, and we will continue to lead.
I am so proud to be a part of this organization, excited about what lies ahead, and confident that together, we will emerge even stronger.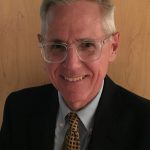 In partnership,
Patrick Born, Interim Board Chair