Kevin is originally from Anoka Minnesota and is currently a senior at the University of Minnesota, Twin Cities. There he studies Sociology with minors in Leadership and Public Health. Kevin also serves as a peer mentor with the President's Emerging Scholar Programs as well as a Student Coordinator at the Asian Pacific American Resource Center at the at the University of Minnesota. He is also involved in the Vietnamese Student Association and highly values the community he has formed through these organizations at the U of M. Despite the decrease in work-load due to Covid-19, Kevin continues to serve these organizations due to his care and concern for his community.
Kevin heard about Capitol Pathways through an alumnus of the program and saw it as a pathway to enter a career to further serve his community. Entering the University of Minnesota as an intended Biology major, Kevin has come to realize his passions about social justice and advocating for communities through programs like Urban Scholars and his other various roles on campus. The Capitol Pathways Program interested Kevin as he saw the program as a way to increase representation and visibility for people of color in government spaces. "Capitol Pathways creates pathways for students of color to get into positions of power," says Kevin. "That will allow them to make an impact on their communities and other marginalized communities."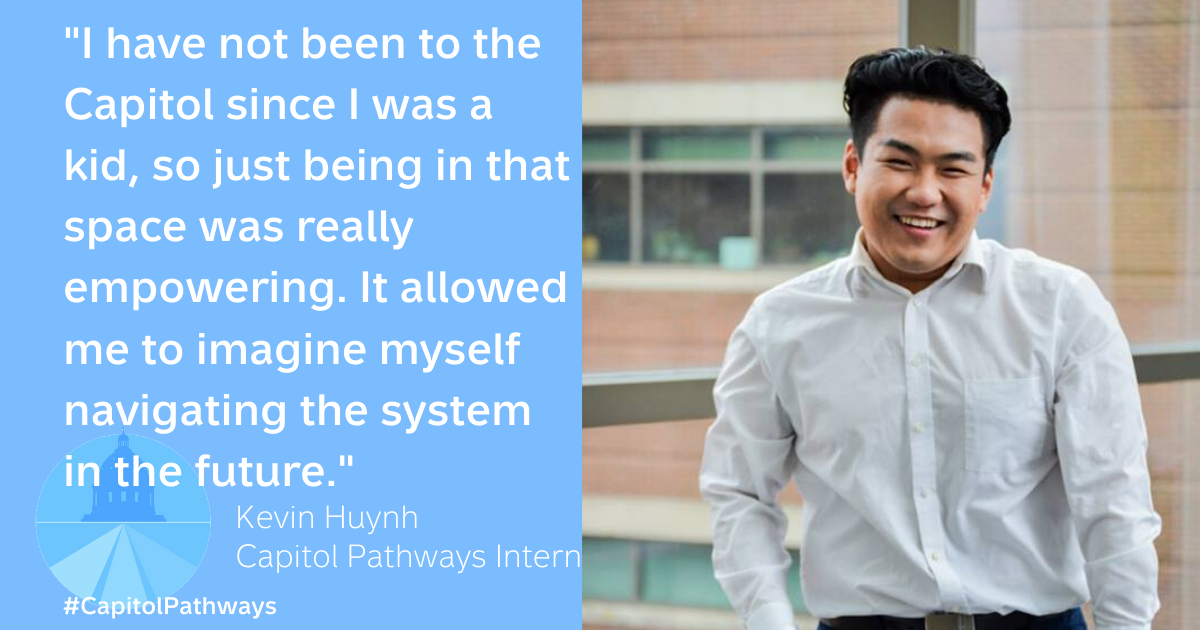 This past session, Kevin interned with the Advocacy Team at Twin Cities Habit for Humanity. In his role, he sat in on hearings at the Capitol, assisted in planning the Habit on the Hill day, attended coalition meetings, and worked on various other projects for the organization. Although the pandemic has changed the nature of his position, he is still in open communication with the team at Habitat for Humanity and has aided in the organization's online transition.
As a graduating senior, Kevin is disappointed to miss out on celebrating his undergraduate career with his community, such as the Celebration of Achievement ceremony hosted by the Multicultural Center for Academic Excellence which honors graduating seniors from traditionally underrepresented communities.
Although the future is uncertain, Kevin is taking away lessons from the Capitol Pathways program to look ahead. Throughout this program, Kevin has had many eye-opening experiences to the policy world and challenges that come with it, like being the only person of color in some spaces. He believes being in government areas is incredibly important and empowering as a young person of color. Learning how to navigate the Capitol, increasing his knowledge of the legislative process and networking with Capitol Pathways alumni have been the most valuable parts of his internship experience.
Kevin hopes to either work in grassroots community organizing or policy work such as lobbying. He is excited to see all the great changes he and his Capitol Pathways cohort will make in the future!
As part of #GiveAtHomeMN, we are introducing you to our 2020 Capitol Pathways students to hear about the difference you can make when you invest in these students and the program. It's easy to imagine the change we can create for the future if we come together as a community. Please join us and make a gift today.
Through the month of May, your gift to the Citizens League's #GiveAtHomeMN campaign will support the Capitol Pathways students of today and tomorrow. Of our $10,000 goal, $5,000 will go directly to this year's students, and the remaining $5,000 will go to support our 2021 program year.
Capitol Pathways remains a one-of-a-kind paid internship program in Minnesota, providing our future civic leaders the leadership training, legislative experience and connections they need as they begin their careers. To hear their stories, follow us on Twitter and Facebook, and follow the hashtags #CapitolPathways and #GiveAtHomeMN, and track our progress to our $10,000 goal on our GiveMN page here!
To learn more about the program, visit our program page, or contact program manager Kalia Xiong at [email protected].