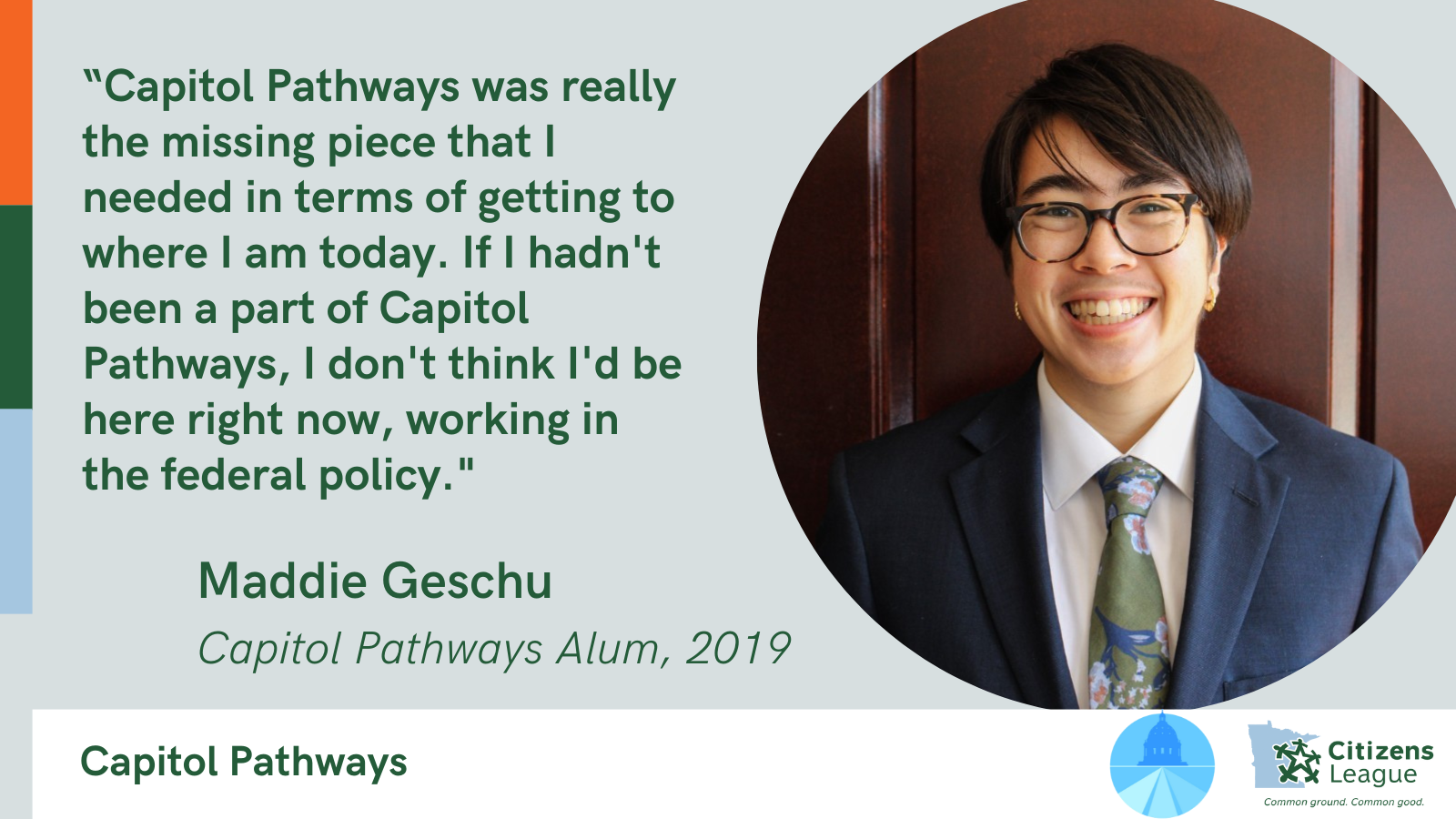 By the time Maddie Geschu (they/them) was into their college career, they knew they had a heart for public service, working for people, and building community.
While Maddie was a student at Macalester College studying American/ethnic studies, as well as urban & environmental studies, they were influenced by events that were affecting the community. Specifically, the shooting of Philando Castile by police near campus inspired Maddie to become involved in criminal and police justice work. After working with nonprofits on the direct service level — such as Ujaama Place, which supports young black men who are experiencing inequity —, it became clear to Maddie that there were policy structures in place at the root of the problem. That led Maddie to look for roles in policymaking.
Learning about the Capitol Pathways program through a classmate, Maddie applied and was admitted into the program in 2019. "It seemed like a really approachable and accessible program for folks who didn't necessarily have a background in policy, but were really passionate and wanted to get involved," said Maddie. "Another thing that really was exciting about Capitol Pathways is that it was focused on folks of color, and uplifting young people of color."
SUPPORT CAPITOL PATHWAYS
As an alum of the program, Maddie believes that Capitol Pathways provides the resources young professionals need to begin their careers in policy.
Join Maddie in investing in the next generation of BIPOC civic leaders today!
During the internship program, Maddie was placed with MENTOR Minnesota, an organization that supports mentoring relationships for youth throughout the state, where they served as a legislative assistant. As they progressed through the internship, and beyond, Maddie became keenly aware of the the exceptional level of training and mentorship that Capitol Pathways provides. Since graduating from college in 2019, Maddie soon moved to Washington D.C., where they work for a nonprofit lobbying and advocacy firm called Center Road Solutions. They cite Capitol Pathways as being the critical piece they needed to get to where they are today. "Capitol Pathways really supports students," said Maddie. "In order to get involved in this career, you don't just have to get your foot in the door. [You have to be] mentored and brought up to a point where you feel comfortable, you feel knowledgeable. That's something that Capitol Pathways afforded me."
Now, as a professional working in policy, and an alum of the Capitol Pathways program, Maddie hopes people and organizations will support and strengthen this program. "For such a simple program, Capitol Pathways is so effective in doing what it has set out to do," said Maddie. "I see Capitol Pathways as kind of a bridge for people who are passionate. Once they cross that bridge, then they can go on and do what they're meant to do."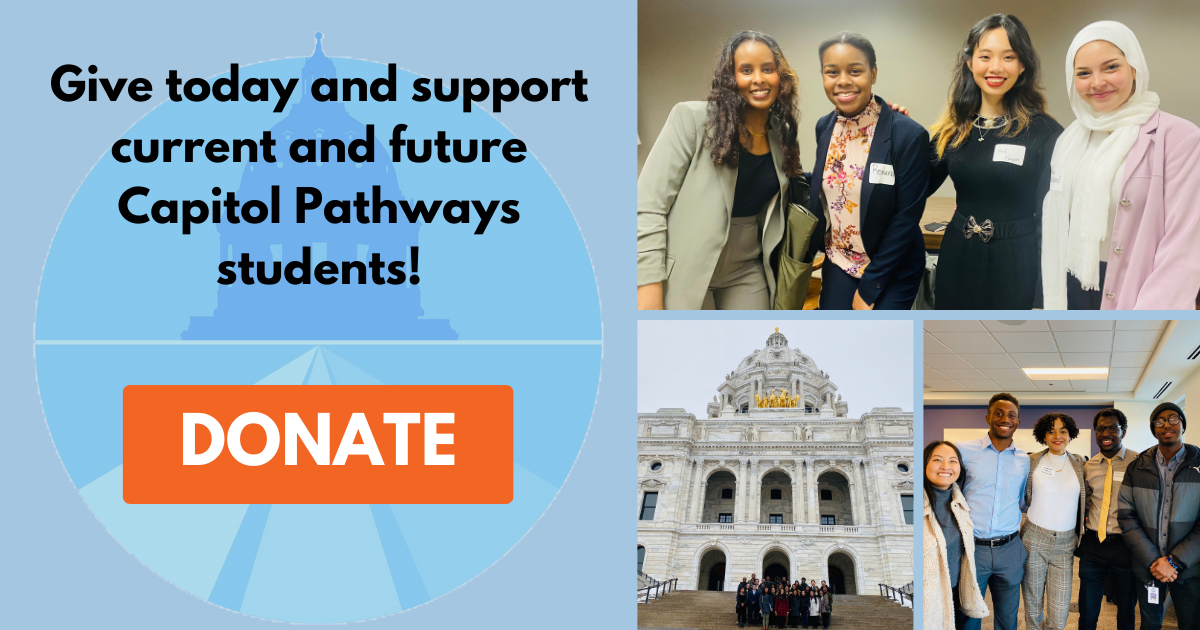 About Capitol Pathways
With the long-term goal of making Minnesota government and policymaking more representative of its diverse racial and ethnic communities, Capitol Pathways is a paid internship program for college students who identify as Black, Indigenous, or People of Color (BIPOC). Through the program, students gain hands-on legislative experience interning with government agencies, nonprofits, and corporations working at and around the Minnesota state Capitol during the legislative session. Following a cohort model, students participate in leadership and policymaking workshops. Capitol Pathways is critical and needed because there is no other internship program of its kind, with the same focus and service to BIPOC college students, in the state of Minnesota.