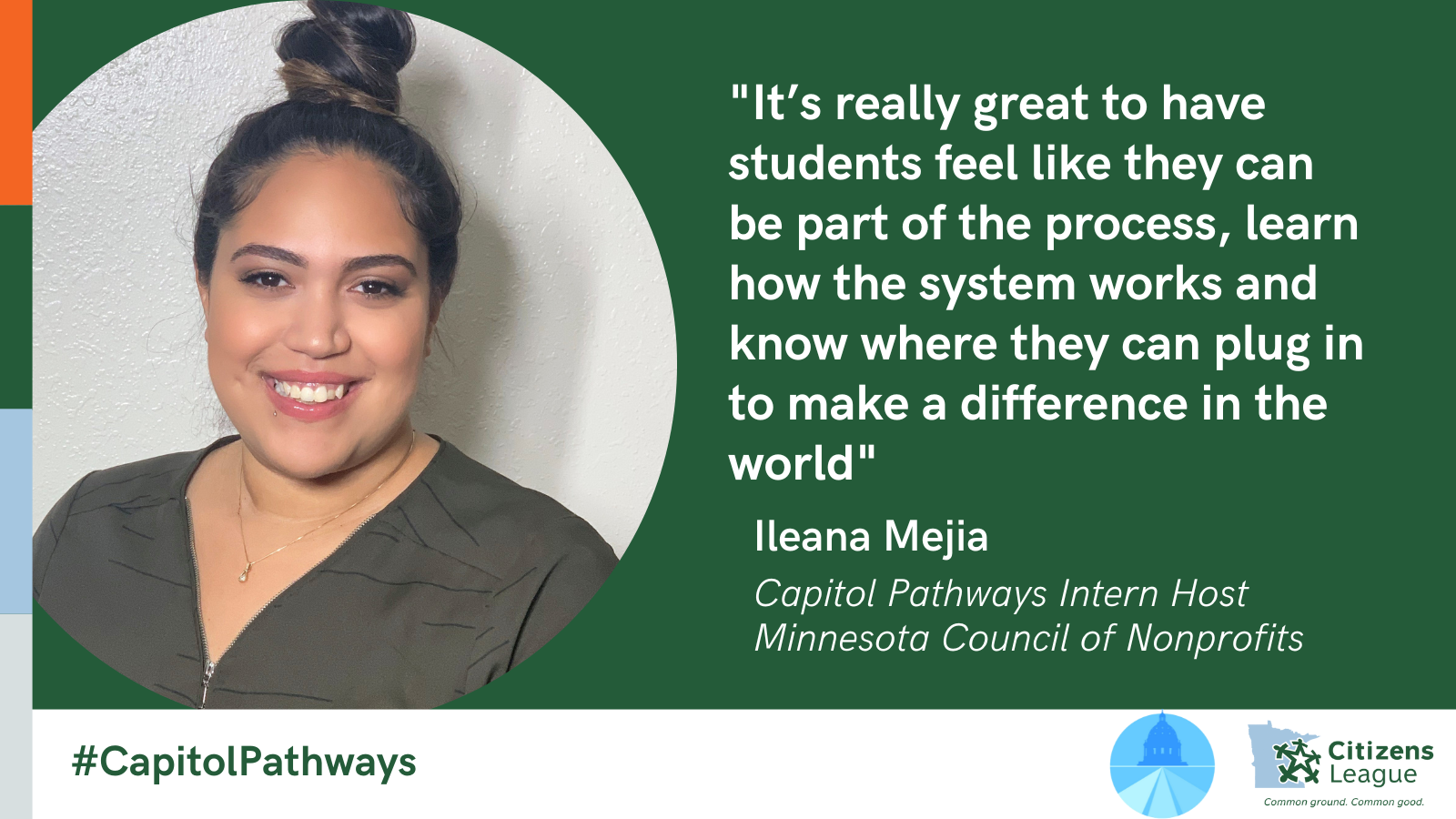 As we begin preparing for our 8th Capitol Pathways program year, we are highlighting the students, hosts, and alumni that contribute to this program's success.
Ileana Mejia believes her identity as a mixed race woman of color, combined with her values and experiences, made her the perfect fit as a Capitol Pathways host supervisor with the Minnesota Council of Nonprofits (MCN).
Ileana first began her policy and advocacy journey when she was young. As one of the few BIPOC students in school, she had to quickly learn to advocate for herself. In college, she majored in Psychology, then went directly into getting her master's degree in public policy, since she was unaware of the career paths available to her. Ileana shared that if she had a program like Capitol Pathways while in school, she would have been more informed of her career options.
When Ileana joined MCN in 2019 as a Public Policy Advocate, she was excited to strengthen the partnership with Capitol Pathways and connect with BIPOC students passionate about policy making. She emphasized how she sees herself in the students that come through the program, and is dedicated to being a mentor they can connect with and depend on. To Ileana, it is important to show young BIPOC students that there are opportunities for them in the policy space since "it's really nice to see someone in a position that you may want in the future, who looks like you or has similar identities to you." Seeing interns from the program graduate and secure jobs in policy has been extremely exciting for Ileana, as they are now adding to a growing network of BIPOC folks in policy and advocacy work. Since being a BIPOC person in policy can be lonely work; participating in Capitol Pathways is an extremely effective venue to build supportive connections that will advocate for and champion you in the field.
Ileana highlighted how this program positively impacts students on their journey into policymaking. She said, "it's really great to have students feel like they can be part of the process, learn how the system works and know where they can plug in to make a difference in the world."
SUPPORT CAPITOL PATHWAYS
As a host of the program, Ileana believes that Capitol Pathways provides crucial policy experience to the next generation of leaders in Minnesota.
Join Ileana in supporting Capitol Pathways!
When asked how people can do better to support BIPOC leaders in policy, she stressed the importance of creating space for learning by "actively listening to them and trusting their lead on what their needs are and what barriers still stand in their way…[people] can also offer opportunities to connect more BIPOC in policy with one another, which will allow them to build a network of support based on shared experiences as BIPOC professionals in policy."
While Minnesota still needs more diversity in policymaking to bring different perspectives and highlight new areas of community needs, these are some tangible steps everyone can intentionally take to move us one step forward in the right direction.
About Capitol Pathways
With the long-term goal of making Minnesota government and policymaking more representative of its diverse racial and ethnic communities, Capitol Pathways is a paid internship program for college students who identify as Black, Indigenous, or People of Color (BIPOC). Through the program, students gain hands-on legislative experience interning with government agencies, nonprofits, and corporations working at and around the Minnesota state Capitol during the legislative session. Following a cohort model, students participate in leadership and policymaking workshops. Capitol Pathways is critical and needed because there is no other internship program of its kind, with the same focus and service to BIPOC college students, in the state of Minnesota.