As part of our online fundraising campaign for Capitol Pathways, we're excited to share stories of those closest to the program and learn why #CapitolPathways? Leading to our End of Session Celebration on June 22, we will be spotlighting our alumni, hosts and others.
We present our first profile: Juventino Meza, Co-Founder of Capitol Pathways, to learn why #CapitolPathways?
Juventino (Juve) Meza moved to the United States at the age of fifteen. He was undocumented and during high school, believed that college was not an option for him.
Undeterred by this barrier, Juve channeled his efforts towards opening access to higher education to students like himself. This marked the beginning of his life-long passion for policy and changemaking. As a high school student, Juve worked with other youth and community leaders in pushing for the passage of the MN Dream/Prosperity Act, which would allow certain undocumented youth residing in MN pay in-state tuition. This Act became law in 2012.
His advocacy paved a path to higher education for him, and he went on to graduate from Augsburg University. Juve was granted Deferred Action for Childhood Arrivals (DACA) in 2013, which protects him temporarily from deportation and allows him to legally work in the US. Currently, Juve works as a Contracts and Compliance Specialist in healthcare and is completing his last year of law school at Mitchell Hamline School of Law.
During college, Juve interned with representative Carlos Mariani, who was one of the few Latinos in the Minnesota State Legislature at the time. Rep. Mariani was aware of Juve's immigration status and was still willing to give him an internship anyway. This experience impacted him, and highlighted the gap in representation that exists. Juve recalls, "I noticed that a lot of people who were interning at the state legislature didn't look like me and also didn't share similar experiences." This awareness was troubling and he felt an acute need for change. As someone who saw first-hand the power of advocacy for his community, Juve believed it was critical to have people who were representative of the diversity of the state present at the decision-making table.
SUPPORT CAPITOL PATHWAYS
As a program co-founder, Juve believed that, to build a strong state, Minnesota government and those who run it must be representative of the diversity of the state.
If this is also something you believe, join Juve in investing in the next generation of BIPOC civic leaders today!
Driven by this sense of urgency, Juve and his friend Annie Levenson-Falk decided to stop talking about the lack of representation at the Capitol and take action to hurry history. This decision led to the founding of Capitol Pathways; which began as a one-day experience for high school students to shadow folks in the legislature or a lobbyist for a day. The support and excitement for the idea was overwhelming and beyond what Juve ever imagined. Soon after, friends Pahoua Yang Hoffman and Claire Wilson teamed up with Annie and Juve to ensure Capitol Pathways evolved into a paid internship experience for college students to actively learn about policymaking throughout the legislative session.
As someone who fell into the world of politics and policy at a young age, and quickly grew to become his own strongest advocate, Juve firmly believes in involving youth in the process. He states, "if we can engage and get young people excited about policy, let's do it. I think this [program] is one way to do it…where young people have access to folks with power and also learn about something that maybe wasn't on their radar."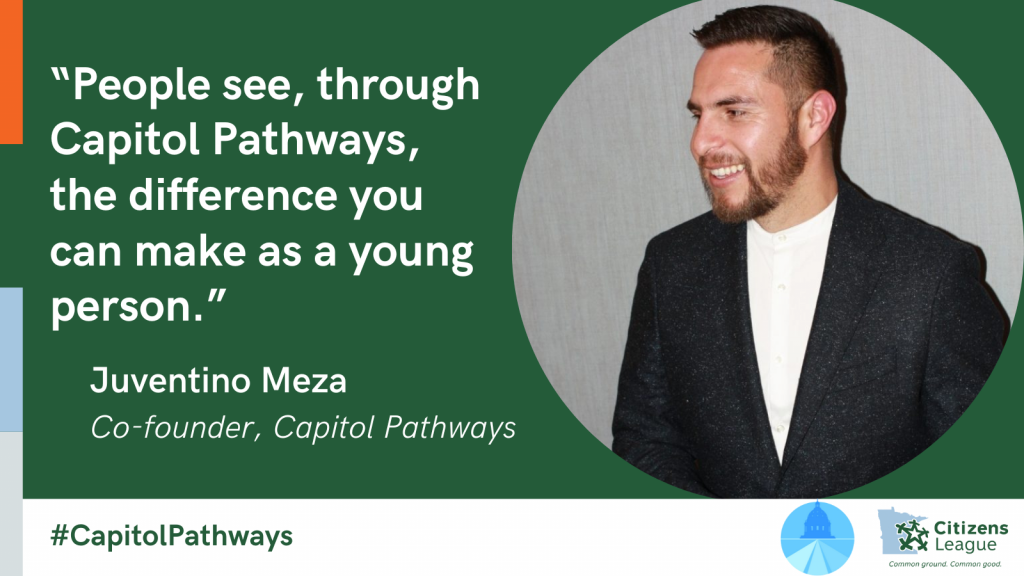 In regard to what's next for the program, Juve states, "what comes next is already happening in my mind, and that is seeing young people of color and Native American students choose policy as a career path for themselves." Although Juve has played a key role in increasing representation in policy, he believes there is more work to be done; especially when it comes to government agencies, for-profit and nonprofit organizations and the role they can play. "I would tell folks to do some internal work to change their internal culture so it's more inviting to more diverse participants," Juve says. "As my friend Antonio Hicks says, 'Don't wait for a crisis to happen to make statements or reach out to folks.' Do this work on an on-going basis."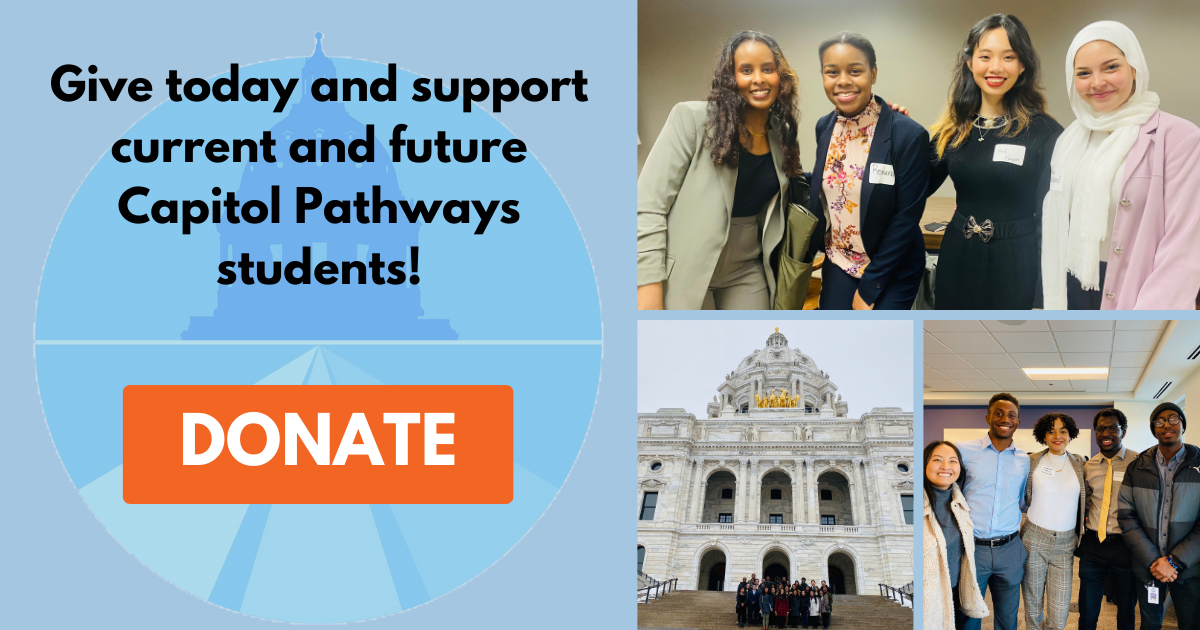 Give to Support the Next Cohort!
As Citizens League celebrates the 7th cohort of its Capitol Pathways program, we ask you to join us in investing in the next generation of BIPOC civic leaders to ensure that future policymakers are reflective and inclusive of the diversity of our communities.
Your gift today will be part of a month-long effort to raise $10,000 to support our next student cohort's week-long legislative training and other professional development activities. Through this training, students gain technical knowledge of the legislative process—including understanding the life cycle of a bill, the legislative timeline, key legislative players at the Capitol and more—to help prepare them for their internship experiences.
A gift of any size makes a difference! Please consider adding a donation to your registration, or if you cannot attend, donate here. All donations go directly to support our $10,000 goal.
JOIN OUR END OF SESSION CELEBRATION
Join us to celebrate the conclusion of the seventh year of Capitol Pathways on June 22, 2022!
In recognition of our fantastic student interns and in celebration of the only paid internship program in Minnesota that creates a policy career pathway BIPOC college students, we gather annually to mark a successful program year. In its seventh year, we will recognize the accomplishments of 32 students and 32 host organizations working together to broaden access for the next generation of BIPOC leaders in policy.
About Capitol Pathways
With the long-term goal of making Minnesota government and policymaking more representative of its diverse racial and ethnic communities, Capitol Pathways is a paid internship program for college students who identify as Black, Indigenous, or People of Color (BIPOC). Through the program, students gain hands-on legislative experience interning with government agencies, nonprofits, and corporations working at and around the Minnesota state Capitol during the legislative session. Following a cohort model, students participate in leadership and policymaking workshops. Capitol Pathways is critical and needed because there is no other internship program of its kind, with the same focus and service to BIPOC college students, in the state of Minnesota.