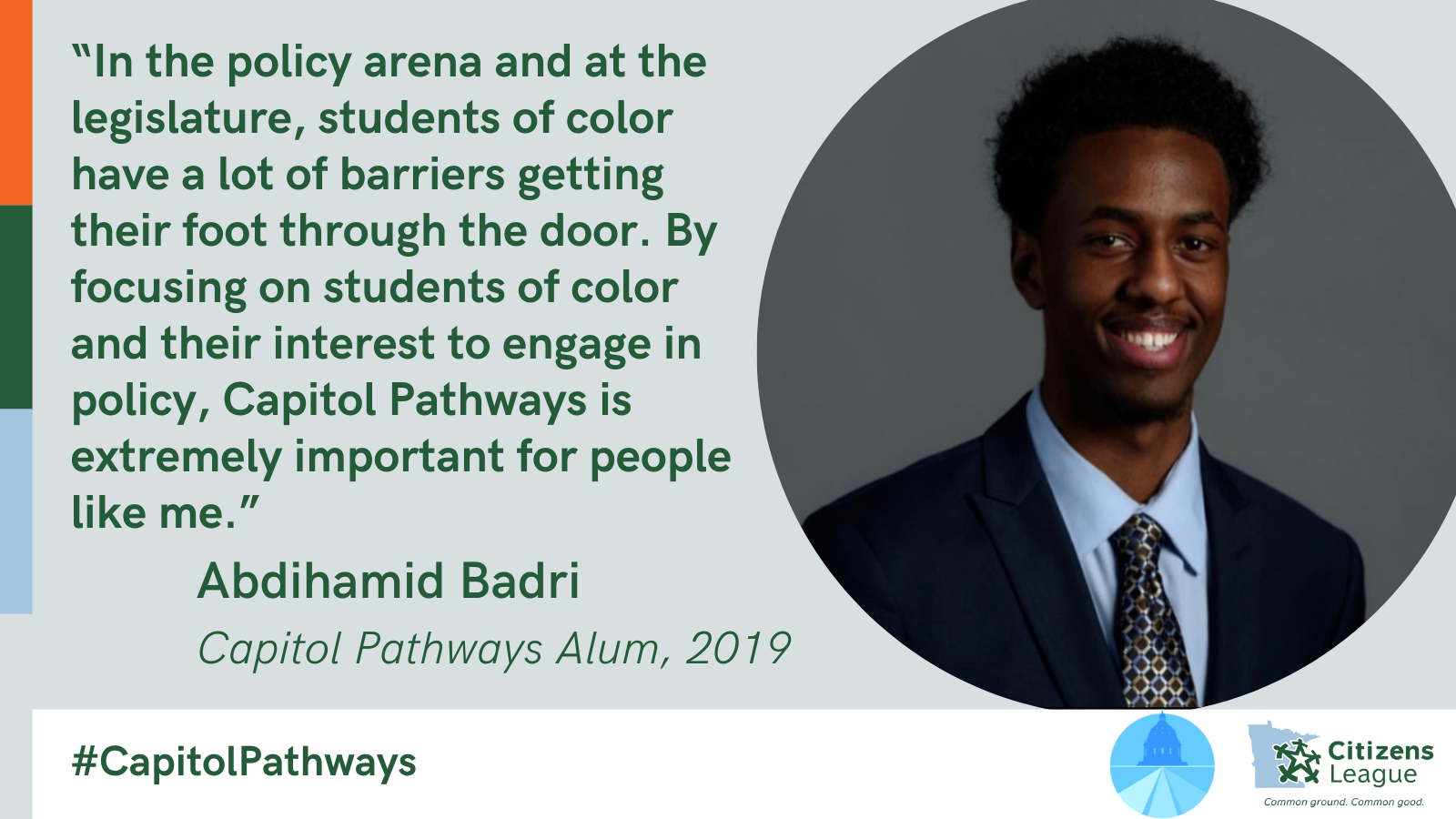 As we celebrate another successful year of the Capitol Pathways Program—the only paid internship program in the state that opens a policy career pathway for BIPOC college students— we ask you to join us in investing in the next generation of civic leaders.
Leading to our celebration on June 22, we are hosting an online fundraising campaign to raise $10,000—all of which will go directly to support our student legislative and other professional development trainings in 2023. While our students are passionate about civic engagement and policy, many of them have never been exposed to the legislative process or Capitol. Through these trainings, they build career skills and gain technical knowledge of the legislative process to help them build the confidence and know-how to prepare for their policy internships.
Every gift—no matter the amount—moves us one step closer to our goal and truly makes a difference. Click here to donate today.
If you'd like to learn more about the impact of the Capitol Pathways program and students, read on to learn more about Abdihamid Badri, Capitol Pathways student alum from 2019.
Abdihamid Badri's interest in policymaking began at the young age of seven, when he and his family immigrated to Minnesota from Kenya. During this journey, they faced many barriers that Abdihamid later realized, were rooted in systems governed by policies difficult for his family to navigate. Fueled by this sense of awareness, he became committed to learning about the political process. Today, Abdihamid is very involved in policy work and currently serves as a Committee Legislative Assistant with the Minnesota House of Representatives in the DFL caucus. He plans to graduate with a double major in Political Science and Legal Studies from the University of Hamline this fall. As a Capitol Pathways alum, Abdihamid was part of the 2019 cohort and interned with Education Minnesota, where he pursued his interest learning how advocacy impacts legislation. Since his time in the program, he has continued to build his professional network and pursue his passion for policymaking.
To Abdihamid, Capitol Pathways is unique and critical because it centers the experiences of students of color and acknowledges the barriers they face when entering the policy space. He states, "I think the Citizens League really understands that, in the policy arena and at the legislature, students of color have a lot of barriers getting their foot through the door. By specifically focusing on students of color and their interest to engage in policy, Capitol Pathways is extremely important for people like me."
SUPPORT CAPITOL PATHWAYS
As an alum of the program, Abdihamid believes that Capitol Pathways centers the experiences of students of color in the policy space.
Join Abdihamid in investing in the next generation of BIPOC civic leaders today!
Through participating in the program, Abdihamid came to better understand how policies impact communities of color and emphasized how eye-opening this realization was. As one of the few young people of color working at the Capitol, "this is a critical lens I will use to view politics and policymaking moving forward" he shared. While more people of color pursue careers at the Capitol year after year, there continues to be a real need for diversity—and this need, is why Capitol Pathways continues to be relevant today.
While Abdihamid can at times feel alone and exhausted having to constantly represent himself and his community, he stresses how programs like Capitol Pathways help youth exploring policy build a support network and feel much less lonely in the work, "[the program] really opens many doors for interns who go through the program . . .it's cohort model and networking with my peers was really important since I knew I wasn't experiencing the program alone."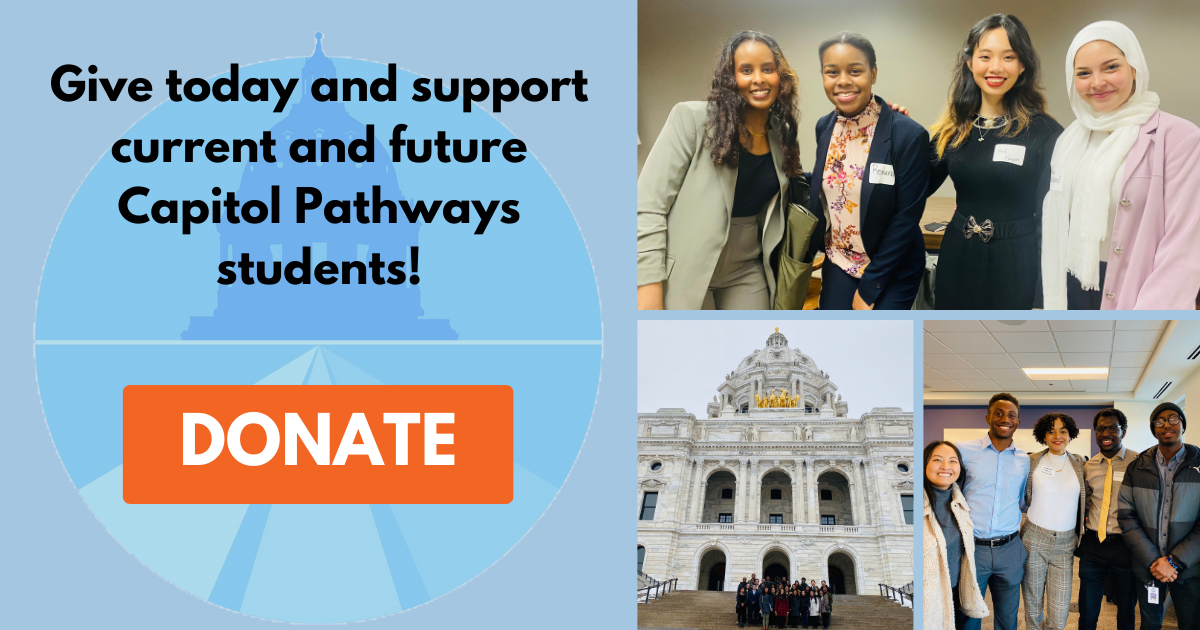 Give to Support the Next Cohort!
As Citizens League celebrates the 7th cohort of its Capitol Pathways program, we ask you to join us in investing in the next generation of BIPOC civic leaders to ensure that future policymakers are reflective and inclusive of the diversity of our communities.
Your gift today will be part of a month-long effort to raise $10,000 to support our next student cohort's week-long legislative training and other professional development activities. Through this training, students gain technical knowledge of the legislative process—including understanding the life cycle of a bill, the legislative timeline, key legislative players at the Capitol and more—to help prepare them for their internship experiences.
A gift of any size makes a difference! Please consider adding a donation to your registration, or if you cannot attend, donate here. All donations go directly to support our $10,000 goal.
JOIN OUR END OF SESSION CELEBRATION
Join us to celebrate the conclusion of the seventh year of Capitol Pathways on June 22, 2022!
In recognition of our fantastic student interns and in celebration of the only paid internship program in Minnesota that creates a policy career pathway BIPOC college students, we gather annually to mark a successful program year. In its seventh year, we will recognize the accomplishments of 32 students and 32 host organizations working together to broaden access for the next generation of BIPOC leaders in policy.
About Capitol Pathways
With the long-term goal of making Minnesota government and policymaking more representative of its diverse racial and ethnic communities, Capitol Pathways is a paid internship program for college students who identify as Black, Indigenous, or People of Color (BIPOC). Through the program, students gain hands-on legislative experience interning with government agencies, nonprofits, and corporations working at and around the Minnesota state Capitol during the legislative session. Following a cohort model, students participate in leadership and policymaking workshops. Capitol Pathways is critical and needed because there is no other internship program of its kind, with the same focus and service to BIPOC college students, in the state of Minnesota.