It is with great excitement that we announce Citizens League's next executive director, Jake Loesch. After a thorough hiring process led by CohenTaylor Executive Search Services, Jake emerged as the top candidate and was unanimously approved by our board of directors. Jake will begin with the League on Monday, September 18. Kate Cimino will continue as Executive Director until Jake steps into the role, ensuring a smooth transition.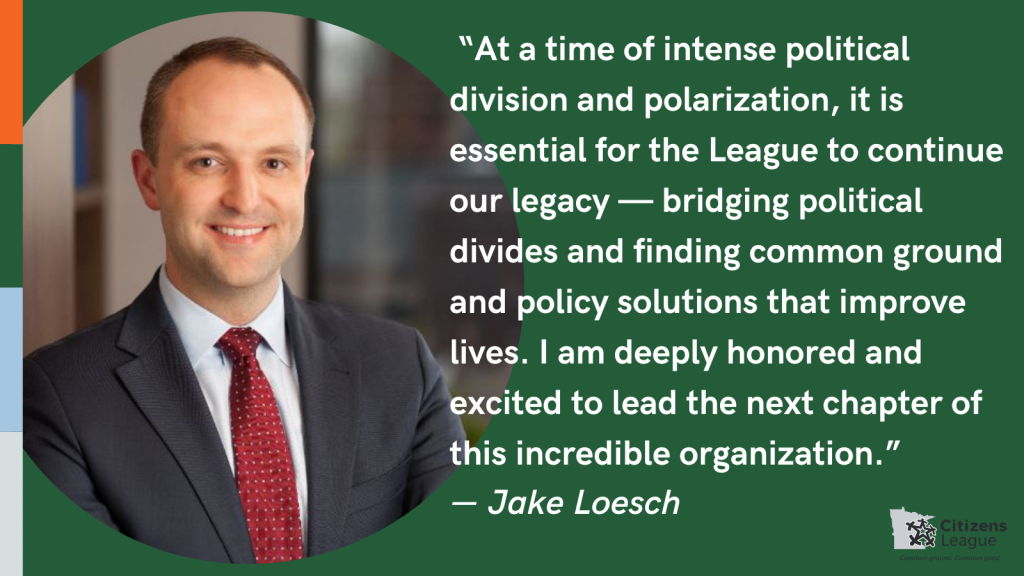 Jake's professional experience closely mirrors the League's work: leaning into complex conversations, encouraging healthy debate among differing viewpoints, and working toward achievable solutions. He has worked at nearly all levels of government and built broad coalitions to engage diverse audiences and find common ground, most recently leading communications and public engagement at the Minnesota Department of Transportation. Having been engaged with the League's work for several years, including serving on our board since 2019, Jake has a deep appreciation of the League's history, as well as an innovative vision for its future.
"In a highly-competitive search for the League's next leader, Jake stood out," said board member Lindsey Alexander, who helped lead the search process. "Not only because of his reputation as a skilled and respected leader in state and national policy spaces, but also because of his belief that policy should be shaped by those it most impacts. Jake respects the League's legacy and is ready to lead it boldly into the future."
"The Citizens League is a trusted resource for sound and inclusive policy, something it's maintained for more than 70 years," said board chair Breanna Schafer. "Jake's leadership will build on this reputation as we ensure that the League remains at the forefront of the most pressing issues impacting Minnesotans."
Alongside staff and board, Jake will lead the League in continuing well-known programs such as Capitol Pathways and public learning events; exploring a new policy engagement model, called Connect + Impact; and developing in-depth policy projects on issues critical to our state's future.
"For more than 70 years, the Citizens League has been a trusted force for good, empowering Minnesotans to engage with their government and make our state a better place to live and work — for everyone." said Loesch. "At a time of intense political division and polarization, it is essential for the League to continue our legacy — bridging political divides and finding common ground and policy solutions that improve lives. I am deeply honored and excited to lead the next chapter of this incredible organization."