Date/Time
Date(s) - 09/24/2019
6:00 pm - 7:30 pm
Online ticket sales have ended, but there will be tickets available at the door! Join us tonight, Tuesday, September 24th! Location details below.
Congrats! You just finished that bottle of shampoo and are about to dispose it. What happens to that bottle if it goes into a trash can and ends up in an incinerator versus a landfill? And what happens to the bottle if it goes into a recycling bin?
We hear generic concepts often around how things break down or are repurposed for new use, but we'll go deep into the chemistry and physics of each form of disposal. Which disposal gives off which gas, for example, and how are safeguards put in place?
Bring your lab coats as we get into the nerdy science of garbage!
(Just kidding. Don't bring your lab coats.)
Guests:
Jim Chiles, Analyst at the Minnesota Pollution Control Agency
David McNary, Assistant Director of Hennepin County's Environment and Energy Department
Policy on Tap: Talking Trash
The Science Behind Your Trash
Tuesday, September 24
Doors: 5:30pm | Program: 6pm – 7:30pm
Amsterdam Bar & Hall (map | location details & parking)
$10 General | $5 Student (with valid ID)
Complimentary appetizers. Cash bar.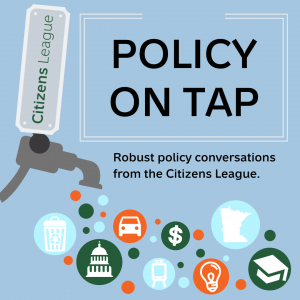 The Citizens League is launching a new event series that will feature robust policy conversations around one central theme. For our first season, we're Talking Trash.
Very few of us know what happens after we leave our bins at the curb, take our stuff to a thrift store, or throw something in a bin at a restaurant. And the answer often depends on where that action happens.
It's the epitome of "out of sight, out of mind." And trash removal often is a heated policy debate (hello, St. Paul), even if you spend your days seeing if your stuff sparks joy.
The Citizens League is dedicated to robust conversations about policy and will convene four events to explore different aspects of the stuff we throw away. Moderated by former MPR host Tom Weber.
> Click here for our Policy On Tap event page for info on future events, recordings, and more!