A Citizens League Event Series
Season 2: Mind The Gap – Understanding Disparities in Minnesota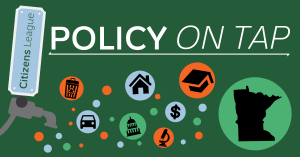 > Due to the effects of the coronavirus, season 2 of Policy On Tap has been moved to start in September. Read our statement monitoring COVID-19 and our events.
Minnesota and its cities regularly rank high in top places to live in the country. For example, based on job market, quality of life, and other measures, U.S. News & World Report ranked the Twin Cities no. 6 in the nation in 2019. Considering similar measures, Money Magazine included 3 Minnesota cities in their list of 100 best places last year.
But as Minnesota leads the nation in many areas, there is a significant segment of our population that does not experience this quality of life.
In fact, Minnesota ranks toward the top of a different type of list: it is one of the most racially inequitable states in America.
For example, the gap between whites and blacks in employment, poverty, homeownership and other areas is among the largest in the country (Star Tribune, 9/6/2019). A recent report by the Federal Reserve Bank of Minneapolis found that Minnesota is one of the worst states in the country for education achievement gaps (MPRNews, 10/14/2019). And according to the non-partisan data organization Minnesota Compass, compared to white populations, people in communities of color are twice as likely to live in poverty, less likely to graduate from high school on time, and less likely to own a home.
To close these gaps, it's important to learn about where we are now, and how we got here. What policies in the past led to these enormous disparities? What practices are still going on today that still need to be addressed? How can we move forward to make Minnesota a top ten place to live for everyone?
The Citizens League is dedicated to robust conversations about policy and will convene four events to explore different aspects of the gaps in Minnesota's quality of life. Moderated by former MPR host Tom Weber.
The second season of Policy On Tap will begin in September 2020. Specific dates still to be determined.
TBD SEPTEMBER, 2020
Understanding the History of Racial Covenants
The neighborhoods of Minneapolis were defined by long-standing practices that kept families of color out of specific parts of the city. A main tool was the racial covenant, which was placed into property deeds (private contracts) that prohibited the sale of homes to people of color. Join us and our guest Kirsten Delegard from Mapping Prejudice to dive deep into how these policies continue to affect the quality of life of communities of color and inequities in our region.
Sponsored by Comcast Twin Cities
FALL 2020
(Wage) Theft in Plain Sight: Labor Trafficking in Construction
What can government agencies and businesses do to combat these wage theft practices in industries like construction? How will a recently-passed bi-partisan wage theft law improve conditions for workers? Join us to learn and discuss this issue, which may be more prevalent than you think.
FALL 2020
Why Treaties Matter
The State of Minnesota exists because of treaties that were signed with Native Americans. None of those treaties have been fully honored, even though they're still in effect today. Join us for a primer and a conversation about policies that should be considered to address treaties in Minnesota.
FALL 2020
How Evictions Hurt All Minnesotans
What can be done to reduce evictions in Minnesota? Where can tenants go for legal support? We explore the challenges and potential policies around this important issue.
Policy On Tap Season Pass!
Register now and save by buying a season pass! For $30, you'll get admission for all 4 events!
STATEMENT ON COVID-19 AND CITIZENS LEAGUE EVENTS
The Citizens League is regularly monitoring information coming from the Centers for Disease Control and Prevention and the Minnesota Department of Health, and we are following their recommended guidelines in regard to COVID-19 and large group gatherings.
In the interest of public health and safety, season 2 of Policy On Tap has been moved to start in September 2020, with a specific date to be determined.
All tickets purchased for Policy On Tap are fully refundable for any attendee who needs to cancel for any reason, or the unexpected cancellation of an event. If an event is canceled or postponed, all registrants will be notified via email, at which time registrants can elect to transfer a ticket to another event, request a refund, or designate all or a portion of the fee as a tax-deductible donation to the Citizens League.
We will continue to update our event page as needed. Thanks again for your interest and understanding.

Policy On Tap Season 1: Talking Trash
For our first season of Policy On Tap, we were Talking Trash.
Very few of us know what happens after we leave our bins at the curb, take our stuff to a thrift store, or throw something in a bin at a restaurant. And the answer often depends on where that action happens.
From food waste to science, recycling to secondhand goods, host Tom Weber was joined by experts, engineers, and journalists to discuss the things we throw away.
In case you missed the conversations, you're in luck: all our events were recorded in full, and can be found below!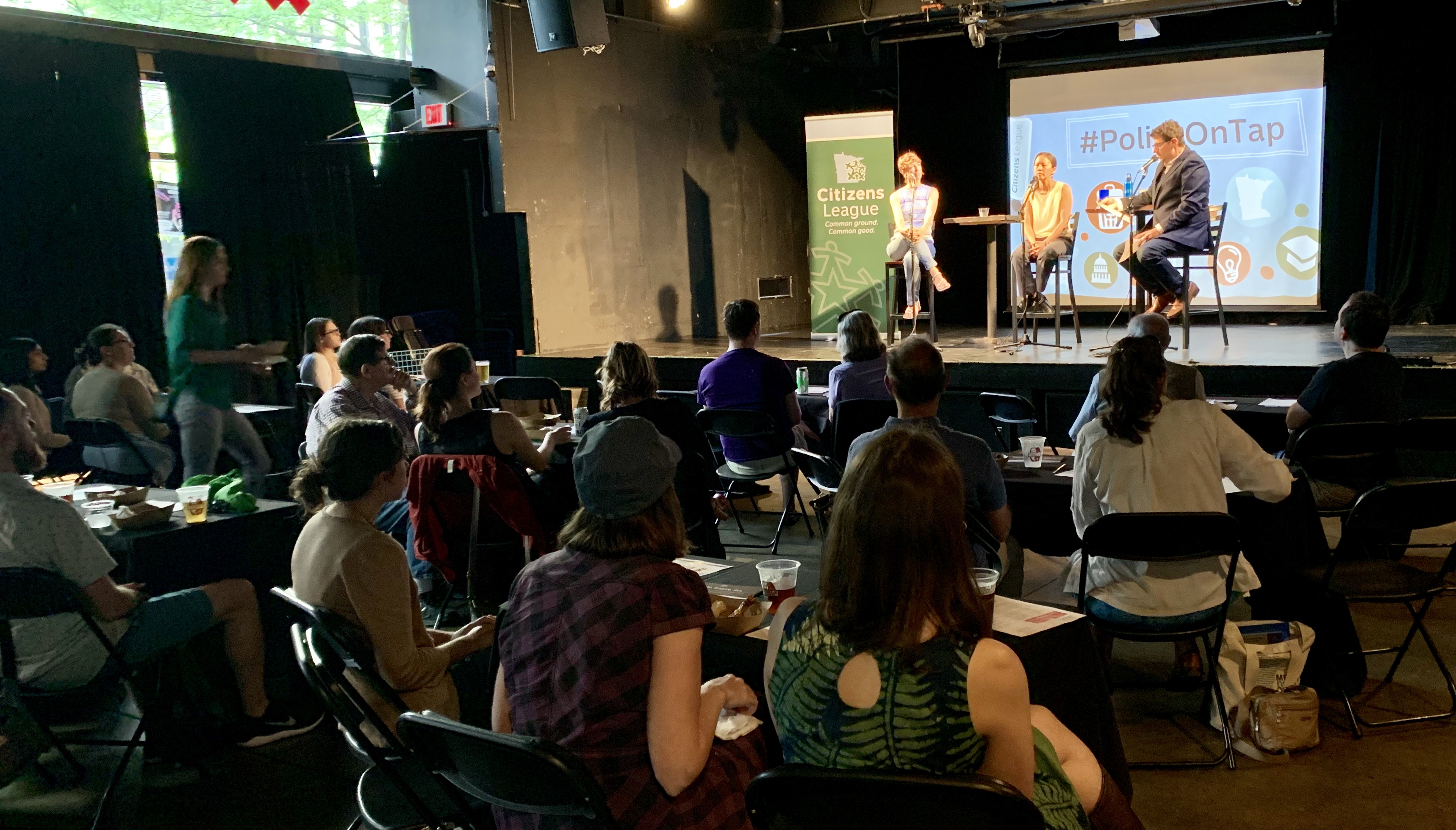 An Apple A Day...Makes Waste
June 5, 2019
Of all the things we throw in landfills or incinerators, the single largest component is food — as much as two of every five pounds of waste (40%!). The average household in St. Paul throws away almost $100 in food every month, according to the MPCA. On June 5, 2019, the Citizens League kicked off its new event series, Policy On Tap, to discuss these issues, what the problems are, and what can be done.
Click to listen.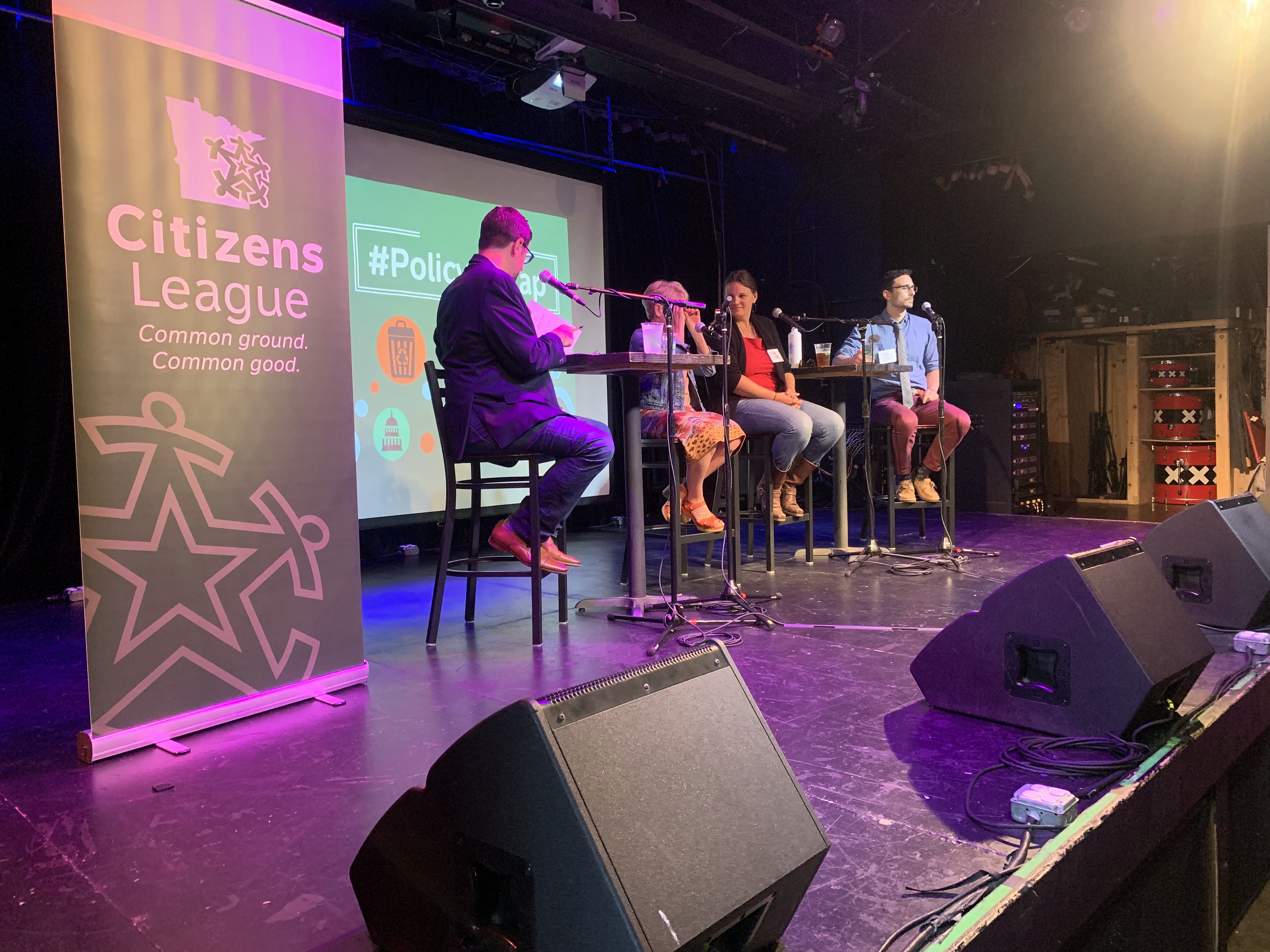 The Business Behind Your Trash
August 20, 2019
Taking away your trash and recycling is mostly a for-profit endeavor in the United States. There are markets for the stuff we recycle and others for the gases created when our trash breaks down. We discussed how these systems work, and the critical disruptions happening right now, including China's decision to stop taking our recycling.
Click to listen.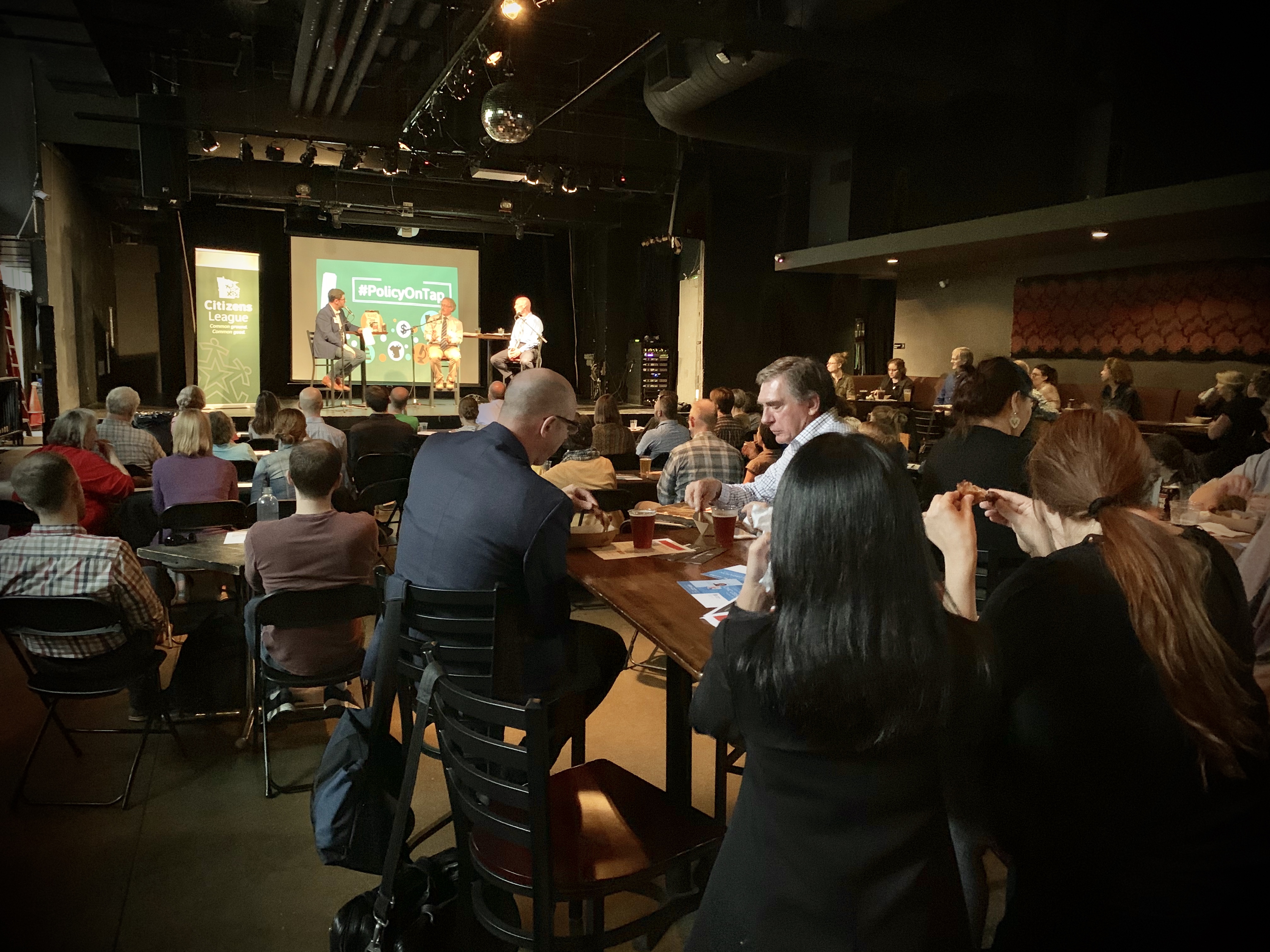 The Science Behind Your Trash
September 24, 2019
We hear generic concepts often around how things break down or are repurposed for new use, but we go deep into the chemistry and physics of each form of disposal. Which disposal gives off which gas, for example, and how are safeguards put in place?
Click to listen.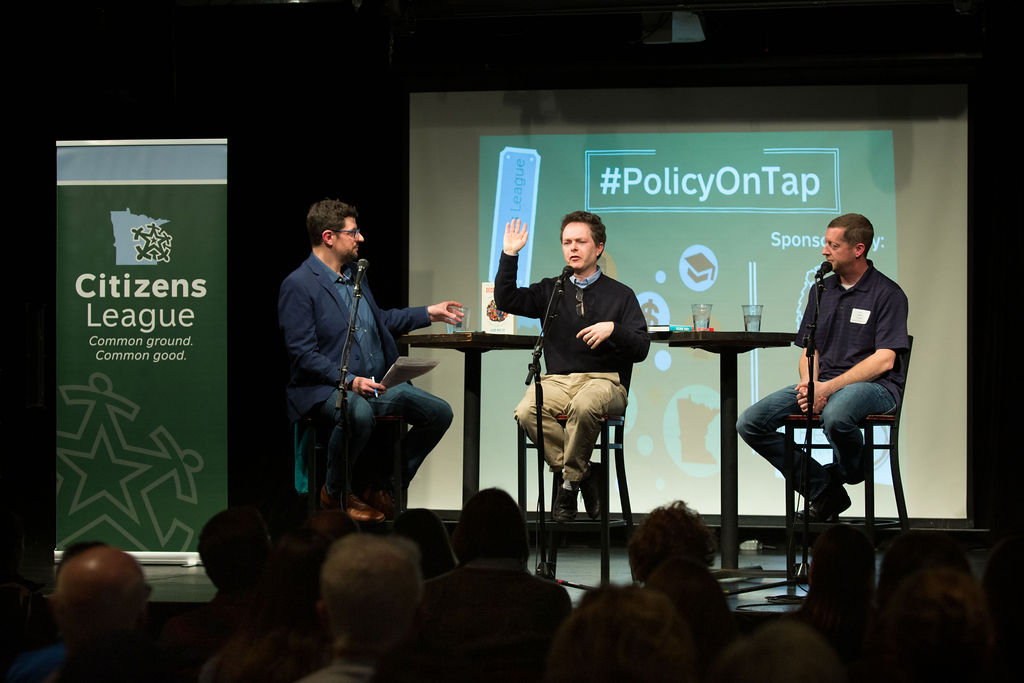 Sparking Joy and the World of Secondhand
December 2, 2019
As our parents age and we grapple with taking all their stuff, what are the policy implications around a generation of children discarding a lot of it at once, often in the secondhand stream?
Click to listen.