Minnesota's aging population is increasing dramatically. According to Minnesota Compass, between 2010 and 2030, our state's 65+ population is expected to nearly double.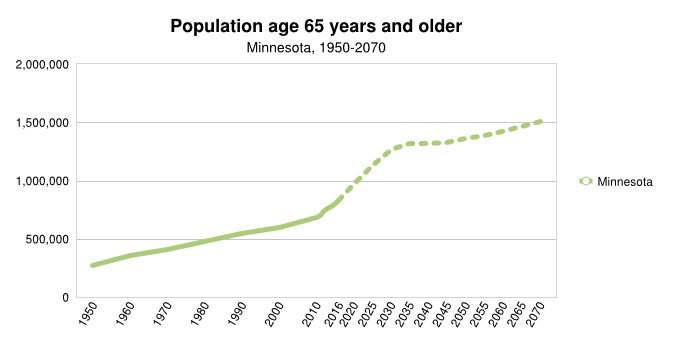 While that projection becomes a reality, according to the AARP, available caregivers are to decline dramatically as the Boomer Generation transitions from caregivers to care recipients. Meanwhile, according to a Pew survey, "nearly half (47%) of adults in their 40s and 50s have a parent age 65 or older and are either raising a young child or financially supporting a grown child."
This emerging generation are referred to as "sandwich caregivers," and there is little understanding surrounding the complexities and challenges this entails.
Thanks to funding from The Bush Foundation, we'll begin exploring this caregiving topic both in terms of older adults and people with disabilities. In partnership with the Amherst H. Wilder Foundation, The Culture of Health by Design, and the Institute of Community Integration, this project aims to explore and develop shared language, vision and action by engaging individuals, communities, and organizations working on and living with the challenges of sandwich caregiving.
This project aims to build the groundwork for a state that does more than acknowledge the problems, or simply offer up a disparate set of resources that are hard to navigate. As the population ages and resources become increasingly strained, the burden will continue to fall to families, friends and neighbors, particularly those in the sandwich generation. Our vision is for an adaptive ecosystem of supportive resources, services and policies that respond to where and how sandwich caregivers live, learn, work, play and heal.
Accomplishing this requires us to move beyond a mindset of creating new interventions to one of spurring a transformation of the systems that support aging and caregiving.
We are excited to begin this process to better prepare our communities for the changes that life brings as we and our loved ones age.
Stay up to date with this project by receiving our newsletter, and following us on Facebook and Twitter.