Stephanie Oliva grew up in South St. Paul with her parents and two younger siblings. She is a second year student attending the University of Northwestern – St. Paul, and is majoring in Intercultural Studies and Youth and Adult Emerging Studies with concentrations in Social Justice and Nonprofit Leadership. On campus, she serves as the Secretary on the board of the Latinx Club.
She is a proud Chicana who loves learning about her culture and is passionate about serving her Latino community. As a daughter of Mexican immigrants, she works hard and strives for success because of the sacrifices her parents made in order for her and her siblings to have better lives. As a college student, Stephanie intentionally pushes herself beyond her comfort zone to engage in activities she never thought she would—such as participating in the Capitol Pathways Program. As someone who had limited knowledge of public policy, "I never thought I would have the courage to apply," said Stephanie. "I pushed through a lot of fear within myself to participate in something I knew little about." Read on to learn more about Stephanie's experience interning with Minnesota Housing Partnership and her journey to believing in herself.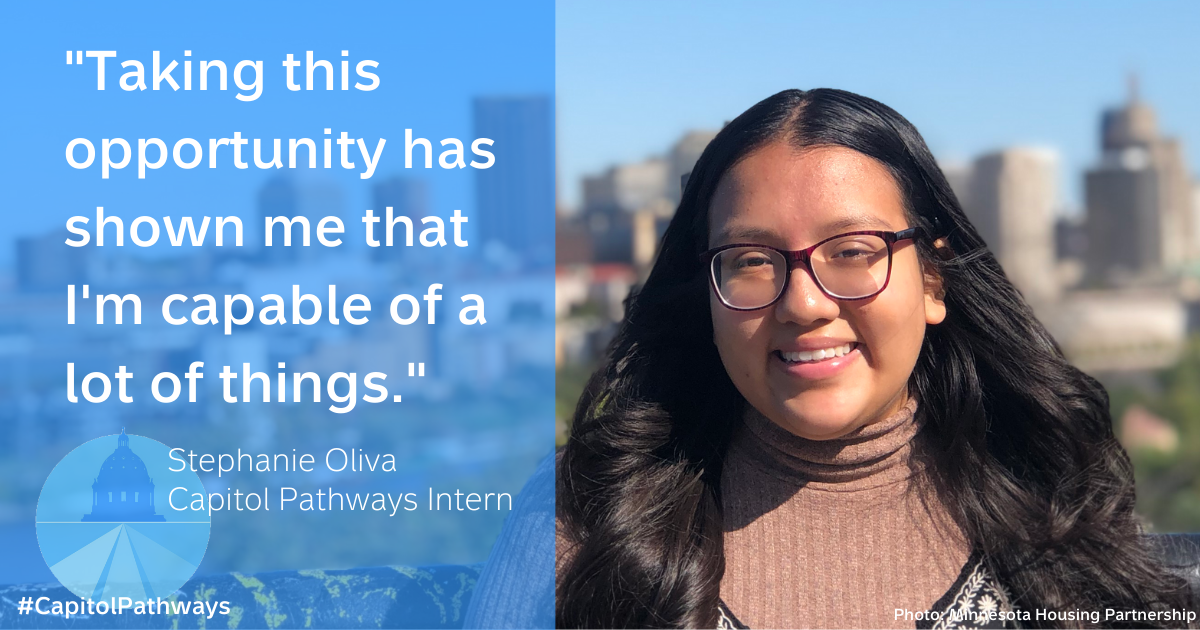 As someone with no previous exposure to policy, Capitol Pathways was a great fit for Stephanie because it gave her access to the field. "I love that Capitol Pathways gave me an opportunity and I didn't need to have a lot of experience to apply," Stephanie shared. "Often times, lack of experience prevents me from participating in many internships so this was a good opportunity for me to explore policy firsthand." Through the program, Stephanie interned with the Public Policy Team at Minnesota Housing Partnership. Before the crisis, she had many networking opportunities with legislators and coalition partners. She also attended committee hearings and summarized her learnings and bill updates on an online blog called "Stephanie's Scoop," that was shared internally with her organization and subscribers on their email list. Now, she is saddened that she no longer gets the opportunity to be at the Capitol. It is difficult for her to feel that the research work she is engaged in now, is as important or productive as the experiential learning she did at the Capitol. Being back home, it is also challenging for her to balance her academic work, internship duties and responsibility to her family as a caretaker for her two younger siblings. She shared, "it is difficult to navigate all the moving pieces and not feel so drained."
Despite the challenges, Stephanie is excited to explore what the policy world holds for her. Now that she has been exposed to policy, she wants to continue learning about it and how it impacts community. She hopes she can one day own a nonprofit and work on affordable housing issues. Participating in Capitol Pathways has both increased her confidence and solidified her passion for public policy. "Taking this opportunity has shown me that I am capable of a lot of things," Stephanie shared. "And that, sometimes, I am the only thing standing in my way of taking and making the most of the opportunities that come my way."
As part of #GiveAtHomeMN, we are introducing you to our 2020 Capitol Pathways students to hear about the difference you can make when you invest in these students and the program. It's easy to imagine the change we can create for the future if we come together as a community. Please join us and make a gift today.
Through the month of May, your gift to the Citizens League's #GiveAtHomeMN campaign will support the Capitol Pathways students of today and tomorrow. Of our $10,000 goal, $5,000 will go directly to this year's students, and the remaining $5,000 will go to support our 2021 program year.
Capitol Pathways remains a one-of-a-kind paid internship program in Minnesota, providing our future civic leaders the leadership training, legislative experience and connections they need as they begin their careers. To hear their stories, follow us on Twitter and Facebook, and follow the hashtags #CapitolPathways and #GiveAtHomeMN, and track our progress to our $10,000 goal on our GiveMN page here!
To learn more about the program, visit our program page, or contact program manager Kalia Xiong at [email protected].