Genesis Carrazco was a senior at Hamline University, majoring in Psychology and minoring in Biology. Genesis loves to spend her time both volunteering at the Minnesota Children's Hospital, which she has done for over the past two years, and at a Women's shelter in her hometown of Eagan. At the shelter, Genesis assists with childcare and tutoring. Aside from her paid internship through Capitol Pathways, Genesis works at Walgreens, where she has worked as a cashier and pharmacy technician since she was 16.
Midway through her third year at Hamline, Genesis was still trying to discern her vocational direction after changing her major from Biology with a pre-med track to Psychology. She took a Public Health class as part of her Psychology major and it opened her eyes to the importance of public policy. It was this newfound interest in public policy that Genesis found the Capitol Pathways program. For Genesis, the Capitol Pathways program has been unique from any other internship position she has held in that she has spent an incredible amount of time out in the field, attending committee meetings at the Capitol and meeting countless individuals doing all different kinds of work around public policy.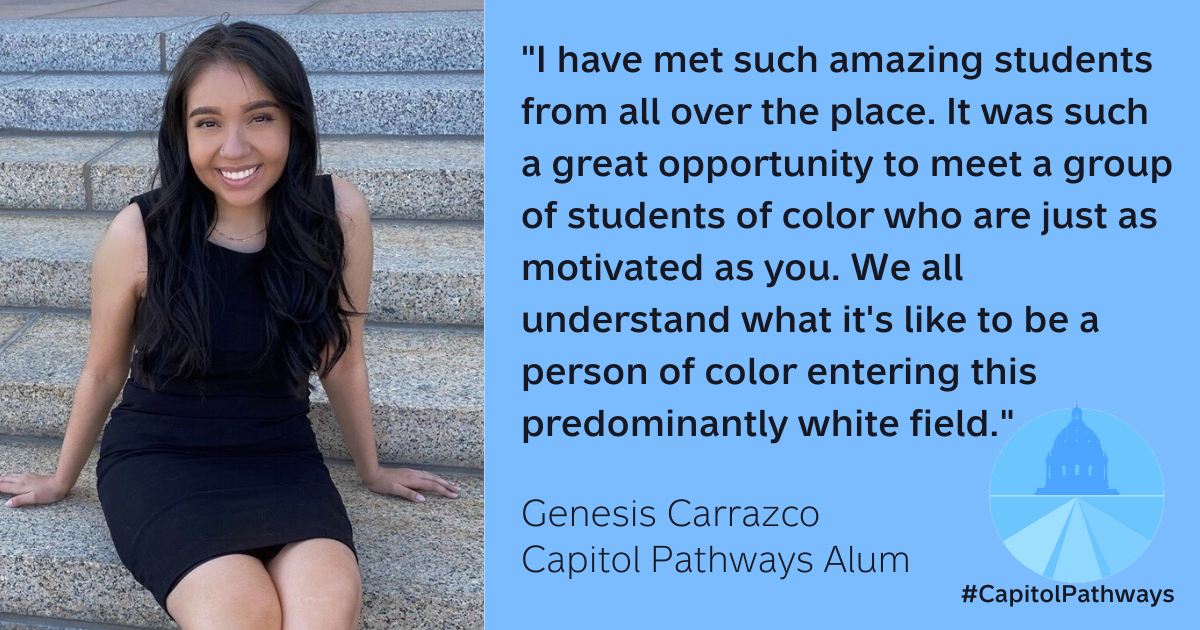 Prior to the Governor's stay-at-home order, Genesis' internship with Ramsey County brought her to the Capitol three times a week, where she frequently attended back-to-back committee hearings and was responsible for notetaking. Her time at the Capitol also exposed her to wide variety of work done by lobbyists, as she would frequently sit in on policy meetings with a wide variety of stakeholders. Since March, Genesis's experience with Ramsey County has of course changed. She attends as many virtual meetings, town halls, and committee hearings as possible, but has also now become more focused on her plans after graduation. Genesis has looked to set up a number of informational interviews with the people she has been connected to through her internship. One development that has resulted from Genesis's Capitol Pathways Internship is her interest in law as a career path, "no-one ever heard me say that I wanted to go to law school before Capitol Pathways," shares Genesis. COVID-19 has created new opportunities for her to connect with lawyers and people who have used law degrees for public policy work as she looks to determine her next steps. Overall, Capitol Pathways has taught Genesis how important networking is, and this is something she has been able to continue with even while working from home.
Genesis' experiences with the Capitol Pathways program has solidified her values that drive her to work on policy issues related to health disparities in underserved communities after she graduates. With this said, she is also extremely interested in issues related to the U.S. immigration system and the way these intersect with issues of mental and public health. Genesis continues to be open to new career possibilities, focusing on "saying yes" to as many different opportunities as possible and "meeting new people and learning about different careers." For Genesis, it has been especially exciting and motivating to meet other people of color working at the Capitol, a space she has historically not seen people like her occupying.
As Genesis considers the impact that the Capitol Pathways program has had on her life, it is clear that "if it wasn't for Capitol Pathways, I would not be where I am right now. I would not be interested in law, I would not know that I am interested in pursuing something related to lobbying or non-profit work . . . I would still probably be just as lost as I was last year." Besides the experiences Genesis has gained and skills she has developed that have helped give her "a sense of direction", the relationships she has developed with other members of her cohort, who have continued to "talk and help each other" remotely, will stay with her. For Genesis, Capitol Pathways was "a great opportunity to meet a group of students of color who were just as motivated as me, and who knew what it was like to be a person of color entering this predominantly white field." Overall, this is one of the many reasons why Genesis loves Capitol Pathways.
Capitol Pathways remains a one-of-a-kind paid internship program in Minnesota, providing our future civic leaders the leadership training, legislative experience and connections they need as they begin their careers.
To learn more about the program, visit our program page, or contact program manager Kalia Xiong at [email protected].