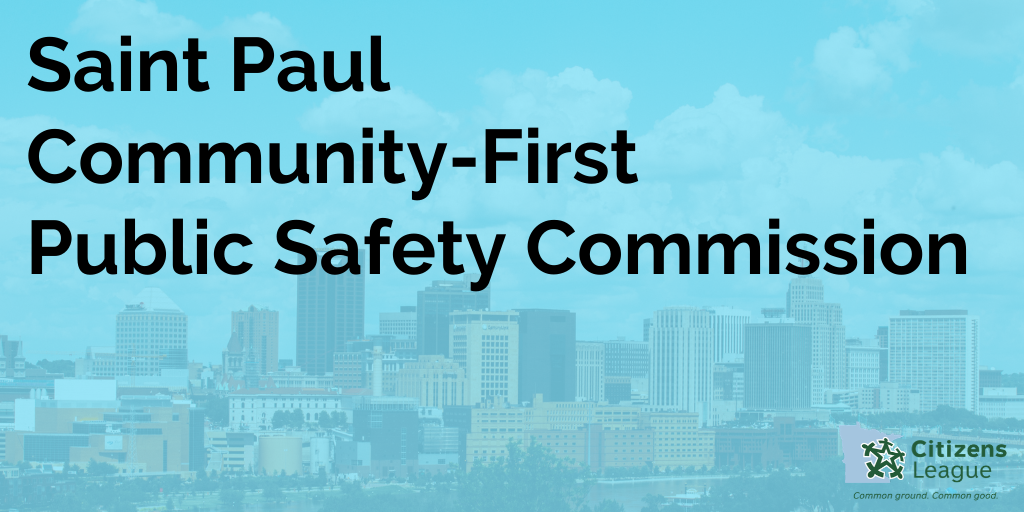 January 15, 2021 Update
As we announced at the outset of this project, the Citizens League has been selected by the City of Saint Paul to convene this Commission. The Commission will help shape Saint Paul's continued work to take a holistic and sustainable approach to building safer outcomes in its neighborhoods. Consisting of 48 members appointed by the Mayor, the Commission will bring together community members with wide ranging experiences to explore how the City can build upon its current strategy.
Meetings began on December 17th, and will be held through April, with final recommendations delivered to the Mayor and City Council in May 2021. All meetings can be viewed during the times they are held on our project page.
> Visit our Commission project page at any time for up-to-date information on its work.
In this update:
Meeting Materials & Minutes
Next Meeting
In the News
Your Input
Meeting materials, presentations, and minutes now online
Commission meeting materials are now online, including presentations, agendas, and meeting minutes as approved by the Commission. Click here to view on our project page.
The Commission met for the first time on December 16, 2020, where they introduced themselves, reviewed the Commission charge, and discussed the timeline of the project.
For their second meeting on January 6, 2021, the Commission heard from Nancie Pass, Director of the Ramsey County Emergency Communications Center (ECC), and Deputy Chief Matt Toupal, Saint Paul Police Department Operations Division. Ms. Pass and Deputy Chief Topal provided information on priority 4 and priority 5 calls and how Ramsey County ECC works with the Saint Paul Police Department and Saint Paul Fire Department.

Above: Nancie Pass, Director of the Ramsey County Emergency Communications Center (ECC), shared open emergency 911 data as part of her presentation. (Click the image to zoom.)
This heat map represents the volume of calls received throughout the day throughout 2019. Each row represents a month, and each column represents the time of day (24 hour time). Total calls for each month are summed on the far right, and total calls for each hour of the day throughout the year are summed on the bottom.
This data and more is available publicly at https://opendata.ramseycounty.us
The third meeting held this week on January 13 included three presentations from three presenters on response models and response model gaps for person(s) in crisis. The Commission heard from:
Sophia Thompson, Interim Division Director, Adult Support and Mental Health Center, Ramsey County & Jamie Jackson, Supervisor, Adult Crisis Response Team, Ramsey County
Sergeant Jamie Sipes, Program Coordinator, Community Outreach and Stabilization Unit, Saint Paul Police Department
Roger Meyer, Project Director, East Metro Crisis Alliance
> Click here for more detailed information and documents related to each meeting.
Next meeting: January 27, 2021
The Commission will meet next on Wednesday, January 27, 2021 from 9am to 12pm. The meeting will be held online, and will be livestreamed for the public on our project page at that time.
Your input
Community input helps inform Commission discussions. Each week, all input provided is reported to and discussed by the Commission.
If you have a question or a comment, please click here for our comment form, Email us at [email protected] or leave a voicemail at (651) 252-4415.