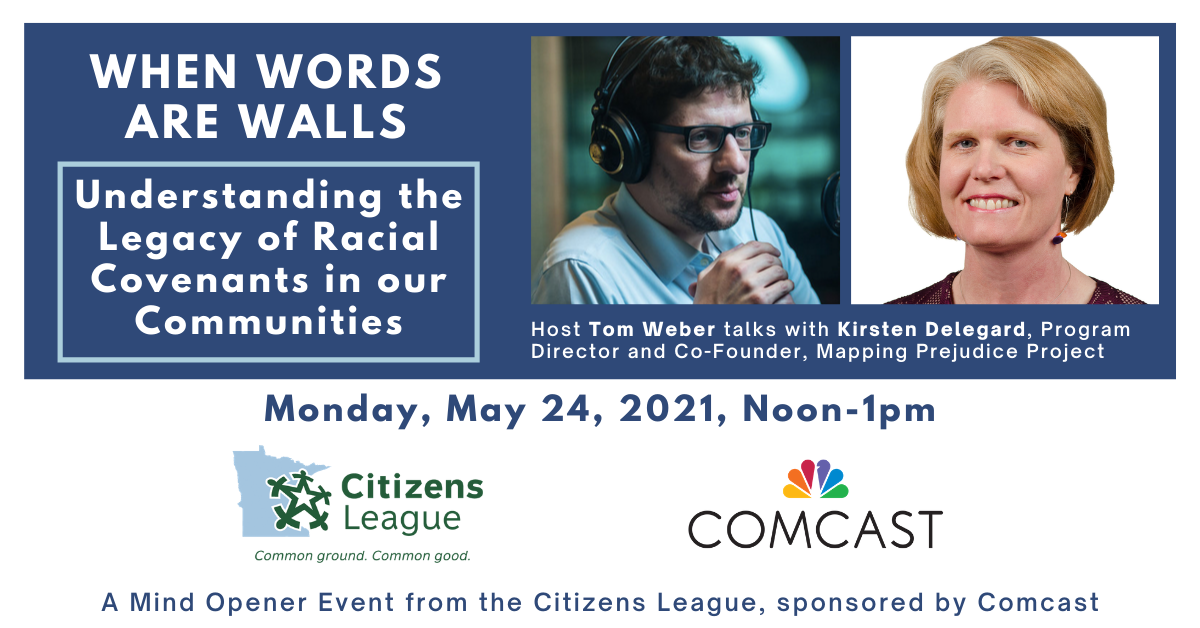 The neighborhoods of Minneapolis, and many other cities, were defined by long-standing practices that kept families of color out of specific parts of the city. A main tool was the racial covenant, placed into property deeds, that prohibited the sale of homes to people of color.
Watch below as Tom Weber and guest Kirsten Delegard from Mapping Prejudice dive deep into how these policies have made a lasting impact, and what can be done to shape a more inclusive future.
About our speaker:
Kirsten Delegard is one of the co-founders of the Mapping Prejudice Project. She received her Ph.D. in history from Duke University, where she trained as a women's historian. In her early research, she explored the history of women and politics. More recently she has devoted her energy to public history and unearthing the complex past of her hometown, Minneapolis This focus led to Mapping Prejudice and the Historyapolis Project, which Delegard also started.
Mapping Prejudice is located in the John R. Borchert Map Library at the University of Minnesota. Delegard also holds faculty affiliations with the Department of Geography, Environment and Society and the Heritage Studies and Public History Program at the University of Minnesota. She was awarded a fellowship from the National Endowment of the Humanities and has been a Legacy Research fellow at the Gale Library at the Minnesota Historical Society.
Citizens League Mind Openers are deep dives into policy topics that affect Minnesota and its residents. The talks are an opportunity for people to learn and talk about a variety of different issues.
This event is sponsored by Comcast – Twin Cities.