Translation: Pupusas, pastries, and policy: The 2020 Census
Citizens League se enfoca en ayudar a todos quien viven in Minnesota a entender el poder político que tienen en sus comunidades. Por ese motivo, estamos organizando nuestro primer evento que se dará acabo completamente en español. En esta ocasión, se trata del Censo del 2020.
*Tendremos servicios de interpretación para personas que solo hablan inglés.
¿Cómo funciona el censo federal? ¿Qué datos se piden, y como se usan? ¿Cuál es la controversia sobre una posible pregunta el en censo sobre ciudadanía? ¿Qué preparaciones ya se están haciendo para juntar los datos de todos los Minnesotanos?
Venga a la cervecería Dual Citizen Brewing para una plática—en español—con nuestros invitados que hablarán sobre estas preguntas, y más, incluyendo dudas que tal vez tenga usted. La Directora de Política de Citizens League Angelica Klebsch participará con:
Henry Jimenez, Director Ejecutivo del Consejo Estatal sobre Asuntos Latinos
Tyler Moroles, Analista Superior de Planificación del Condado de Hennepin
Andrew Virden, Director de Operaciones y Participación del Censo en el Departamento Estatal de Administración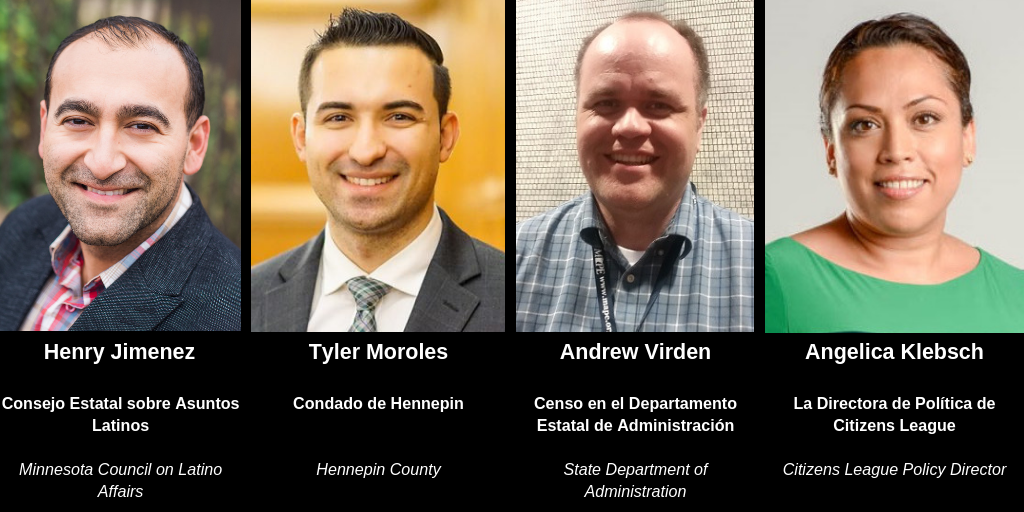 ¡Los vemos en nuestro evento "Pupusas, pan, y política: El Censo 2020!"
Lunes, 3 de diciembre
Entrada: 5:30, Programa: 6-7pm
*Este evento es gratuito, y se pueden traer niños
Dual Citizen Brewery
725 Raymond Ave
St.Paul, 55114 (mapa)
Cómo llegar:
Hay estacionamiento gratuito en el lote en la esquina las calles Raymond y Territorial. También hay bastante estacionamiento en las calles cercanas con parquímetro. Por favor no se estacione en el lote pegado a la cervecería, ya que está reservado para residentes del edificio.
O puede tomar el tren de la línea verde a la parada Avenida Raymond y caminar una cuadra al suroeste.
The Citizens League strives to empower all Minnesotans to see the role they play in civic life. In that spirit, we are hosting our first event completely in Spanish*. This time, it's about the upcoming 2020 Census.
*Translation services for English-only speakers will be available.
What is the federal census? What data is collected, and how is it used? What is the controversy surrounding the possibility of adding a citizenship question? What preparations are already underway to collect data from Minnesotans?
Join us at Dual Citizen Brewing for a panel discussion - in Spanish – with our guests who will shed some light on those questions, and more. Citizens League Policy Director Angelica Klebsch will welcome:
Henry Jimenez, executive director of the Minnesota Council on Latino Affairs
Tyler Moroles, Senior Planning Analyst at Hennepin County
Andrew Virden, Director of Census Operations and Engagement at the state department of administration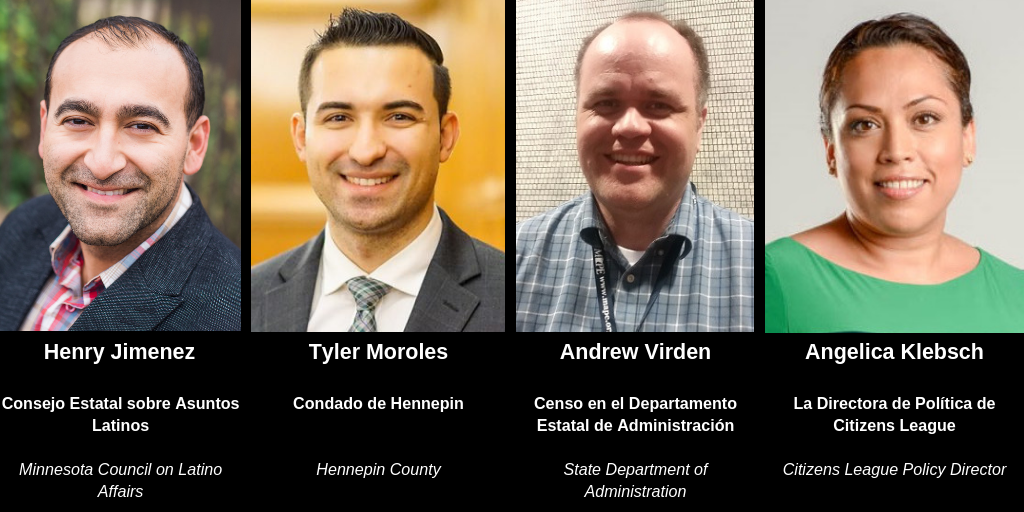 Join us for Pupusas, pan, y política: El Censo 2020!
Monday, December 3
Doors: 5:30, Program: 6-7pm
Dual Citizen Brewery
725 Raymond Ave St.Paul, 55114 (map)
Complimentary pupusas (a thick corn tortilla stuffed with a savory filling) and pastries will be served!
Free! Children are welcome!
Getting There:
There's free parking in the Raymond & Territorial Road parking lot, as well as south of Myrtle, right behind the C&E parking lot. There's also plenty of metered street parking. Please don't park in the lot behind the brewery, as that's reserved for C&E residents.
The brewery is right off the Pelham Bikeway, part of the St. Paul Grand Round.
Take the Green Line Light Rail to the Raymond Ave Stop and walk one block southwest.