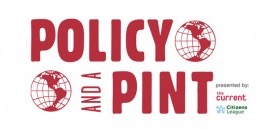 At Policy and a Pint®, we talked about the state of water in the Twin Cities: what are the biggest threats, what is currently being done, and what can each of us can do in our own community to improve the odds that clean, abundant fresh water will continue to buoy our quality of life well into the 21st century and beyond.
Audio: Click here to listen to the full program.
Steve Seel (89.3 The Current) and panelists Steve Woods, Executive Director of the Freshwater Society, Shannon Lotthammer from the Minnesota Pollution Control Agency, and Lark Weller from the National Park Service presented Policy and a Pint: Water, Water Everywhere, But…

Funded by Target, Policy and a Pint® is an event series cosponsored by the Citizens League and 89.3 The Current that engages people in important conversations about public policy in Minnesota.
Steve Woods, Executive Director, Freshwater Society
Steve Woods joined Freshwater Society as Executive Director in 2013. The mission of the Freshwater Society is to promote the conservation, protection and restoration of all freshwater resources. Steve is a civil engineer who previously was one of two assistant directors of the Minnesota Board of Water and Soil Resources, a $60 million a year state conservation agency. From 1987 to 1999, he was a consulting engineer in the Minnesota office of MWH, a global environmental consulting company. He also worked two years as a research analyst in the former Division of Waters in the Minnesota Department of Natural Resources. He earned a bachelor's degree in agricultural engineering from the University of Minnesota, and a master's degree in public administration from Hamline University.
Shannon Lotthammer, Minnesota Pollution Control Agency
Shannon is Director of the Environmental Analysis and Outcomes Division at the MPCA, a role she has held since 2012. In that role she provides overall agency direction and leadership to the Environmental Analysis and Outcomes Division so that the Division is working to protect and improve Minnesota's environment and enhance human health. The purpose of the EAO Division is to monitor and evaluate the physical, chemical and biological conditions of Minnesota's environment; to identify environmental threats and impacts to human and ecosystem health; to lead the performance management system for the Agency; to help set environmental goals, establish standards, and measure progress in achieving environmental goals; to complete risk assessments and effluent limits in support of regulatory programs; and to make data accessible to agency leadership, staff, stakeholders and citizens. Shannon earned a BS in Biology from UMD, and MS in Ecology from the University of Minnesota.
Lark Weller, National Park Service
Lark has served as the Water Quality Coordinator and Community Planner for the Mississippi National River and Recreation Area since 2008. In that role, she works with park partners to minimize the negative impacts of human activities on the park's water resources. She co-authored the "State of the River Report" in 2012, a snapshot of the health of the Mississippi River based on a broad range of water quality and aquatic ecosystem data. Lark has a bachelor's of science degree in agriculture, sociology, and anthropology, as well as a master's degree in urban and regional planning, from the University of Minnesota.