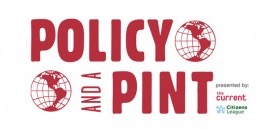 Many polls—especially in an election year—suggest that Americans believe the country is in a political mess with a high-level of government distrust. It has been said that young people's views of government mirror that of the nation. As the generation hit hardest by financial woes, lack of economic mobility, and growing student debt, many young people are walking away from public service, skeptical if politics can bring about the change they want to see. Despite this, some young people in Minnesota are shaking off the political cynicism and redefining the role of young people in government, especially in local politics. At this Policy and a Pint®, we talked with three young leaders on why they decided to serve, what they have learned, and why it is more important now than ever that young people step in to be the voices that will shape Minnesota's future.
Host Steve Seel (MPR) was joined by panelists (full bios below):
Jay Arrowsmith-DeCoux, mayor of Grand Marais
Suyapa Miranda, Executive Director, Saint Anthony Park (Saint Paul) Community Council
Luke Hellier, Candidate for Lakeville City Council

Funded by Target, Policy and a Pint® is an event series cosponsored by the 
Citizens League and 89.3 The Current.
Jay Arrowsmith DeCoux moved to Northern Minnesota to be a canoe guide in the Boundary Waters. Shortly thereafter he discovered North House Folk School in Grand Marais and served as an intern at the then fledgling craft hub. Slowly his relationship with Grand Marais grew until he found himself serving on the City's Library Board and bringing in speakers to present on some of the economic troubles in the area. He was elected in November of 2014 and has since attempted to increase communication with the community and accomplish some much needed projects, all the while extolling the virtues of this unique little town on the big lake.
Suyapa Miranda serves as Executive Director for the Saint Anthony Park Community Council where she works collaboratively with neighborhood residents, the board of directors, staff, business owners, and local nonprofits to build a more visible, influential, and resilient community. Suyapa supports organizational success by providing ethical, operational, and strategic guidance and governance that is consistent with the mission, values, and policies of SAPCC. In this position, she has achieved success in bridging the gap between neighbors and developers to secure affordable housing and sustainable and innovative design in new developments in the neighborhood.
Luke Hellier, a longtime Lakeville resident announced his campaign this spring for Lakeville City Council. He believes one of the most important things a person can do is to serve their community – which is why he decided to run for City Council. Hellier currently serves on the Dakota County Planning Commission and ISD194 Long Term Facilities Planning Committee. Hellier works for a public relations firm in Minneapolis and lives near Crystal Lake with his wife, Josi, and daughters, Betty and Annie.