Admission: $10.00 (Price includes one of Surly's finest brews)
Tickets available at the Uptown Theater & Minneapolis Commuter Connection (220 S. Sixth St.)
Purchase your tickets online (under "Select Show Date," select "Thu, June 17")
Join moderator
Steve Seel
, DJ for 89.3 The Current, and a panel notable figures including
David Byrne, Mayor R.T. Rybak, Steve Clark, and Jay Walljasper
, as they lead a discussion on the new Twin Cities bike share program,
Nice Ride MN
, and our capacity for healthy, sustainable transportation.
David Byrne
has been writing and performing music and directing video and film for more than 30 years. Former lead singer and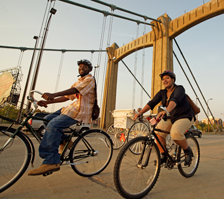 guitar player for the innovative rock band Talking Heads, Byrne is also a passionate cycling advocate. His latest book, Bicycle Diaries (Viking, 2009) is an account of his urban bicycle odyssey through the streets of many of the world's major cities. Through photography and personal anecdotes, Byrne makes a strong case for the way a bicycle can change our view of the world and the city in which we live.
Steve Clark
manager of Transit for Livable Communities' Walking and Bicycling Program, has spent much of his adult life promoting sustainable transportation. He co-founded the Minnesota Coalition of Bicyclists and directed the Minnesota Pedal Power Camp. From there, he became the first bicycle and pedestrian program manager in Boulder, Colorado. He also has worked as a planner for the Ice Age Park and Trail Foundation, public information director for the Land Stewardship Project, and served as the President of the League of American Bicyclists.
Mayor R.T. Rybak was first elected Mayor of Minneapolis in 2001. His Great City Agenda includes creating great public spaces by reweaving the urban fabric. His vision focuses on strong neighborhoods with quality jobs and stores within walking distance of homes. The transportation vision includes helping to build light rail lines connecting Minneapolis to the University of MN, St. Paul and the suburbs. The Mayor also will continue the work that has made Minneapolis the best biking and walking city in America by adding and improving bike lanes.
Jay Walljasper A magazine editor and author, Jay Walljasper chronicles stories from around the world that point us toward a better and more enjoyable future. He covers a wide variety of topics, with particular specialties in community and urban issues, travel, sustainability, cultural commentary, and the commons. Walljasper is the author of The Great Neighborhood Book (2007) and Visionaries: People and Ideas to Change Your Life (2001). His new book, What We Share: A Field Guide to the Commons appears in July 2010. His experience includes being editorial director and editor of Utne Reader, executive editor of Ode magazine.
Policy and a Pint® is presented by Citizens League and 89.3 The Current
Follow Policy and a Pint on Twitter:
#PolicyPint
This event is generously sponsored by:
Bike/Walk Twin Cities | Bryant Lake Bowl | Surly | The Uptown Association
| | |
| --- | --- |
| | The 2010 Policy and a Pint series is generously sponsored by Best Buy. |