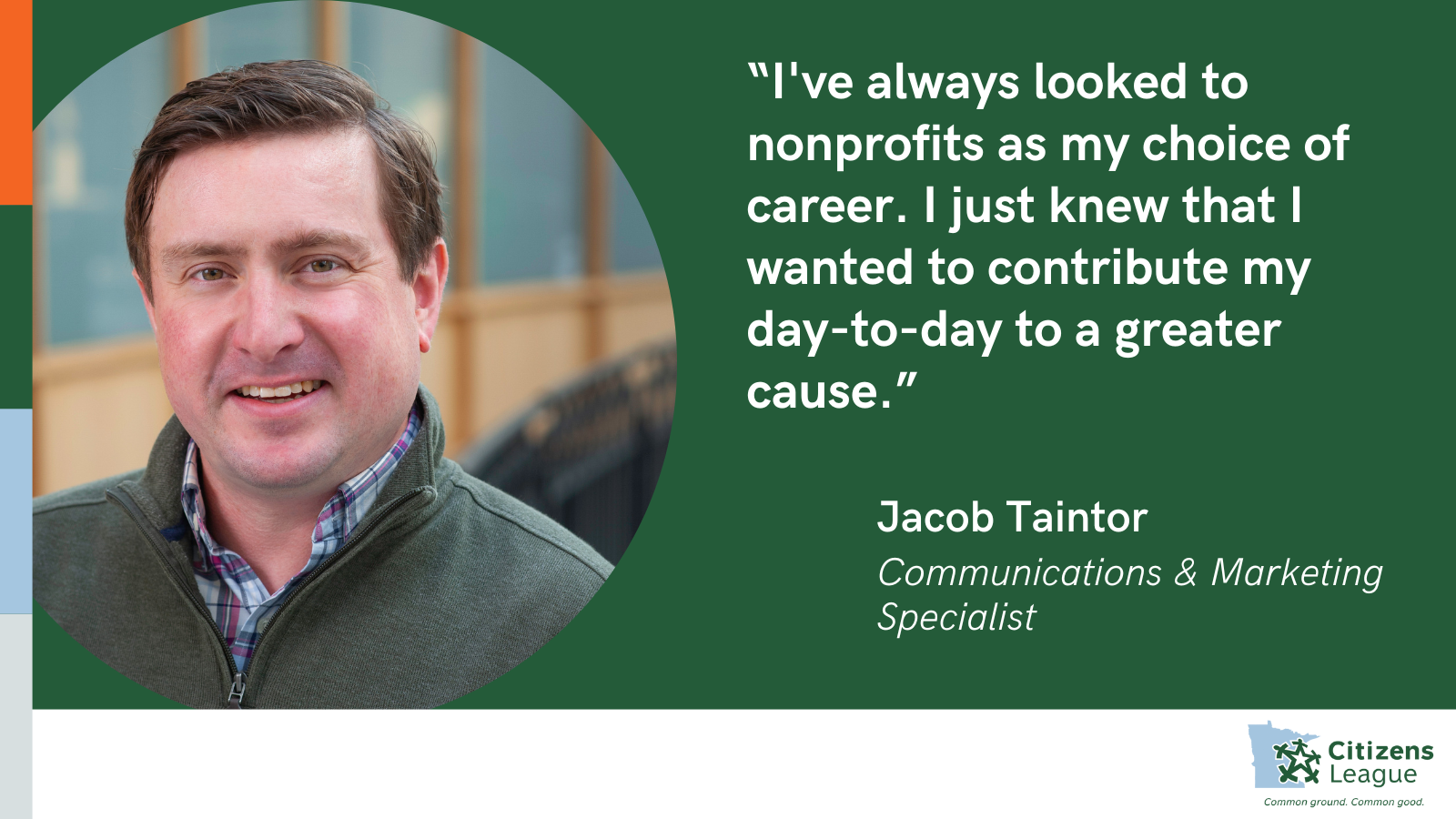 Ten years at an organization is an impressive feat and something to celebrate. We are excited to share that Jacob Taintor, Citizens League's Communications and Marketing Specialist, has reached this ten-year anniversary milestone! Citizens League wouldn't be where it is today without Jacob's hard work, dedication, and contributions to the team. On this occasion, we reflect with Jacob about why he came to work at the League and what has kept him motivated throughout the years. 
After graduating from the University of Minnesota, Jacob entered the workforce in information technology (IT). However, shortly thereafter, Jacob decided he wanted to pursue a career in nonprofits because he felt this would allow him to contribute his efforts to a greater cause and make a difference in his home state of Minnesota. Jacob is passionate about nonprofit work because they provide a critical infrastructure to do good in the world, as "if everything worked well in the world, there would be no need for nonprofits," Jacob expressed. At Citizens League, Jacob has been able to pursue his passion for nonprofit work and helping local communities, and he has also learned more about policy. 
Before working with Citizens League, much of Jacob's understanding about public policy was focused on what happens at the state and federal legislature. However, over the past decade, he has grown to understand how policy happens everywhere through conversations at work, interactions with neighbors, posts on social media, and more. Jacob is proud of his work supporting Citizens League's efforts to make policymaking more accessible and effective for everyone in Minnesota—especially young people and BIPOC (Black, Indigenous, and People of Color) communities. Jacob also points to his participation in the organization's internal team Diversity, Equity, and Inclusion (DEI) conversations as well as community outreach highlighting the importance of the census as highlights in his career with the League.  
Jacob is looking forward to the future work of Citizens League and is especially excited to see how the Connect + Impact program will bring community members together and foster discussions across partisan lines to address specific local policy issues together. This new program is being designed to build upon the League's longtime engagement practices and impactful "study committee" approach. For Jacob, the importance of the Connect + Impact program is that it will actively engage small groups of Minnesotans on a policy topic, and he hopes this will help people to build relationships and form bonds that last for years to come. Overall, Jacob is excited to witness the direct impact of the program on policy outcomes for communities and the impact it will have on bringing people together and building connections.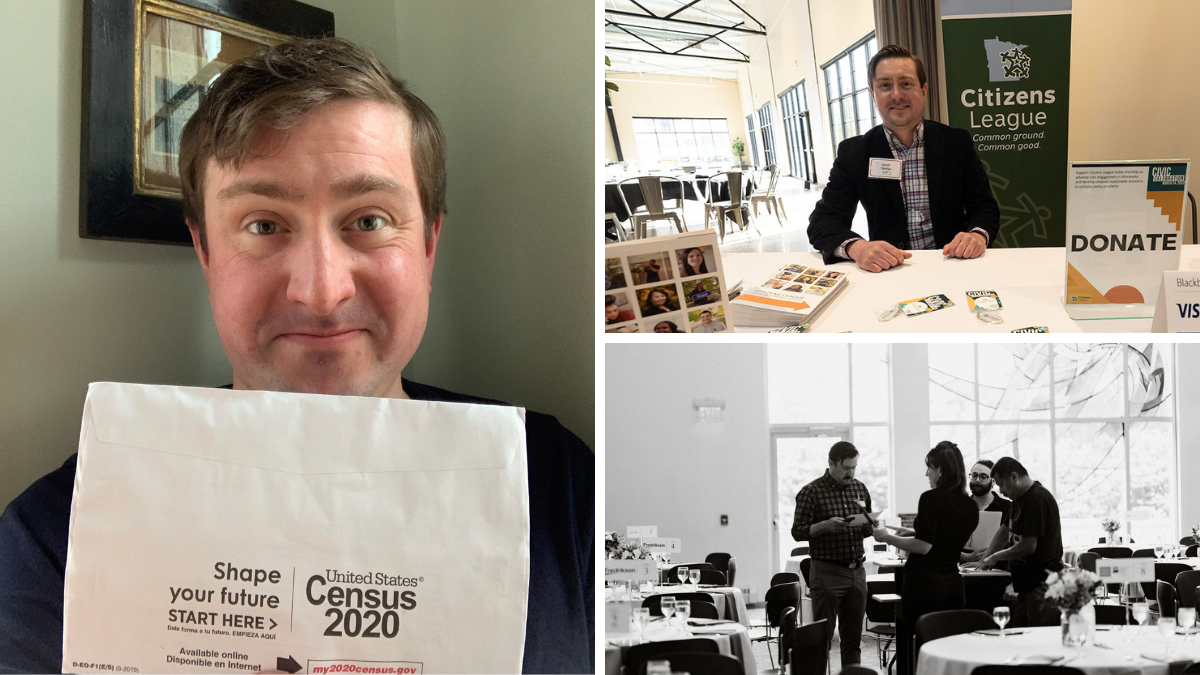 Over the past decade, Jacob's role within the organization has evolved, but he has remained at the League for many reasons, including the people, the impact, and the alignment with his passion. According to Jacob, Citizens League is a "place with little cynicism" that is asking the important questions like "what are the solutions?" and "how do we get there together?" Citizens League continues to help address problems in Minnesota that impact communities throughout the state, and Jacob is proud to play a small part in helping change policymaking processes for the better.  
Although Jacob's work is often done behind the scenes, his impact is felt strongly within our team, and we are proud to share his story and impact with our community. Thank you, Jacob, for your dedication to Citizens League and for your commitment to making Minnesota a better place to live for everyone! 
Special thanks to our St. Thomas intern, Noah Patterson, for writing this special piece to highlight Jacob's many contributions to the League.