Dear Citizens League Members, Supporters, and Friends,
After an extensive search with many strong candidates, I am excited to introduce you to the Citizens League's next Director of Public Policy, Blanca Martinez Gaviña.
Starting her work with us on January 4, 2022, Blanca will serve as a key leader within our team, driving the League's policy initiatives and strategies. In this role, she will develop and guide our deep policy projects with partners and community members; create opportunities for people to engage and make an impact through policy work; and help the team execute the League's overall strategy in service to our mission.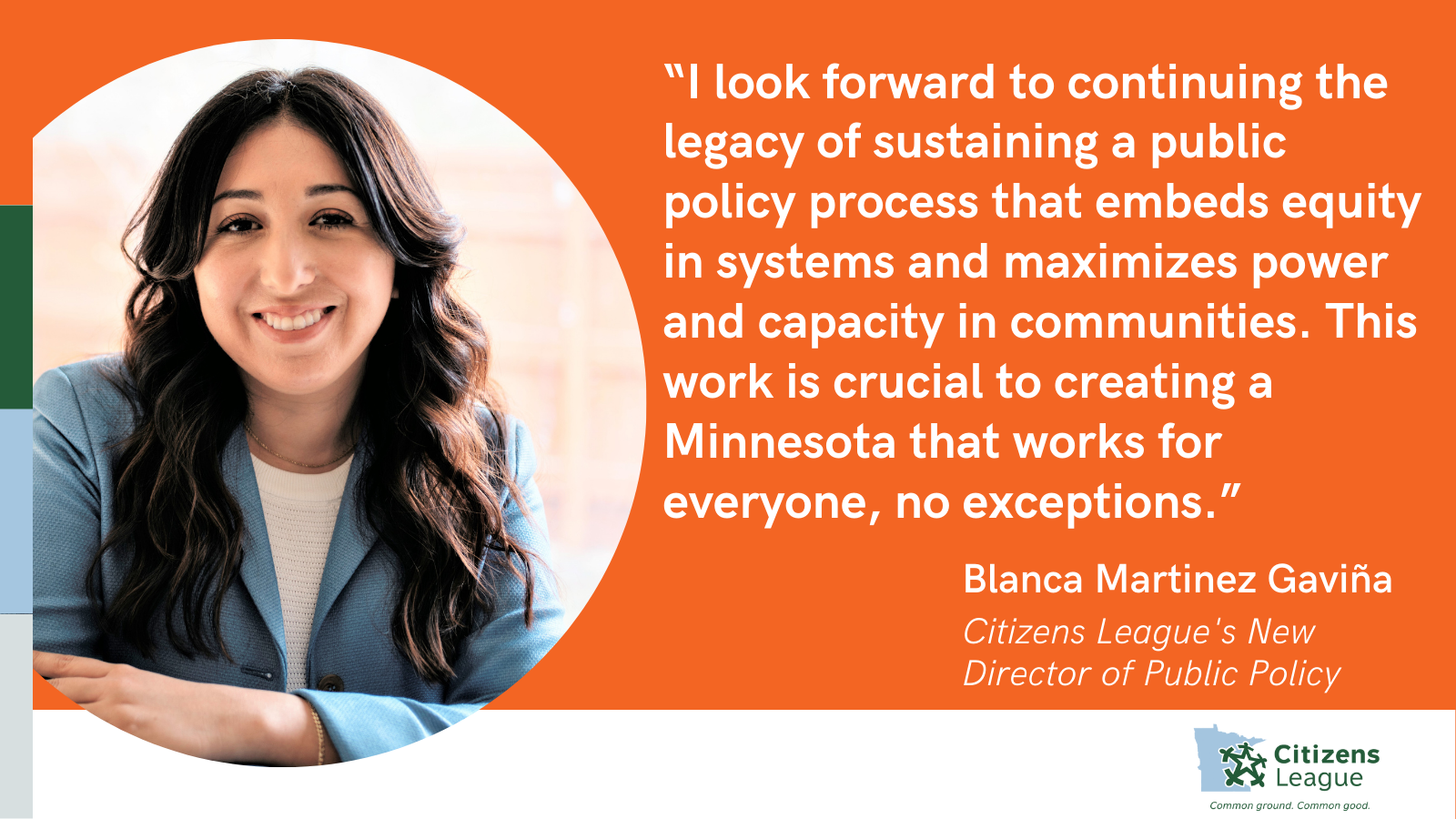 Blanca brings to the League over 10 years of experience in policy development, policy implementation, systems change, and generating community centered, people-first solutions at the local and state level. Her career has included working at the Minnesota State Capitol, in local government, and with community. Blanca brings extensive experience as a group facilitator, having led groups large and small through exploration and consensus processes on issues such as education, mental health, and public safety. She most recently served the City of Richfield as an equity administrator and previously an executive analyst. Through these roles, Blanca led efforts across the city to streamline legislative processes, embed equity at the core of all services, and ensure resident participation in the 2020 Census.

Blanca holds a Master's Degree in Public Affairs from the Humphrey School at the University of Minnesota, where she received the Gary DeCramer Public Leadership Award for her work on community access and advocacy on students' mental health.

Blanca has a clear passion for making an impact through public policy work. Her experience bringing people together from different perspectives and roles to "see each other's power," as she puts it, will be a tremendous asset in our ability to envision and implement solutions.

"I look forward to continuing the legacy of sustaining a public policy process that embeds equity in systems and maximizes power and capacity in communities," Blanca told me. "This work is crucial to creating a Minnesota that works for everyone, no exceptions."

As the League embarks on new strategic priorities for 2022 – including deeper engagement with key stakeholders, new and ongoing policy projects, and exploring a new model of public policy engagement – Blanca is uniquely qualified to lead and grow the League's policy work. Blanca's past work has demonstrated that equity and inclusion in policymaking is not a partisan effort, but is collaborative, rooted in relationships, seeking to create opportunities and outcomes that help everyone to thrive.

We are excited about the energy, ideas, and perspectives that Blanca will bring to our team!

In partnership,


Kate Cimino
Executive Director