Dieu Do is from northern Minnesota and is a first generation college student attending Hamline University. She is a third year student majoring in Political Science and Criminal Justice and actively involved on campus as the Student Body Vice President, a Student Ambassador and Student Dispatcher. Off-campus, she spends her time as a board member for Hamline-Midway Coalition, Women for Political Change and serves on the associate board of Girls on the Run Twin Cities. Through the program, Dieu is interning directly at the Capitol in Representative Steve Elkins' (49B) office.
As a people person who loves being in the company of others, stay at home has been very difficult for her. She has lost sense of connectedness to her community and, above all, "it is hard to see my community hurt during this time," she shared. We caught up with Dieu to learn more about her passion for policy and how she is coping with the crisis. Read more below.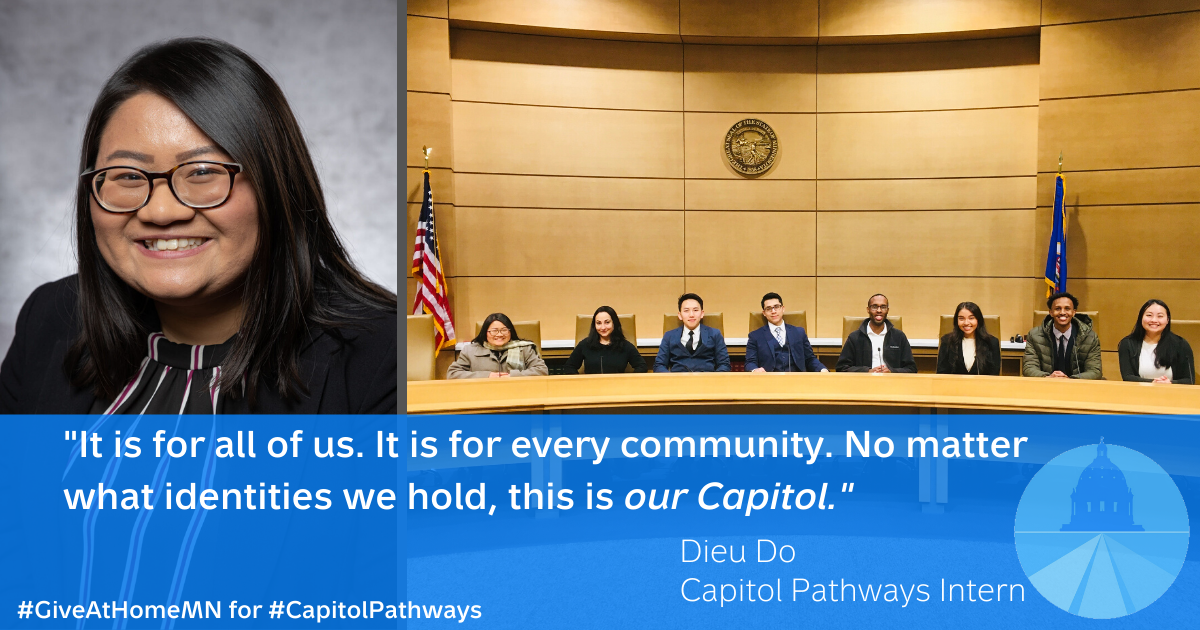 Q: Why were you interested in participating in the Capitol Pathways Program? How has it affected your career aspirations?
When I was seven years old, I went on a class field trip to the local city hall and met the first female mayor in my town. I was amazed to hear her talk about how powerful it was to be in local government and serve the community. Since then, I have aspired to pursue politics and run for office one day. However, the journey to pursue policymaking has not always been easy. Growing up, I was always told that a woman's place is not in politics. As someone whose racial identity was underrepresented at the Capitol, I also didn't know what my purpose of being there was. I wanted to participate in Capitol Pathways to learn more about how state government worked and, to explore a level of government I had never been exposed to before.
My time in this program has affirmed my passion to be a state legislator one day. Now that I have experienced work at the Capitol first-hand, I think state government is the right level of government for my skill-sets and my aspirations. It is still small enough where I can both connect to the constituents I directly serve and, be in a role where I can make big decisions that impact community statewide.
How has the pandemic changed your experience with the program? How has it impacted other areas of your life?
Before the pandemic, I was interning with Representative Elkins' office and working on affordable housing issues and policy. I also had the amazing opportunity to do many informational interviews with legislators to learn about their respective work. I was having a great time learning and meeting many new people in policy.
When the stay at home order was first put into place, I was not doing well. I took a short break from my internship and disassociated from the outside world. I was worried about the unknown of what the future held. Thankfully, I pulled myself out of the darkness and found positivity in the strong support network I had with my friends, family, school faculty and this program. I also found ways to bring happiness and a sense of stability back to my life by taking care of my health and well-being. I used social media as a platform to connect, bring joy and spread positivity with the outside world. I hosted cooking shows on Instagram and at the end of every show, made sure to share a story of positivity with others.
"I know that if we come together and set our differences aside, we can figure out what's best for Minnesotans and do a lot of great work together."
What is one thing you will take-away or your biggest learning from participating in this program?
Sometimes I feel lonely at the Capitol because I do not see many people who look like me. However, I remind myself how important it is to be at the Capitol and reclaim the space as one I am included in and belong to. It is important to do this work and pave the way for other students of color to be involved in their state government and policymaking as well. This program is building the next generation of game-changers and giving a platform to communities that have always been underrepresented in politics. I know that if we come together and set our differences aside, we can figure out what's best for Minnesotans and do a lot of great work together.
As part of #GiveAtHomeMN, we are introducing you to our 2020 Capitol Pathways students to hear about the difference you can make when you invest in these students and the program. It's easy to imagine the change we can create for the future if we come together as a community. Please join us and make a gift today.
Through the month of May, your gift to the Citizens League's #GiveAtHomeMN campaign will support the Capitol Pathways students of today and tomorrow. Of our $10,000 goal, $5,000 will go directly to this year's students, and the remaining $5,000 will go to support our 2021 program year.
Capitol Pathways remains a one-of-a-kind paid internship program in Minnesota, providing our future civic leaders the leadership training, legislative experience and connections they need as they begin their careers. To hear their stories, follow us on Twitter and Facebook, and follow the hashtags #CapitolPathways and #GiveAtHomeMN, and track our progress to our $10,000 goal on our GiveMN page here!
To learn more about the program, visit our program page, or contact program manager Kalia Xiong at [email protected].