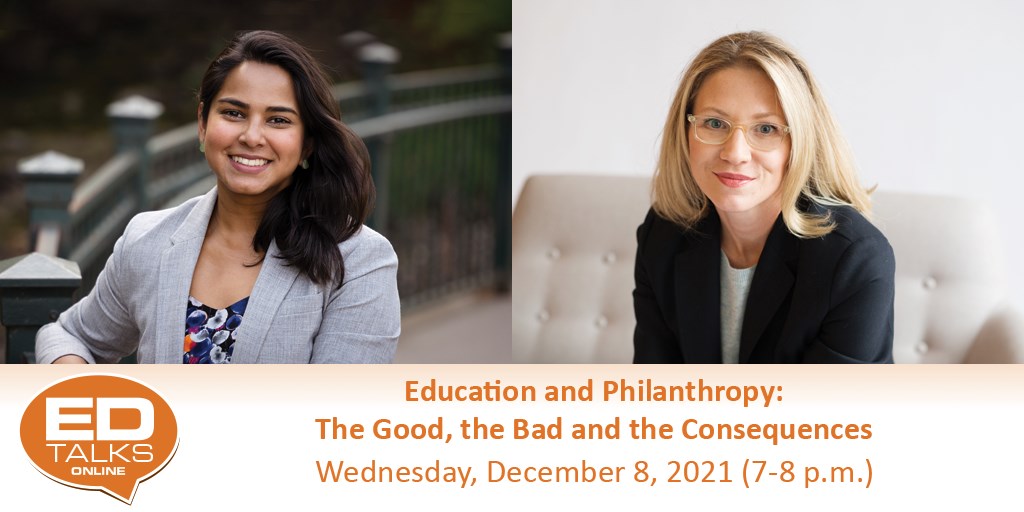 Join us for the launch of our tenth EDTalks season with two talks on the complex intersection of education and philanthropy
EDTalks:
Education and Philanthropy – The Good, the Bad and the Consequences
Wednesday, December 8
7pm
Free, virtual event! Register below.
Funding Education: The Wide-Reaching Impacts of Philanthropy in Education
Philanthropy and education is a complicated mix that has a tremendous impact on education equity and access. More than a quarter of charitable giving by wealthy donors goes to education causes, from childhood to postsecondary, and education is very popular among all donors. As a Constellation Fund impact officer, Amal Karim sees first-hand the interesting dynamics between philanthropy and education and the effects on communities. She will provide a brief overview of philanthropic giving in education and explore current conversations surrounding education funding, race and equity.
Presenter: Amal Karim leads Constellation Fund's evidence-driven grantmaking in education. She is a former national senior policy associate for Educators for Excellence, a national nonprofit focused on teacher-centered policy. She has also worked internationally, first for Teach for Malaysia as a Fulbright Student Scholar, and later in Zambia for the Millennium Challenge Corporation, a U.S. government agency. Teach for America brought Amal into a career in education, where she first taught at Crazy Horse School in Wanblee, South Dakota. She holds of master's degree in public affairs from the Princeton University School of Public and International Affairs.
How Parent Fundraising Perpetuates Racial Disparities in Minneapolis Public Schools
Sara Spafford Freeman is a community organizer, parent and author of "Apartheid in Minneapolis: Racial Disparities in Five Local Systems." Sara has extensively studied PTAs and parent fundraising within Minneapolis Public Schools and argues that current systems perpetuate vast racial disparities. She will share insights and data on how antiquated state funding models, school choice and segregation have resulted in stark inequities within districts like MPS, and the myriad ways parent fundraising contributes to widening these gaps.
Presenter: Sara Spafford Freeman is a strategy consultant, long-time public schools volunteer and co-founder of the Minneapolis Public Schools (MPS) Academics Advocacy group, a group of parents, teachers and community members who are working to push MPS for greater commitment to and investment in student academic opportunities and outcomes. She serves on the board of the Advancing Equity Coalition and is a former board chair for the Domestic Abuse Project. Sara has worked in the medical technology industry for 20 years in finance, investment banking and management roles.