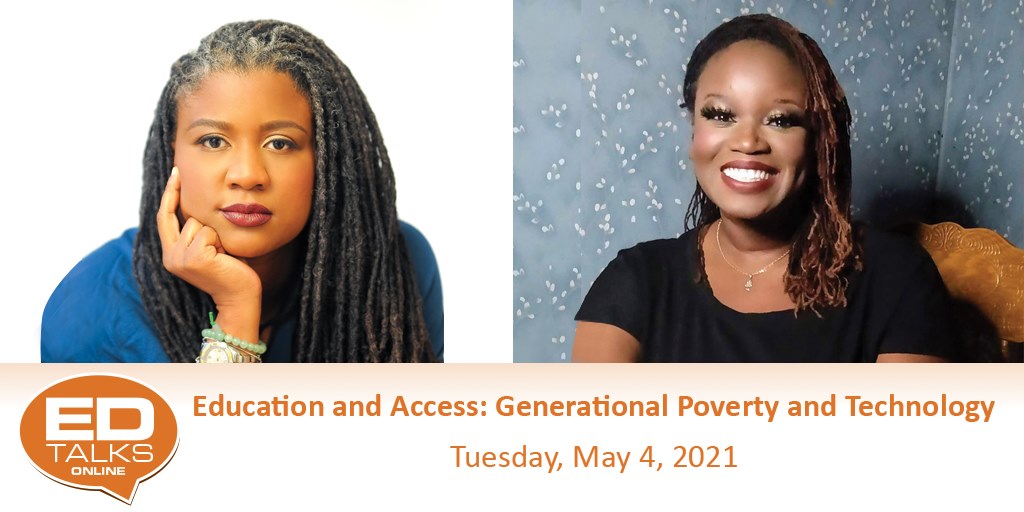 Tuesday, May 4 at 7pm: Join us for two important EDTalks on the intersections of education, generational poverty and technology with Chastity Lord and Ini Augustine. Register below!
The Power of Education in Disrupting Generational Poverty
Generational poverty is perpetuated by an ecosystem of unjust policies and correlating structures that disproportionately impact communities of color. Chastity Lord will share her insights on the connections between generational poverty and systemic racism, and how communities that experience poverty have far less access to quality education and other basic services. She will also demonstrate how education can disrupt the cycle of generational poverty through a focus on career-track college education, high-quality early childhood education, empowerment and life skills training, and supportive communities.
Presenter: Chastity Lord, president and CEO of Jeremiah Program, has spent two decades dismantling systems of inequity for marginalized communities. Utilizing a social justice lens to bridge opportunity gaps, she specializes in organizational development, education, college access, fundraising and leadership development. Before joining Jeremiah Program, she held C-level roles at several other national nonprofits, including Color of Change, Achievement First and The Posse Foundation. Chastity has a BA in organizational communication from the University of Oklahoma and a MBA in strategy and marketing from Kellogg School of Management at Northwestern University. She is a former Pahara-Aspen Fellow with the Aspen Global Leadership Network and serves on the board of Shriver National Center on Poverty and Law.
Education and Technology Access: Jim Crow in the New World Order
Technology was designed by and for white people to the detriment of BIPOC people and experiences in all areas of life. Ini will discuss white supremacy in the technology field and how it impacts education, particularly for children of color. She'll share her lived experiences as a Black woman in hostile educational and workplace environments, and her work as founder of Project Nandi, which is restoring educational access to children of color during the COVID-19 pandemic. She will also map the ways that the digital divide harms children of color by criminalizing them, keeping them in poverty, and excluding them from education – traumas that all carry into adulthood.
Presenter: Ini Augustine (she/her/hers) is a network engineer, social innovator and serial entrepreneur. In response to outcries from her community in 2020, Ini founded Project Nandi, which provides technical support, laptops and broadband assistance for Black, Indigenous, Latinx, Asian and other families to promote educational equity and improve learning outcomes for students. In shifting her own business to the new pandemic norms, Augustine successfully started a social enterprise that, in the words of one mother, "completely changed my family's outlook on life." Since May 2020, Project Nandi has served over 100 families and almost 200 children as it strives to make the world a more equitable, accessible place for Black and Brown people to thrive. You can follow Ini on Instagram @TheBlackTechGuru.
EDTalks is presented by AchieveMpls and the Citizens League, and generously sponsored by the Bush Foundation.