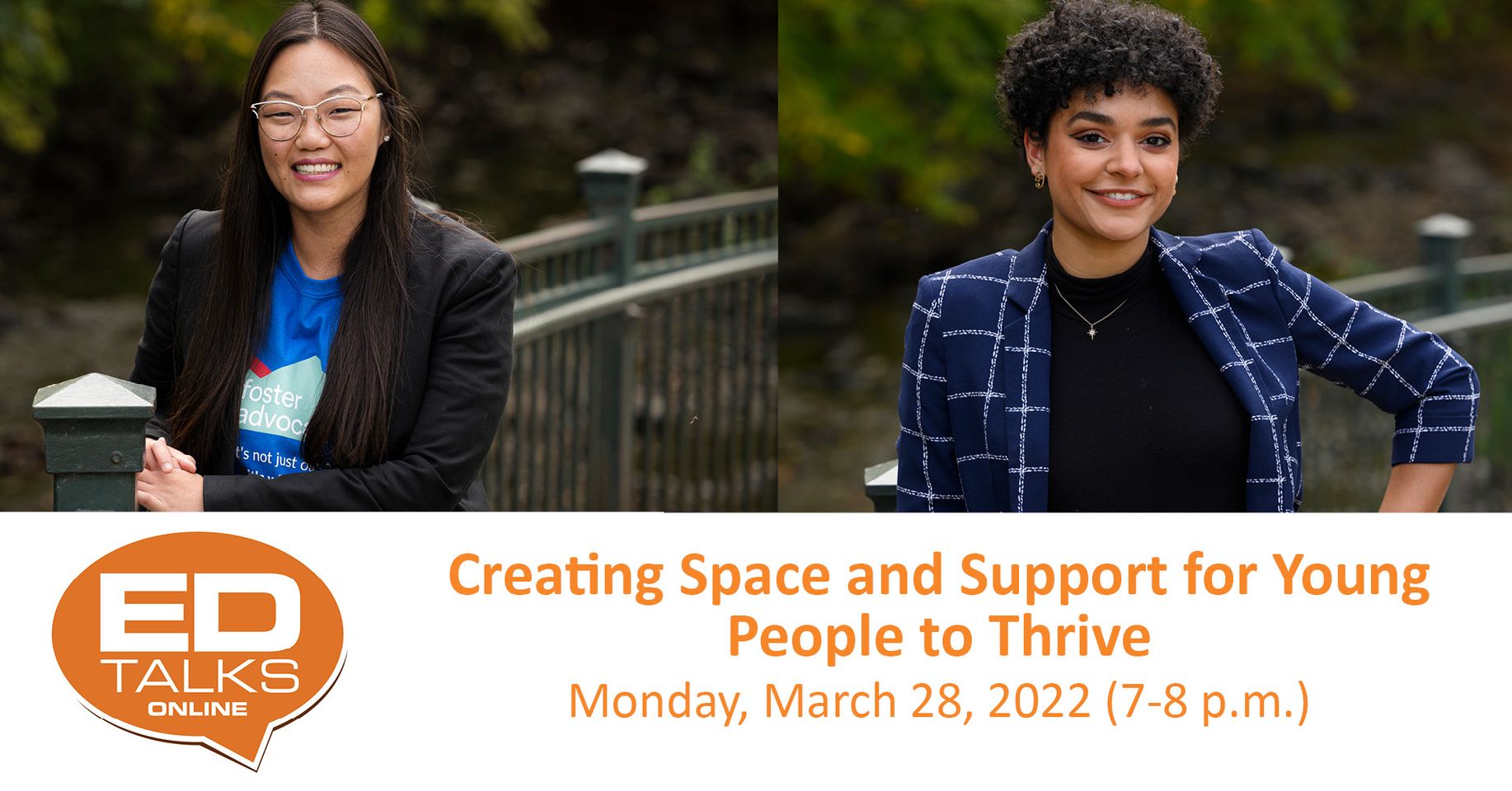 Register today for our March EDTalks with youth advocates Hannah Planalp and Jeannine Erickson
EDTalks:
Creating Space and Support for Young People to Thrive
Monday, March 28, 2022
7pm
Free, virtual event! Register below.
Join us to learn about supporting the educational needs of Fosters and creating anti-racist "third spaces" for all young people.
Zero-Debt College: A New Reality for Fosters
People who have experienced foster care face a unique set of education challenges for both K-12 and postsecondary school. Even though only 41% of Minnesota Fosters are able to graduate from high school, over 80% still want to go to college. For Fosters who are moving out of the child welfare system, postsecondary education is especially critical for their transition to adulthood. Hannah Planalp from Foster Advocates will share her personal stories of being a Foster and the mentor who supported her journey to college and a full scholarship. She'll also introduce Minnesota's new Fostering Independence Higher Education Grants Program, which covers the full cost of attendance for Fosters at accredited schools. Throughout her talk, she'll share data and insights from Foster leaders that broaden the conversation around foster care and education.
Presenter: Hannah Planalp (she/her) leads the Fostering Education Initiative at Foster Advocates, which supports Fosters in getting to and through postsecondary education. Hannah is a Korean adoptee from Glenwood Springs, Colorado and knows first-hand the experience of being a Foster, which is the source of her passion for supporting and amplifying Foster voices. A graduate of the University of California at Berkeley, she brings experience in program development, grant writing, community advocacy and evidence-based healthcare guidelines.
Creating Anti-Racist Third Spaces In and Out of the Classroom
Jeannine Erickson from the arts education nonprofit 826 MSP will discuss the importance of creating anti-racist and anti-oppressionist "third spaces" to support students in the classroom and other settings, such as the organization's Writer's Room at South High School. The creation of "third space" is rooted in abolitionist teaching practices and requires loving accountability, de-stigmatization of mental health, and de-centering of whiteness to truly support youth people in life and education. Jeannine will share how third space that is rooted in community-building, Afro-futurist theories and teachings, and decolonizing the lives, minds, and dreamscape of historically marginalized folks, can reshape and provide opportunities for rebirth for all young people, regardless of race or racial identity.
Presenter: Jeannine Erickson (she/her) serves as the Writer's Room manager with 826 MSP, an arts education nonprofit which amplifies the voices of Twin Cities youth through free writing, tutoring, publishing and leadership programs in schools, out of schools, and distance learning. She graduated from St. Catherine University with a degree in critical studies of race and ethnicity and French, which heavily influences her work and approach to education and writing.