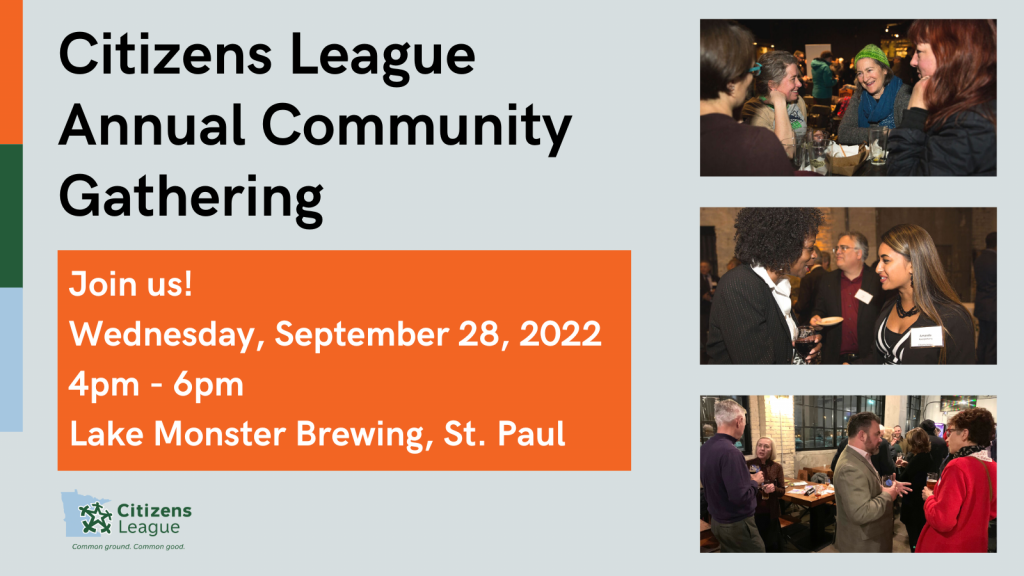 We invite friends, supporters, and community members to gather for a meet & greet event with Citizens League staff, board, and others!
As the election season intensifies and all things political heat up, we're here to offer a space to gather with others who may have different perspectives, but are committed to constructive conversation, innovative solutions, and, ultimately, working together to build community.
This event is open to all friends of the League, folks who want to learn more about what we do, and those interested in becoming more connected. Enjoy networking, social time, and refreshments in a fun and casual setting; hear updates on the League's recent and upcoming work and strategic priorities; and learn how to get involved.
Thanks to our event sponsor Jonathan Weinhagen for his support!
Contact us for additional sponsorship opportunities at
[email protected]
.
Citizens League
Annual Community Gathering
Wednesday, September 28
4pm – 6pm
Lake Monster Brewing
550 Vandalia St,
St Paul, MN 55114 (map)
Free!
Appetizers provided. Beer and non-alcoholic beverages available for purchase.