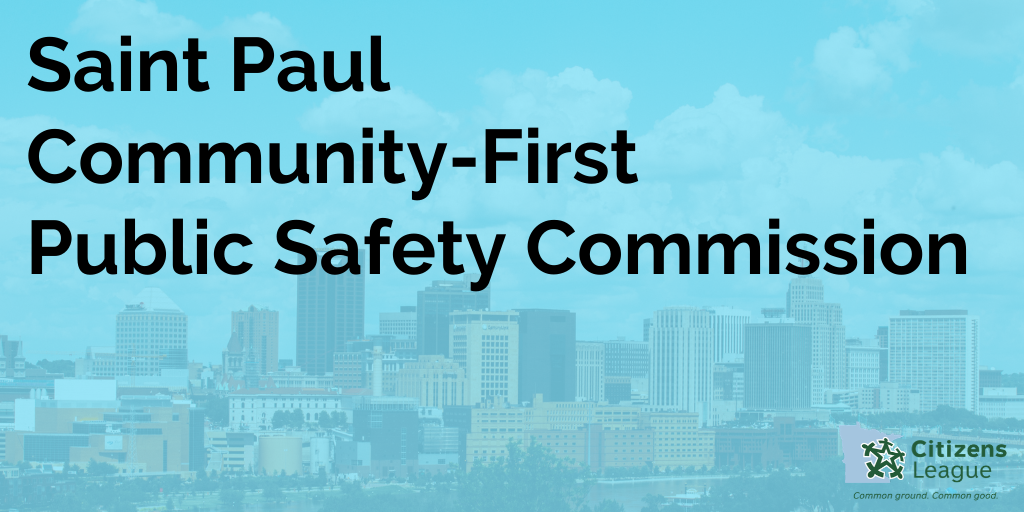 Diverse 48-member group convened for five months tasked with re-envisioning emergency response in Saint Paul
May 21, 2021
The Citizens League has submitted final recommendations from the 48-member Community-First Public Safety Commission to the Saint Paul City Council and Mayor Carter.
> Click here for the final report and more information on our commission project page.
The commission's charge was to re-envision emergency response by making recommendations to the Mayor and City Council regarding:
Alternative first response options to priority 4 and priority 5 calls for service
Approaches for ongoing community involvement in the City's community-first public safety framework
Consideration of the creation of a city staffed office to drive and integrate community-first public safety initiatives and strategies, i.e. office of violence prevention.
The commission was a diverse group of 48 individuals, named by Mayor Carter, representing a wide array of perspectives including community organizations, education, business, law enforcement, faith communities, and cultural and affinity groups. Designated representatives from the City of Saint Paul and Ramsey County joined meetings to serve as resources during the process.

From this large and very diverse group of commission members, high-level recommendations emerged with extremely strong support, which are detailed in the final report, published on Friday, May 21, 2021 to the Citizens League's project page at https://citizensleague.org/saint-paul-public-safety.

At a high-level, the commission prioritized five main focus areas of impact:
More appropriate responders for each situation who can best assist those in need
More efficient deployment of law enforcement
Decriminalize behavior & response, particularly for people and communities of color
Focus on prevention and community safety
Improve systems & increase accessibility
The recommendations include creating a city-staffed office focused on violence prevention, and implementing alternative responses to low-level calls, including calls about young people, welfare checks, disorderly conduct, vehicle and parking complaints, and non-criminal civil problems. Specific recommendations, along with levels of commission member support, are detailed in the full report.

The commission, co-chaired by Acooa Ellis of Greater Twin Cities United Way and John Marshall of Xcel Energy, held virtual bi-weekly meetings from December 2020 to April 2021. Citizens League Executive Director Kate Cimino and Director of Public Policy Amanda Koonjbeharry served as staff project leads.

"I am grateful for the work of the Commission, co-chairs Acooa Ellis and John Marshall, and the Citizens League for ushering this critical body of work forward," said Mayor Melvin Carter. "I look forward to working with our community and the City Council to leverage these recommendations as we continue working to build the most comprehensive, coordinated and data-driven public safety system our city has ever endeavored."

"The Citizens League has a 70-year reputation of bringing people together to solve big challenges," said Cimino. "With public safety at the front of mind in Minnesota, we were honored to contribute to this effort, bringing the League's unique ability to convene an incredibly diverse group and work toward outcomes with such high levels of support."

The process involved a discovery phase, which included learning about current emergency response in Saint Paul, hearing stories and examples from residents of Saint Paul, and learning about alternative models in use around the country; a development phase of exploring and generating ideas; and finally a recommendation phase of developing and honing final recommendations. The process included presentations, question and answer sessions, small group and large group discussions, multiple surveys, and several workshops using interactive virtual tools.

Two additional organizations were brought on by the Mayor's office to provide collaborative support as part of the commission's efforts: the Government Performance Lab (GPL) at Harvard Kennedy School, and the Robina Institute of Criminal Law and Criminal Justice, an organization based at the University of Minnesota. The GPL supports state and local governments across the country in designing and implementing solutions to pressing social problems. The GPL has conducted over 100 projects in 30 states, helping innovative leaders improve the results they achieve for their residents. The Robina Institute is a mission-driven organization dedicated to engaging in original interdisciplinary education, research, and policy analysis to achieve transformative change in sentencing and correctional policies and practices.

"Commission members showed tremendous dedication to this effort during a period of time that members themselves described as stressful, intense, and exhausting," said Koonjbeharry. "Amidst a global pandemic, numerous violent and police-related incidents, an attack on the U.S. Capitol, the trial of former officer Derek Chauvin, and the killing of Daunte Wright, a black man, by a police officer during a traffic stop in Brooklyn Center, all members were affected in some way. Yet commissioners continued to show up despite this exhaustion; a testament to their commitment to this work."

"Representing a myriad of ages, races, occupations, backgrounds and lived experiences, this group faced an aggressive timeline and significant workload in a virtual distanced environment remaining dedicated and present throughout," said Co-chair Marshall. "Having participated in this work, both professionally representing one of the City's largest employers, Xcel Energy, and personally, as a lifelong 4th generation Saint Paulite, I am proud of the outcomes, and find myself inspired with the entire journey."

A presentation on the process and commission recommendations to the Saint Paul City Council took place on Wednesday, May 19, which can be viewed on the Citizens League's project page at https://citizensleague.org/saint-paul-public-safety. Visitors to the page can also find a list of commission members, meeting materials, and the final report.

"My hope and expectation as a St. Paul homeowner, resident, and mother, is that this is the starting point to have a more nuanced, robust, thoughtful conversation about public safety," said Co-Chair Ellis. "The Twin Cities is at the epicenter for meaningful change on this topic. We have a tremendous opportunity and we are well-suited to set a course forward to what is possible."