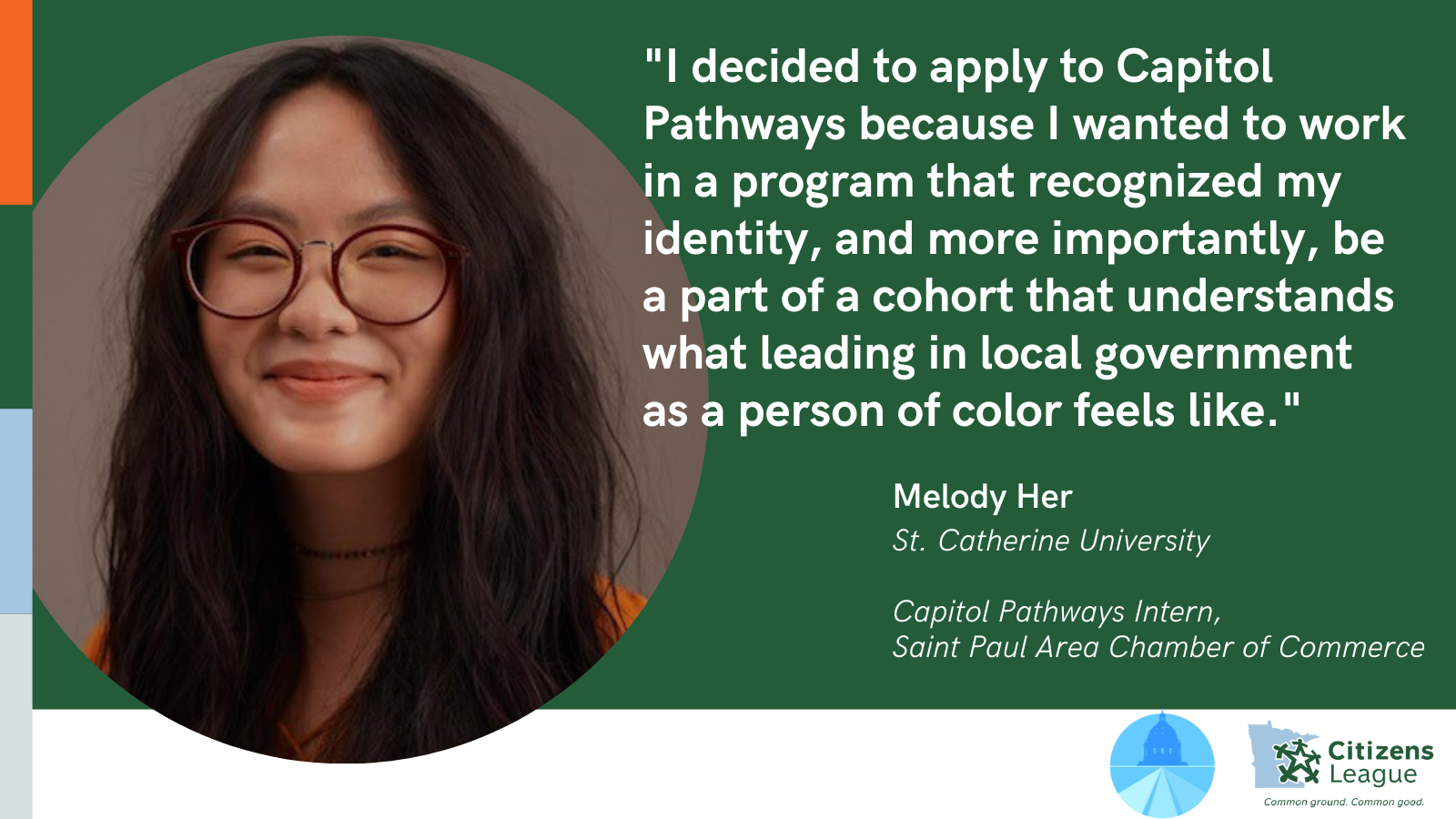 As our Capitol Pathways internship program continues during Minnesota's legislative session, we are spotlighting students to learn more about their experiences. Here, we highlight Melody Her, a 3rd year student at St. Catherine University double-majoring in Political Science and Economics with a minor in Criminal Justice Studies. Through Capitol Pathways, she is interning with St. Paul Area Chamber of Commerce (SPACC).
What are some examples of the projects you're engaged in with your host organization?
My organization has given me the great opportunity to get to know and network with the amazing stream of Chambers all around Minnesota, such as the Minneapolis and Woodbury Chamber. During my time at SPACC, I've been researching and learning about the different ways in which different MN organizations and communities hope to distribute our $17 billion surplus. With this, St. Paul Chamber is advocating to fund equal housing, as well as programs and resources for incarcerated adults and youth. In terms of tasks at hand, the project that I am currently working on is editing our member affiliation codes (commissioners, districts, representatives, senators, etc.) as a result of redistricting. Withal, this work has been very fulfilling and educational in its own unique ways!
Q: Why did you decide to participate in Capitol Pathways? And – why is a program like Capitol Pathways important today?
I decided to apply to Capitol Pathways because I wanted to participate in a program that recognized my identity, and more importantly, be part of a cohort that understands what leading in local government as a person of color feels like. Unfortunately, much of our current society doesn't understand how pivotal this program is due to historical structures of systemic racism that are imbedded in policies that silence and alienate communities of color. However, Capitol Pathways strives to spotlight the voices of these communities by opening opportunities for the young generation to be present and heard in predominantly white spaces. Through this, they encourage and inspire us to further ourselves in developing skills in leadership, ethics, and policy advocacy.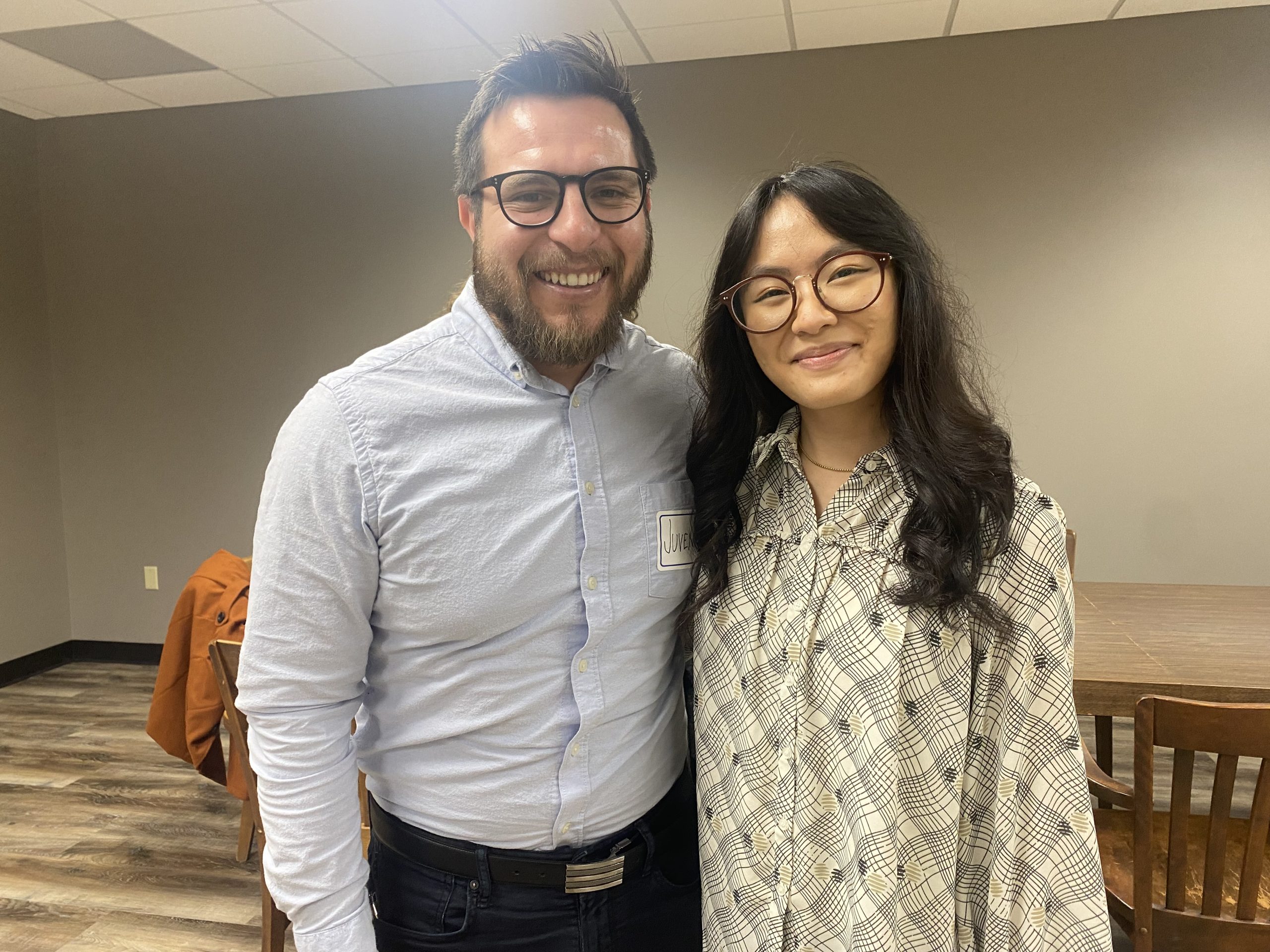 Above: Capitol Pathways co-founder Juventino Meza (left) with student Melody Her (right) at a Capitol Pathways social, February 2023.
Q: What is the most valuable thing you've learned so far during your internship experience?
Thanks to some incredible guest speakers I've met–like program alumni and Senator Zaynab Mohammed–the most valuable thing I've learned is that I should not feel like I have to tolerate a space that forces me to compromise my beliefs for the comfort of others. This requires me to practice self-validation and confidence in my own voice, no matter how "nice" someone may be towards me. Grounding myself in my values will help me maintain relentlessness, even in predominantly white spaces.
Q: Has Capitol Pathways impacted your career aspirations? If yes, how?
Yes! In my first 2 weeks at the Chamber, my host site has exposed me to the astounding network of several MN chambers, events at the Capitol, and other local non-profits. On my 4th day at the office, my supervisors invited me to a bill hearing for HF600: a bill that funds intervention programs and housing resources for incarcerated youth and their families. This bill particularly drew my interest because I grew up in a community in East St. Paul where I watched my close friends, as young as 14, fall into habits of violence and crime because their homes lacked fundamental care and needs.
During the hearing, I read support letters from St. Paul's Dispute Resolution Center and East Side Neighborhood Services. These organizations discourage the practice of locking children behind bars in confined institutions and prioritize restorative justice through art and community engagement. With this, I am very grateful that I attended the hearing with my site. Because of my experiences and passion for kids, I am now able to envision a possible career in youth intervention programs. This pathway will allow me to focus on criminal justice policies, and work at a local non-profit just as I hoped once I complete my college degree.
CONNECT
Stay connected to Capitol Pathways! Sign up to receive updates in your inbox.