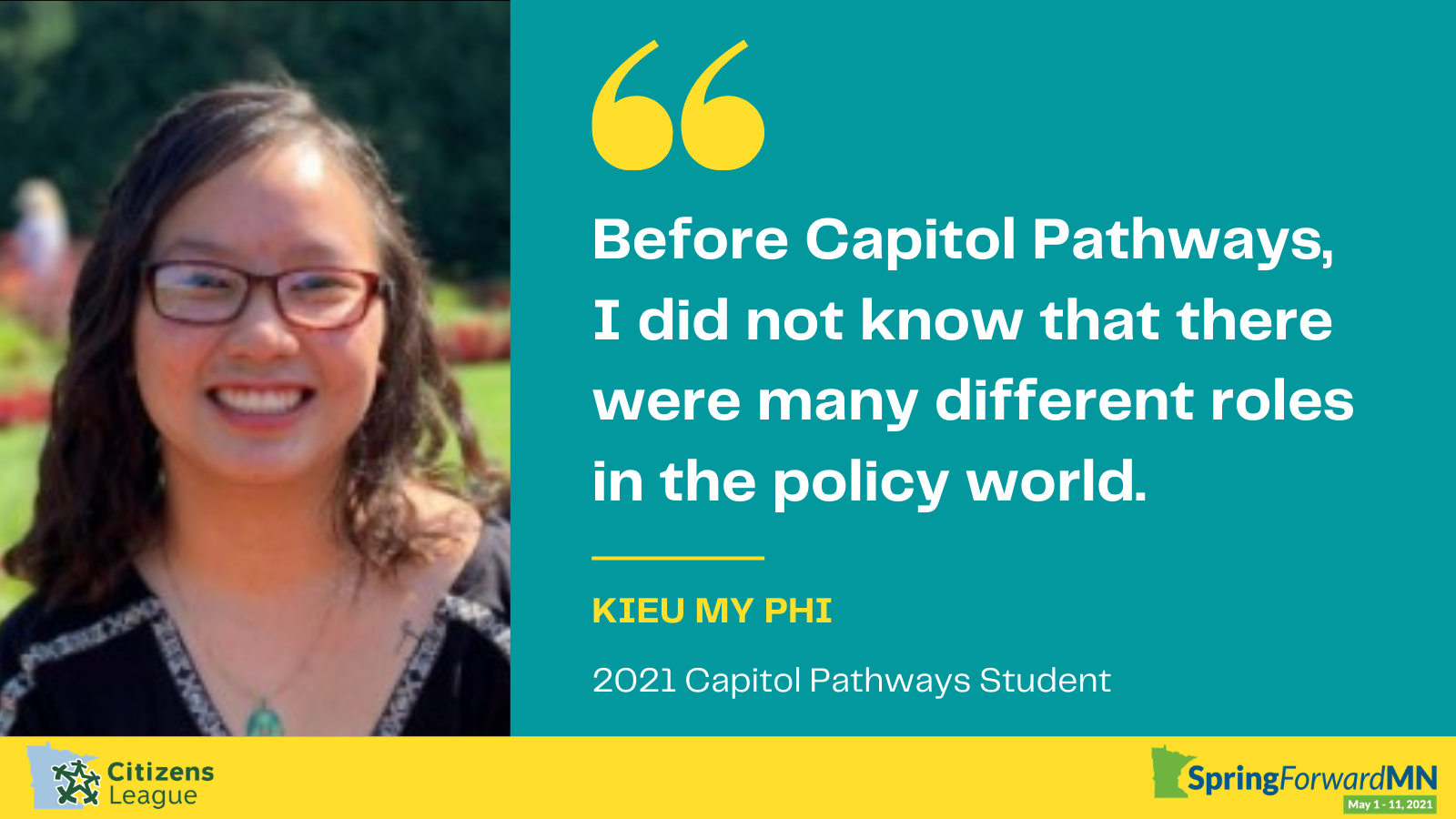 As our Capitol Pathways internship program continues its sixth year, 100% virtual because of the COVID-19 pandemic, we asked a few interns about their experiences this year. This time, we highlight Kieu My Phi.
Kieu My is a senior at St. Catherine University studying Public Policy with minors in Nonprofit Strategies & Operations and Economics. She is also a first-year graduate student for a Master's of Public Health – Global Health. For Capitol Pathways, she is interning with the Northeastern Minnesotans for Wilderness.
Support Capitol Pathways!
Donate today to invest in the future of college students who identify as Black, Indigenous, and People of Color.
We need their voices in public policy!
Kieu My was born in Vietnam and immigrated to the United States with her family when she was five years old. She loves working with students and gained a passion for policy work after she started her education at St. Catherine's University. Her studies have led her to focus on education, collective trauma, and environmental justice policies. She joined Capitol Pathways because she wanted to build more networks with students of color from across the Twin Cities passionate about policy work. She is still new to the environmental policy side and is excited to be working with Northeastern Minnesotans for Wilderness this spring to learn more about policy around protecting the environment.
Kieu My took some time to answer a few questions about her Capitol Pathways experience so far:
Q: What did you hope to achieve by participating in Capitol Pathways?
I was hoping to be in a space with other BIPOC students from across MN that share the same passion for policy/social justice as me. I wanted to also be able to work with an organization that I would never have the chance to work simply because I did not know that they exist. I also hope to learn more about the different policies/passion within the field and to get to know more people within the field.
Q: What is the most valuable thing you've learned so far during your internship experience?
Being our own advocates. In one of our trainings, the guest speakers talked about being our own advocates and that it is up to us to speak up for ourselves and to communicate our needs and wants with our host supervisor and with the people at Citizens League. I think that as a young BIPOC professional, that is still getting used to being in policy spaces, I am still learning how to use my voice to advocate for my community and passions but also for myself. I think that I am continuing learning how to use my voice during my internship and making sure that I am being heard by my supervisor. I am also learning that advocating for yourself makes you a better advocate for other people/community.
Q: How has Capitol Pathways affected your career aspirations?
Before Capitol Pathways, I did not know that there were many different roles in the policy world and so I am exploring different career paths that are still within the policy world, and that are not solely centered on being a legislator. Before Capitol Pathways, I also thought I knew what sector of policy I wanted to work on but I realized that I have a passion for a lot of different things and my career does not have to be focused in one field (or even the field that I got my degree in) but rather there is room to move and grow within the policy field.
---
> Learn more about Capitol Pathways, and other members of this year's cohort, on our Capitol Pathways project page.