Pictured: An Garagiola-Bernier (Right, Bois Forte Ojibwe) with Lt. Governor Peggy Flanagan (Middle, White Earth Ojibwe) and fellow cohort intern Alexandrah Walker (Left, Meskwaki Nation) at the Jan. 9 press conference on the creation of the One Minnesota Council on Diversity, Inclusion and Equity.
As our Capitol Pathways internship program continues its fourth year, we asked a few interns about their experiences this year. This time, we highlight An Garagiola-Bernier, a nontraditional student and Jack Kent Cooke Scholar in her final year of study at Hamline University.
She is double majoring in Sociology and Women's Studies with a focus on Inequality. A descendent of the Bois Forte Band of Ojibwe – Nett Lake, An is dedicated to decreasing poverty and increasing the representation of Indigenous students in higher education. In recognition of her work combining food sovereignty theories with community organizing to ameliorate campus food insecurity, An is Hamline's 2018 Campus Compact Newman Civic Fellow, 2018 Roz Ridgway Forum Fellow, and an inaugural recipient of the Undergraduate Scholar Award in Honor of Dennis I. Belcher.
On campus, An is co-founder of Feed Your Brain, a student organization committed to advocating for student poverty and basic needs access. Off campus, An is a mother of three, and works as a motivational speaker and mentor for students living in the crises of poverty, using her personal story to encourage others to never give up on their dreams.
An's Capitol Pathways host is Second Harvest Heartland. She is inspired by the political influx of Indigenous women and looks forward to learning more about how to advocate through the legislative process. An recently applied to graduate school, and hopes to pursue a career in policy research and advocacy.
An provided the photo above, about which she says, "For me, this picture represents the great advances Indigenous Women are making into the political sphere, and the recognition of the value of our voices in crafting policy that will impact many generations to come."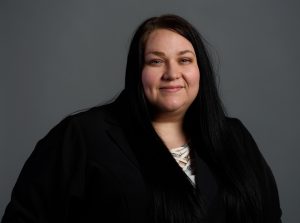 Q: Has your impression of the Capitol changed since participating in Capitol Pathways?
AGB: I've visited the Capitol before, but I've always felt a bit apprehensive. Capitol Pathways has introduced me to a new generation of POCI (people of color and/or indigenous) lawmakers dedicated to issues of social justice, and in doing so, helped me to see that this space is for us.
Q: What is the most valuable thing you've learned so far during your internship experience?
AGB: My internship experience has given me a greater perspective of policy advocacy and how to use the legislative process to address issues of equity for my community. It has been an incredible opportunity, where I have been able to locate my own voice in policy discourse, made new connections, and continue to grow my network.
Q: How has Capitol Pathways affected your career aspirations?
AGB: Thanks to the foundational praxis that this program is built on, I clearly see myself in a research and advocacy career committed to equitable access to resources for people from historically underserved communities.

Thursday June 6, 2019: You're invited to celebrate a successful fourth year of Capitol Pathways, the only paid internship program in Minnesota creating a policy career pathway for college students of color! Join us for our End of Session Celebration!
CONNECT
Stay connected to Capitol Pathways! Sign up to receive updates in your inbox.
SUPPORT
A gift of any amount is valuable and goes directly to support the program. Donate today to support students of color and their path to becoming civic leaders in Minnesota.