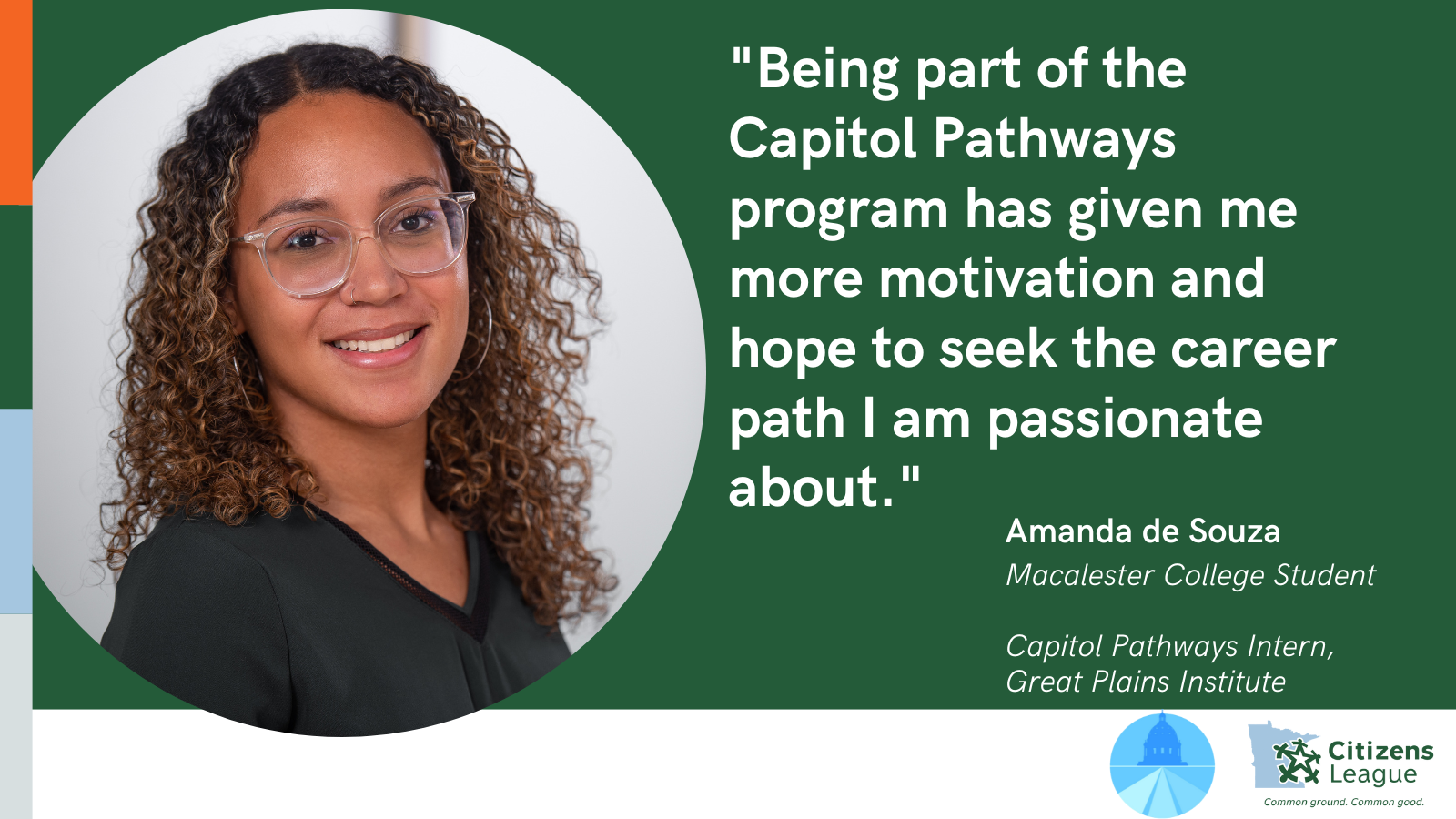 As our Capitol Pathways internship program continues during Minnesota's legislative session, we are spotlighting students to learn more about their experiences. Here, we highlight Amanda Nogueira Moreira de Souza​, a 2nd year student at Macalester College. Through Capitol Pathways, she is interning with Great Plains Institute.
Q: What are some examples of the projects you're engaged in with your host organization?
I have engaged in literature review projects on Electric School and Transit Buses and Air Quality Impacts from Biofuels. I have also been responsible for attending and taking notes of committee meetings in both the senate and the house, and tracking bills for the Drive Electric Minnesota and Bioeconomy coalitions. 
Q: Why did you decide to participate in Capitol Pathways? And – why is a program like Capitol Pathways important today?
As an international student, who has only been in the United States for approximately two years, I decided to participate in Capitol Pathways because it is a unique opportunity to gain further knowledge of the US legislative process. It is essential and urgent that people of color have access to decision-making spaces to craft policies that will benefit not only the white and privileged portion of society but also those who have been historically excluded as well.
A program such as Capitol Pathways is of extreme importance because it opens doors for students of color, who like me, did not believe that becoming an agent of change through policymaking could be a tangible or realistic goal. 
Q: What is one highlight and one challenge of participating in Capitol Pathways?
One highlight of participating in Capitol Pathways is having the opportunity to meet lobbyists, senators, activists, and members of non-profit organizations who I admired and have heard about in class readings and newspaper articles. It has been extremely enriching to have the time and guidance to network with people who take part in such meaningful work in Minnesota. 
As a non-native English speaker, I believe that my biggest challenge so far has been learning the legislative language. At first, it was daunting to attend committee meetings and take notes of bill hearings that I did not fully understand, but with the support of my supervisors and the Capitol Pathways cohort, this has become an increasingly easier task. 
Q: How has Capitol Pathways impacted your career aspirations?
Before Capitol Pathways, I was unsure if I should follow a career in Politics. Nonetheless, after having the opportunity to understand how significant policy work is, I am looking forward to my next academic and professional steps in policymaking. Since the United States exercises global power and influence, understanding how the US legislative process works will be especially important for my journey in gaining further knowledge in international politics and policies, which is the career path I want to follow. Being part of the Capitol Pathways program has given me more motivation and hope to seek the career path I am passionate about.
CONNECT
Stay connected to Capitol Pathways! Sign up to receive updates in your inbox.