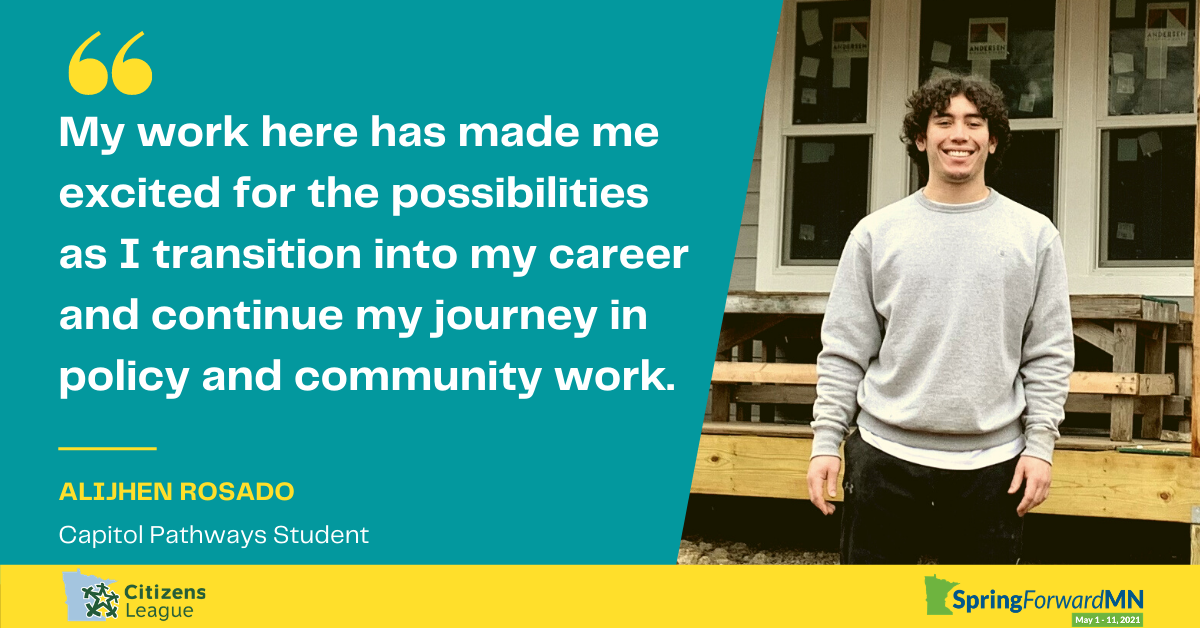 Our Capitol Pathways internship program continues through this 2021 legislative session, 100% virtual because of the COVID-19 pandemic. To learn more about our students' experiences this year, we asked a few interns from the cohort some questions for our Student Spotlight. This time, we highlight Alijhen Rosado.
Alijhen is a senior at the University of Minnesota, majoring in Sociology of Law, Criminology, and Deviance with minors in Spanish and Leadership. He is interning with the Twin Cities Habitat for Humanity as part of his Capitol Pathways internship.
Alijhen is a proud first generation student from Milwaukee, WI. He has held multiple leadership positions throughout his undergrad working as a peer mentor, service chair in his Latinx based Fraternity Sigma Lambda Beta, and as a captain on the Rugby team.
His interest in public policy was sparked by his passions to serve his communities and to see a diverse government that represents everyone. Growing up Alijhen never imagined he could be involved or make a difference in government. Capitol Pathways has given him the opportunity to learn how everyone can practice advocacy and use their voice to share their experiences and influence policy. After graduating Alijhen plans to use what he has learned as a Capitol Pathways Intern to continue to lead and advocate for his communities.
What did you hope to achieve by participating in Capitol Pathways?
Coming into the Capitol Pathways program I had little knowledge of what it looked like to work in public policy. I wanted to learn more about the state government structure and also learn the Capitol lingo. Building relationships with others in the cohort and at my host site was also important to me because with an all virtual internship experience building relationships can be a lot harder. My biggest hope was to come out of the experience with a better understanding of myself and the type of work I want to do in the future.
Support Capitol Pathways!
Donate today to invest in the future of college students who identify as Black, Indigenous, and People of Color.
We need their voices in public policy!
What has been challenging about participating in a virtual internship experience? What has been going well?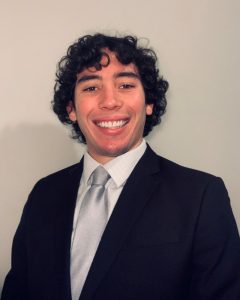 Participating in a virtual internship experience has been challenging because a big part of the experience is being in-person at the Capitol. At times it has been difficult as I have felt disconnected from my host site and the internship experience due to the virtual nature of working remotely. Working remotely has not been ideal for me but has allowed me to be able to participate in more meetings and projects than if I was in person. It has helped that the Capitol Pathways and Habitat staff have been so amazingly supportive and engaging with me during this experience and been great resources.
What are some examples of the work/projects you're doing with your host organization?
As a member of Habitat's policy and advocacy team I have had the opportunity to attend lots of legislator meetings and be involved in lobbying meetings for our affordable housing priorities. I have been able to network with partners from around the country and was fortunate to be able to attend Habitat for Humanity's National conference. I have been able to do projects like planning our virtual day at the Capitol event for advocates. On this project I have been able to plan and execute marketing, social media engagement and legislative meetings for the event.
How has Capitol Pathways affected your career aspirations?
My career aspirations have grown throughout my work in the Capitol Pathways program. Coming into the program I was unsure of what kind of work I could be doing in policy besides being an elected official. This experience opened my eyes to all the work that happens and the people who are working with those elected officials in government. I have also appreciated working with a non-profit organization like Habitat for Humanity and seeing how organizations such as theirs function. My work here has made me excited for the possibilities as I transition into my career and continue my journey in policy and community work.
---
> Learn more about Capitol Pathways, and other members of this year's cohort, on our Capitol Pathways project page.