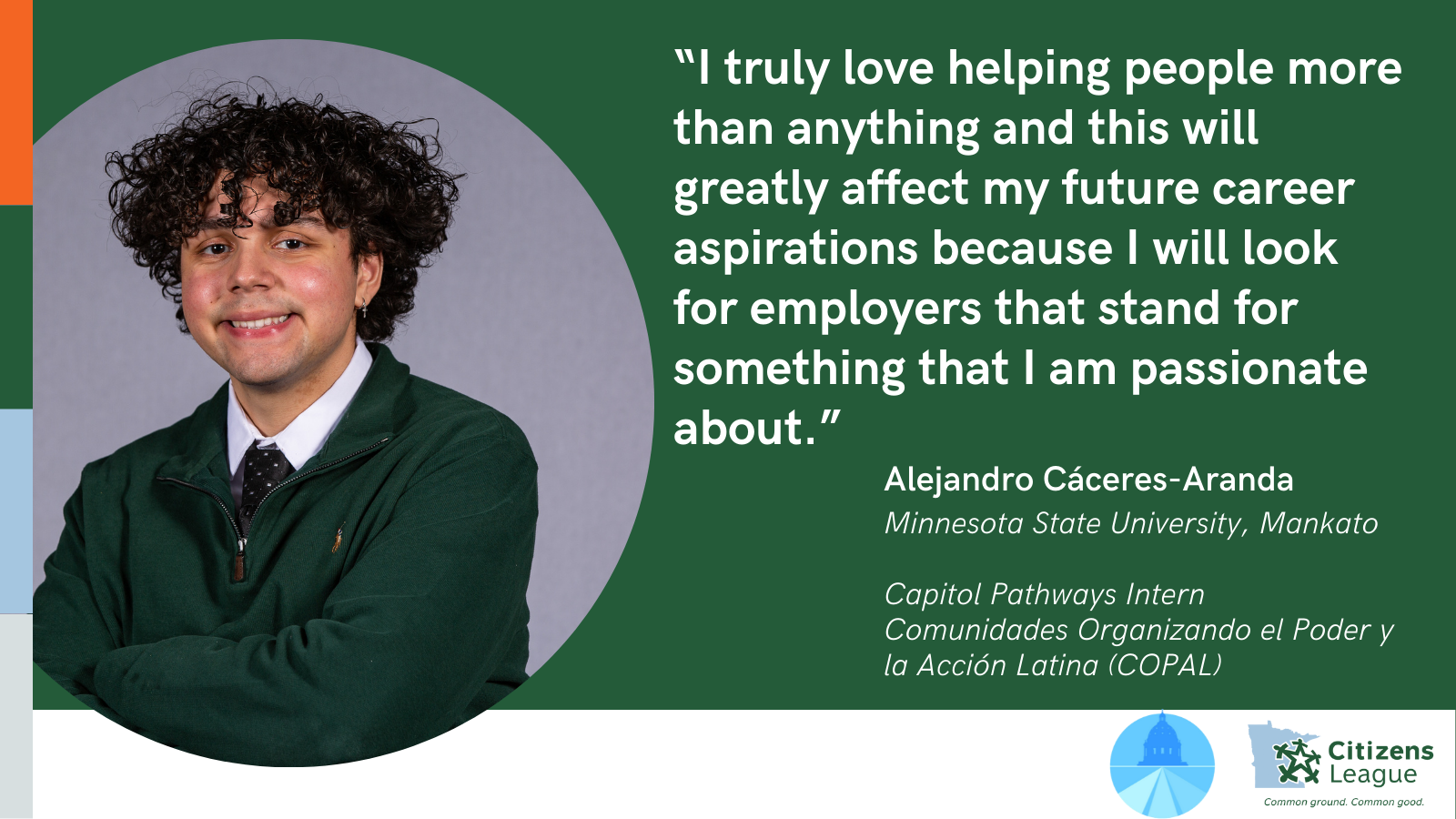 Our Capitol Pathways internship program resumes this year with a mixture of virtual and in-person internships involving over 30 students. We interviewed a few students to learn about their internship experiences. This Student Spotlight highlights Alejandro Cáceres-Aranda.
Alejandro is a junior at Minnesota State University, Mankato studying Political Science and Spanish. During the 2022 legislative session, his Capitol Pathways internship is with Comunidades Organizando el Poder y la Acción Latina (COPAL). With strong ties to his Latin heritage, Alejandro has a passion for diversifying himself into a broader knowledge of Spanish. Interning with COPAL, he works with the environmental justice team where they are currently pushing a bill to protect frontline communities from pollution caused by incinerators. Alejandro also uses his bilingual skills to work alongside COPAL's legal advocate, translating for Latinos who are victims of workforce discrimination.
Q: What did you hope to achieve by participating in Capitol Pathways?
I hoped to put my bilingual skills to the test during this capital pathways program in order to build up my Spanish professional development. I also hoped to learn more about bills and how they get passed, but more so why they don't get passed and what are some factors that go into the decision-making process of a bill. The last thing I hoped to achieve was to work with a Latino organization and make an impact on the community in a positive way.
Q: What has been challenging about participating in a hybrid internship experience? What has been going well?
The most challenging part about this hybrid internship experience at first was getting used to being in meetings for a large chunk of my weekly hours but also getting brought onboard and getting caught up with what I'm supposed to be working on. Some other factors of what's been challenging are being only virtual at first, which affected the potential of developing work relationships with my coworkers which being virtual makes it hard to do so. But recently I have been attending in person which has made my internship experience more enjoyable because it is allowing me to build positive relationships with my coworkers and my supervisors take me more seriously when I attend in person.
Q: How has Capitol Pathways affected your career aspirations?
Capitol Pathways has affected my career aspirations in the sense that I am starting to realize that the legislative process is a very slow and tedious process which has made my role in the enviormental justice coalition less enjoyable just because it's very hard to see any progress get done due to the legislative system and bill system being long and tedious. My time working with our legal advocate has been more enjoyable and made me realize that I truly love helping people more than anything and this will greatly affect my future career aspirations because I will look for employers that stand for something that I too am passionate about. The work I've done our legal advocate has also sparked more of an interest for the possibility of law school for me since I have already gotten some experience working with a lawyer. I am actually seeing progress in the cases that we work on and I would love to be able to help the Latino community with legal help.
CONNECT
Stay connected to Capitol Pathways! Sign up to receive updates in your inbox.