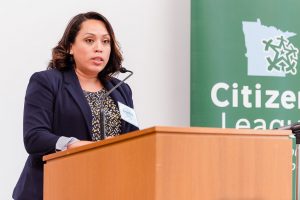 It is with deep gratitude, great appreciation, and a little sadness that I write to tell you that Angelica Klebsch, who has been our Policy Director since March 2018, has accepted a position with an exceptional community partner of ours, CLUES, or Comunidades Latinas Unidas en Servicio.
CLUES is a nonprofit that advances the capacity of Latino individuals and families to be healthy, prosperous and engaged in their communities. As Angelica has stated to me, this new role will allow her to serve the communities with which she most identifies and cares deeply about. By accepting the position as Senior Director of Policy and Community Development at CLUES, she will be able to grow existing programming and develop new initiatives that will have a big, positive effect on Minnesota's Latino communities and Latino youth.
Angelica has told me how hard of a decision this was for her.
"While leaving Citizens League is difficult and sad for me, I feel such privilege because I am able to say with complete sincerity that I believe in the work we do and I believe in the work happening at my next professional home," she told me. "I am lucky to have found places where I could bring my whole self to work, give my best, and see the positive effect beyond our walls."
In a little more than a year, Angelica has made an indelible impact when it comes to the Citizens League's work and mission. While our staff and board of directors are indeed sad to see her go, that sadness is eclipsed by our excitement for her in this new role. The Citizens League has partnered with CLUES before; there's no doubt our paths will cross again. We have lost a valuable staff member, but gained yet another champion of our work, and an excellent partner in the community.
Ruby Azurdia-Lee, President of CLUES, and I had a conversation recently about how this leadership transition would strengthen our common goals for the community.
"I've long admired the Citizens League's approach to policy making because it intentionally brings different perspectives—subject matter experts and people with lived experiences—around the same table so we can listen to and learn from one another, " she said. "Angelica's experience at the Citizens League and the commitment our two organizations share in amplifying the voices of underserved groups will help us leverage successful partnerships in the future."
Angelica's departure will be gradual, beginning in mid-May. She has offered her assistance in the search for her successor, in addition to making herself available over the summer for a smooth transition, and we have gladly accepted. Please check our website soon, as well as LinkedIn and Facebook, for the job posting of Citizens League Policy Director.
I'll leave you with these words from Angelica, which speak volumes to me about both this stellar leader we have in our community and the unique and important work we do at the Citizens League.
"Thank you for inviting me in. Thank you for empowering and trusting me to drive our policy work. I look forward to working together again, as our collaborative spaces will frequently overlap, and please know that the organization, our team, and you, will always have an ally in me."
We will miss you, Angelica, and we look forward to working with you in the future!
Sincerely,
Pahoua Yang Hoffman
Executive Director