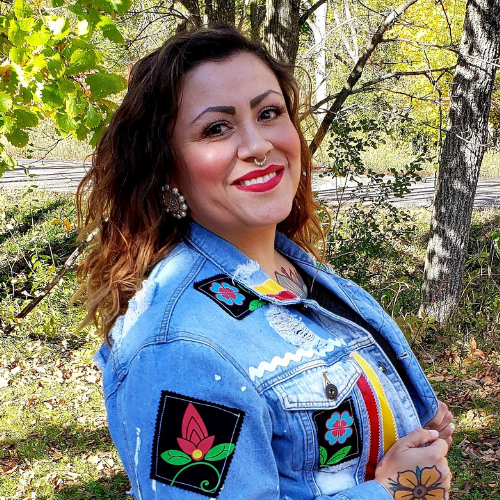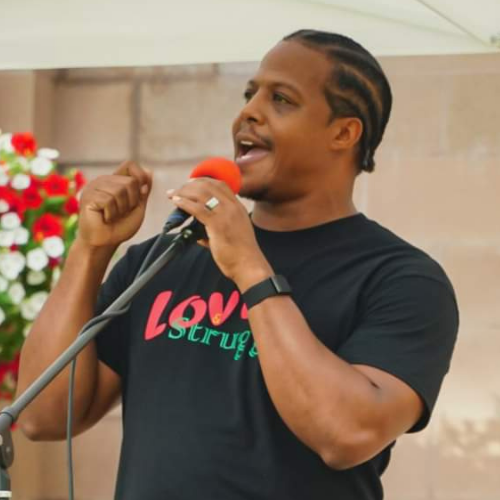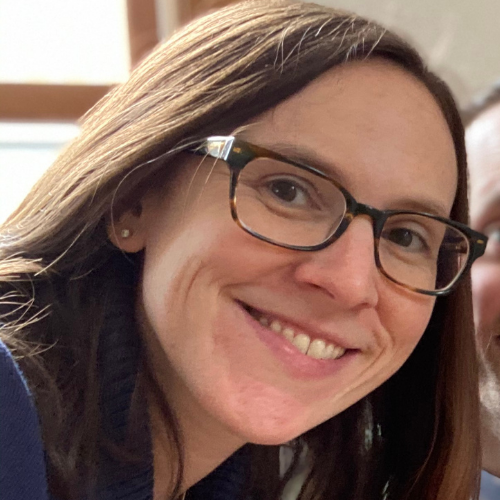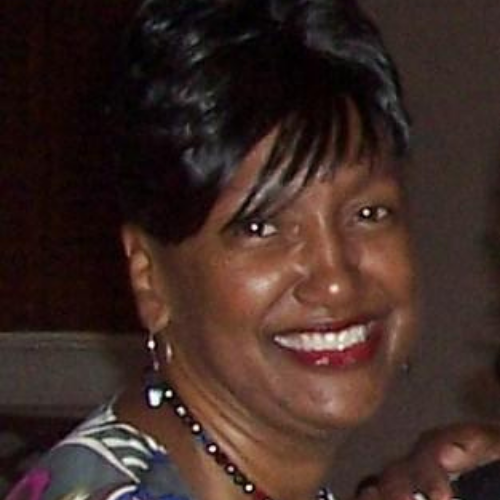 Project Mezinichigejig
Adrienne Benjamin
Nominated by Joan Vorderburggen:
Adrienne is an exceptional artist who weaves her rich indigenous culture into contemporary work with rich community engagement and education as a focus.
Adrienne is a single mother of two children, one who is special needs, and yet she is constantly creating new and innovative ways to leverage art, native tradition, and educational opportunities for her community. When the pandemic was first happening, Adrienne and her mother set to task to sew hundreds upon hundreds of cloth masks and donating to areas hardest hit in the native community. Adrienne unsurprisingly began designing masks simultaneously that were embellished with traditional beading and accoutrement going on to win a national contest for mask design. She is a sought after speaker and advisor, leads workshops to teach traditional jingle dress making, and a creative and inspiring influencer on her social media channels.
Biography:
Adrienne M. Benjamin (She/Her/Hers) is an Anishinaabe (Ojibwe) artist from the Chiminising community, a part of the Mille Lacs Reservation. She grew up in Isle, Minnesota. Adrienne considers herself a multi-disciplinary artist who creates different cultural embedded crafts with contemporary and traditional flair. Including but not limited to, Textile Arts, Writing, Design, Acrylic, Woodworking, Watercolor, and Poetry. Her main focus is creating current, socially relevant, and culturally significant work that intersects with Anishinaabe values, history, and lifeways. She is most recognized however for her jingle dress making and her work has been most recently featured in the "Misizaaga'iganing onjibaamagad bawaajige-omajigooday — The Dream Dress Comes From Mille Lacs," exhibit at Great River Arts, the "Ziibaaska'iganigooday – The Jingle Dress at 100" exhibit and "The Jingle Dress Tradition" a MInnesota TPT/PBS documentary. She has given cultural educational talks about the Mille Lacs jingle dress story at many schools around state in hopes of bridging understanding about the Ojibwe culture.
Adrienne is passionate about and vibrantly advocates for social justice and equity initiatives in the arts and education systems. Adrienne is an accomplished arts administrator, having created successful arts based youth initiatives within her tribe; the Mille Lacs Band of Ojibwe. Adrienne is also an avid art collector, supporting Indigneous and other POC artists in the United States and beyond.
Greater Mankato Diversity Council
Bukata Hayes
Nominated by Keri Johnson:
Bukata Hayes has developed and facilitated racial equity training and engagement opportunities in the Mankato Public Schools District, St. Peter School District, North Mankato and Mankato Police Departments, and various businesses and nonprofits throughout the Greater Mankato area for the past several years. He is also a founding member of the Mankato NAACP chapter and organizer for Mankato Juneteenth event for the past 3 years. He is incredible at fostering relationships in "tough to crack" areas or sectors in order to advance racial justice efforts in the Greater Mankato area. He definitely does not get the public recognition he deserves for the transformative, positive work he's accomplished.
Here are a few examples:
Established a community journaling initiative in 2016 called "Write on Race." The most recent prompt topic was COVID-19 and its disproportionate impact on people of color. https://www.mankatodiversity.org/write-on-race.html
Organized and facilitated a virtual forum that included state legislators and the Mankato Public Safety Director on racial justice and police accountability in June.
He also organized a march for Juneteenth this year and included faith leaders and law enforcement. Several Mankato officers marched with us and attended the rally afterward. Social distancing and mask use were encouraged for a safe outdoor event.
Sponsored and worked with a committee to create a 4 part virtual series on policing in our local communities. He used his established relationships to invite all stakeholders to the conversation. City leaders from St. Peter, Mankato and North Mankato are also presenting as a part of the series.
Biography:
The most important thing about Bukata is that he is the son of Dia Damani and Karen Hayes, husband to Lisa and father to Damani, Jalen, Zavier, and Zuri. In addition to this, he has served as the Executive Director of the Greater Mankato Diversity Council, a non-profit, focused on diversity, inclusion and equity in Southern Minnesota since September, 2006. In March 2020, he co-authored a book titled, WRITE on RACE to be RIGHT on RACE Resource Journaling Guide which is a self-study on race highlighting its many impacts on our communities. He also co-hosts a local radio show and podcast called DEI: Engaged Exchanges which discusses issues with diversity, equity and inclusion with local and statewide leaders.
Let's DO Something
Jen Rosenbaum
Nominated by Libby Stegger:
In Fall 2020, Jen began mobilizing friends and family around the country to get active in the election. She calls the initiative Let's DO Something. She asked people to mobilize small teams that would take action for 2 hours per month every month through November 2020. Her grassroots approach activated hundreds of people who otherwise are not actively engaged in the civic process. We are everyday citizens with a lot of demands on our time. Jen's persistent, positive message reminded us that even with an hour, we can be involved in the democratic process.
Jen has mobilized over 200 people on nearly 30 teams. Together we have volunteered over 5,000 hours toward turning out the vote. Jen's Let's DO Something teams wrote nearly 20,000 personal letters to unlikely voters through the Vote Forward Campaign. She launched an online tool to help people make a voting plan, and hundreds of Americans have used it to think through their personal plan to vote.
Biography:
Jen Rosenbaum is a mom, market researcher, and — as of the past year — a community organizer. Jen currently works for American Public Media as an Audience Insights Manager, where she works to help the organization better understand current and potential listeners, supporting APMG's Audiences-First culture. Prior to that role Jen worked for Nielsen, using insights and analytics to help clients in the Consumer Packaged Goods space identify and pursue growth opportunities. Jen graduated from the University of Pennsylvania with a degree in Anthropology & Communication. In her free time, Jen helps others take civic action through Let's DO Something!, a group she started to empower everyday people to shift some of the time they spend talking into concrete action. Originally from New Jersey, Jen now lives in Southwest Minneapolis with her husband Sam and 2 kids, Ava (5) & Mia (2).
Jordan Area Community Council
Cathy Spann
Nominated by Willie Pearl Evans:
Cathy Spann illustrates servant leadership in her work. Cathy works to assure that North Minneapolis families' voices are heard. She works to create safer neighborhoods by elevating community members to take actionable steps. Cathy brings community voices, public safety leaders, and local officials together to create community solutions specific to the Northside.
This summer, Cathy prioritized youth and community healing by offering a communal space where folks were able to connect with their faith and spirituality. This event was in the heart of the Northside. Folks connected with spiritual leaders to unpack the heavy load after the tragic death of George Floyd, providing a space for Black folks, who are emotional and mental drained from being black and living in Minnesota
The mental and emotional stability of Black Minnesotans is another priority that Cathy incorporates in her work. Cathy understands that substance use disorder and mental health affects the Black community in greater proportion. Cathy is knowledgeable that individuals involved with the criminal justice system and those with lived experience have a vital role in creating a healthier and safer Northside. Through contracted work, Cathy provides opportunities for those most impacted by an issue to work on creating solutions for a healthier Northside.
Biography:
Cathy Spann is a longtime resident of North Minneapolis with over 25 years in the nonprofit field, including such organizations as Phyllis Wheatley Community Center, The Jeremiah Program and NorthPoint Health and Wellness Center. She is the mother of two adult sons that she gives credit to for always supporting her. They have shown her the meaning of unconditional love. She has a granddaughter and grandson that stole her heart the moment they were born. She has had the opportunity to work, consult and volunteer in a variety of public and social service organizations that have afforded her some exceptional development skills in strong leadership and management. Throughout her career history, she has intensively worked with a diverse range of multicultural organizations, constituencies and stakeholders in collaborating efforts for a common goal.
Ms. Spann possesses an outstanding track record for her ability to provide project management oversight which include, effectively documenting and communicating project plans, prioritizing and carefully monitoring work progress and successfully achieving project milestones and expected results. She is a visionary and a change agent, many people that encounter her describe her as being bubbly, energetic, kind hearted, possesses a smile that will light up a room and yet she is a force to be reckoned with.