Date/Time
Date(s) - 12/05/2017
6:00 pm - 7:30 pm
Join the Citizens League and 89.3 The Current on December 5th, 2017 at Midpointe Event Center for another Policy and a Pint®, sponsored by Target and the Bush Foundation.
This time, we discuss The Caregiving Sandwich: Caring for older adults and children in Minnesota.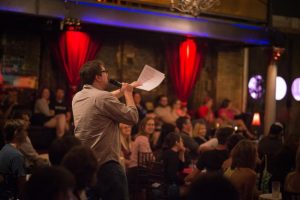 According to the Population Reference Bureau, the number of people 65 and older is projected to more than double from 46 million today to over 98 million by 2060. Life expectancy has increased, so not only will there be more of us, but we're living longer, resulting in a large population in need for more caregivers. In Minnesota, the height of the age boom will take place at the same time that the growth in the labor force—a key ingredient for economic growth—drops to almost zero. This unprecedented demographic shift will have an impact on all levels of public policy, from Social Security and Medicare to employment productivity and scholastic achievement.
Caring for an aging parent is an immense challenge, and one of the most profound tasks we can take on in our lives. The same can be said about raising children. Family members, predominantly female family members, have provided the majority of care to aging loved ones. Today, there is a generation of middle-aged adults known as the "sandwich generation" who are balancing the demands of child rearing while providing care to their aging parents. These caregivers can experience great stress, financial burden and burnout. That said, studies also show that having both children and aging parents in the house can foster closer family bonds between the generations.
At our next Policy and a Pint, our host Steve Seel will engage our guest panel and a live audience on the topic of intergenerational caregiving. Our panel includes Chris Farrell, senior economics contributor at American Public Radio's Marketplace and author of Unretirement: How Baby Boomers Are Changing the Way We Think About Work, Community, and The Good Life; Maureen Kenney, director of Aging Services at the Amherst H. Wilder Foundation; and Pam Sartell, president and owner of The Sartell Group.
What are some of the opportunities for and struggles of a sandwich generation caregiver? How are employers responding to employee needs while maximizing productivity? Every caregiving situation and relationship is different, so how can Minnesota prepare for this shift? Join us to discuss these questions and more at our next Policy and a Pint. Tickets available now.
Policy and a Pint: The Caregiving Sandwich
Caring for older adults and children in Minnesota
Tuesday, December 5, 2017
Doors: 5:30pm | Program: 6:00pm
Midpointe Event Center
415 Pascal Street N
St.Paul, MN 55104 (map)

$10 General | $5 Students (w/student ID)
Complimentary appetizers provided. Cash bar.
Policy and a Pint is sponsored by Target & The Bush Foundation.
Panel Bios:
Chris Farrell has spent much of his professional life reporting and writing on economics and helping people make the most of their money. He's currently senior economics contributor at Marketplace, American Public Media's nationally syndicated public radio business and personal finance programs. Farrell is also economics commentator for Minnesota Public Radio. He contributes to Bloomberg Businessweek, the Minneapolis Star Tribune, Next Avenue, Money.com and other media outlets.
Maureen Kenney is the Director of Aging Services at Amherst H. Wilder Foundation. Kenney leads a team supporting informal caregivers of older adults through resource referral, education, support and consultation. Kenney has Master of Public Affairs degree from the Humphrey Institute and has worked in healthcare and the nonprofit sector for over 25 years. Prior to joining the team at Wilder, Kenney worked to assist families transitioning off public assistance in rural MN and transforming community-based service delivery for waiver eligible older adults and persons with physical or mental health disabilities in rural Wisconsin.
Pam Sartell, president and CEO of The Sartell Group, leads a team of 15 employees at her downtown Minneapolis software development firm. Pam purchased the company in 2005 and has grown the company through customer satisfaction with existing customers and continued innovation through new product development using the company's creativity lab where employees designing new tools or applications using 10 percent of their work week to work on projects of their choosing. She has won several awards through her leadership and dedication to employee engagement and well-being including 100 Best Places to Work for, Progress Minnesota, The Principal 10 Best Companies for Employee Financial Security, and Making it Better campaign. Pam has worked with several of Minnesota's Fortune 500 corporations including 3M, Cargill, Carlson Companies, Ecolab, Medtronic, and Target. She was an adjunct professor at The University of St Thomas for four years teaching courses on Project Management.