Date/Time
Date(s) - 01/16/2018
7:30 am - 8:30 am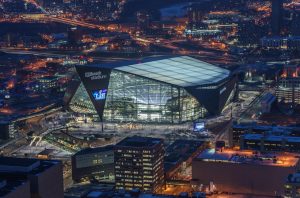 In just a few short weeks, one of the largest sporting events in the world comes to Minnesota. Super Bowl LII brings not only a football game to U.S. Bank Stadium, but it promises to bring economic opportunity and valuable exposure to the state of Minnesota. It's the job of the Minnesota Super Bowl Host Committee to plan and support activities surrounding this event to "to introduce the world to our Bold North story." They have organized events in and around the Twin Cities during the 10 days leading up to the Super Bowl, including concerts, outdoor activities, and a zip-line over the Mississippi River. Let us repeat: A zip-line over the Mississippi River.
How will these activities and the event itself bolster the local economy? How will it contribute to the legacy of our great state? Join us Tuesday, January 16th for a discussion with Ms. Cyndi Lesher, a member of the Minnesota Super Bowl Host Committee (She's also the incoming Citizens League Board Chair).

About Cyndi Lesher
Cyndi Lesher, Former CEO of Northern States Power Company (and also 2018 board chair of the Citizens League), sits on the Minnesota Super Bowl Host Committee Advisory Board. The Advisory Board is comprised of community leaders from across Minnesota who are committed to helping make Super Bowl LII a success for visitors, residents, and businesses; leaving a legacy of positive community and economic impact for years to come. The members serve as key advisers to the committee, and as ambassadors to the community at large.
Mind Opener
The Economic Impact of the Super Bowl in Minnesota
Tuesday, January 16, 2018
7:30am-8:30am
$10 for Citizens League Members
Continental breakfast provided.
Not a member, or need to renew? Contribute today for an annual membership!
Citizens League Mind Openers are sponsored by Blue Cross & Blue Shield of Minnesota.