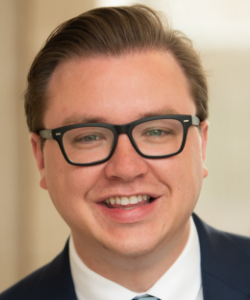 Peter Glessing
Peter H. Glessing is an associate with the Lockridge Grindal Nauen's state government relations team and leads communications and grassroots advocacy efforts for firm clients. Mr. Glessing served in a variety of key roles at the Minnesota House of Representatives over the course of five years and brings an advanced knowledge of the state's political landscape and a deep understanding of policy analysis and public relations. His knowledge of the legislative process and constituent relations is a tremendous asset to firm clients.
During his time at the Minnesota House, Mr. Glessing served as Deputy Director of Public Affairs at the Minnesota House Republican Caucus. He oversaw the communication department's implementation of caucus media strategy on a diverse legislative agenda and served as a communications advisor to many state representatives, including the House Majority Leader.
Mr. Glessing graduated with a Bachelors of Arts from George Washington University in Washington, D.C. and earned his J.D. from the University of St. Thomas School of Law.