Metadel was born in Ethiopia and came to the United States when she was five years old. Currently, she lives in Eden Prairie, Minnesota and commuted to school at Hamline University before classes were canceled due to the COVID-19 pandemic. She is a second year student majoring in Public Health, where she advances her passions learning about mental health issues and existing health disparities. Her interest in public health made her a perfect fit for Hennepin Healthcare System, where she is interning and learning more about the intersection between public health and policy through the Capitol Pathways Program.
Through the internship, Metadel gained hands-on legislative experience by being at the Capitol three times a week. She sat in on committee and coalition meetings with her intern supervisor and enjoyed her time meeting people in different policy roles. Since the stay at home order, she has had to navigate the virtual transition for both her internship and academic studies. "I am not designed for remote learning and I don't think anyone really is," Metadel shared. "The combination of not having interpersonal learning and having to stare at a computer screen all day is very difficult."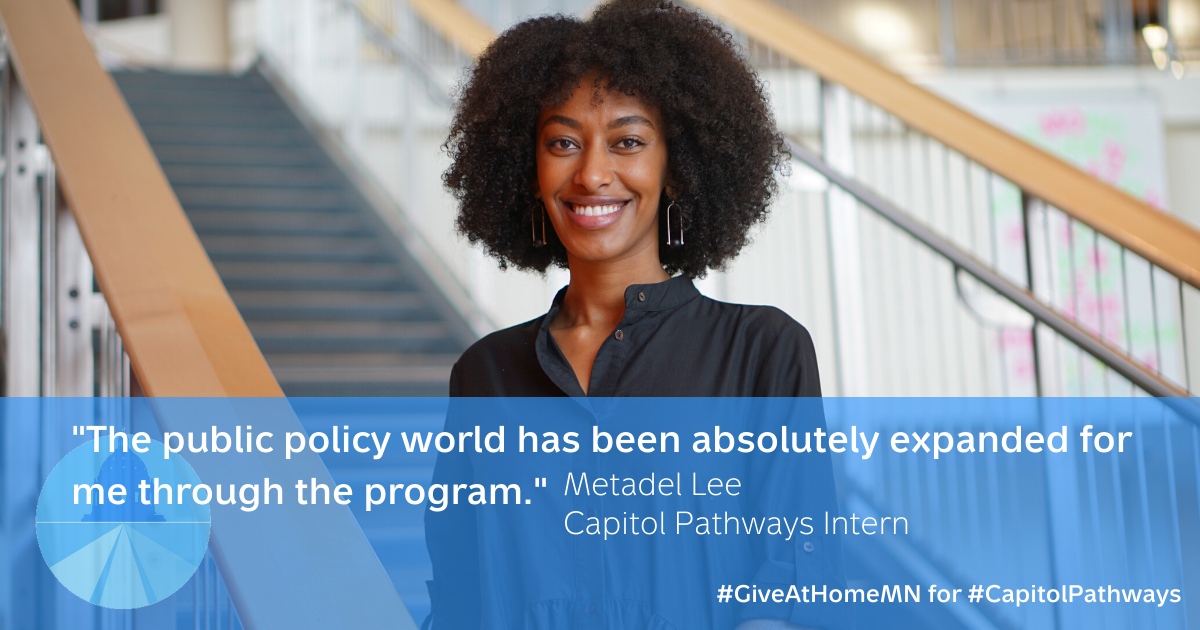 Despite the changes, Metadel retains a positive outlook and expresses joy at what participating in Capitol Pathways has taught her about her passions and career aspirations. While she once thought pursuing public office was the only way to be involved in policy, she now knows she has other options. "There are so many different roles in public policy and so many different ways to tap into policy," Metadel expressed. "The public policy world has been absolutely expanded for me through the Capitol Pathways program." After her undergraduate studies, Metadel hopes to attend graduate school for public policy and use her learnings to do community advocacy work.
As part of #GiveAtHomeMN, we are introducing you to our 2020 Capitol Pathways students to hear about the difference you can make when you invest in these students and the program. It's easy to imagine the change we can create for the future if we come together as a community. Please join us and make a gift today.
Through the month of May, your gift to the Citizens League's #GiveAtHomeMN campaign will support the Capitol Pathways students of today and tomorrow. Of our $10,000 goal, $5,000 will go directly to this year's students, and the remaining $5,000 will go to support our 2021 program year.
Capitol Pathways remains a one-of-a-kind paid internship program in Minnesota, providing our future civic leaders the leadership training, legislative experience and connections they need as they begin their careers. To hear their stories, follow us on Twitter and Facebook, and follow the hashtags #CapitolPathways and #GiveAtHomeMN, and track our progress to our $10,000 goal on our GiveMN page here!
To learn more about the program, visit our program page, or contact program manager Kalia Xiong at kxiong@citizensleague.org.